The love triangle of Amazon, Flipkart, and Walmart
The love triangle of Amazon, Flipkart, and Walmart
Written by
Bhavika Bhuwalka
May 04, 2018, 01:06 pm
3 min read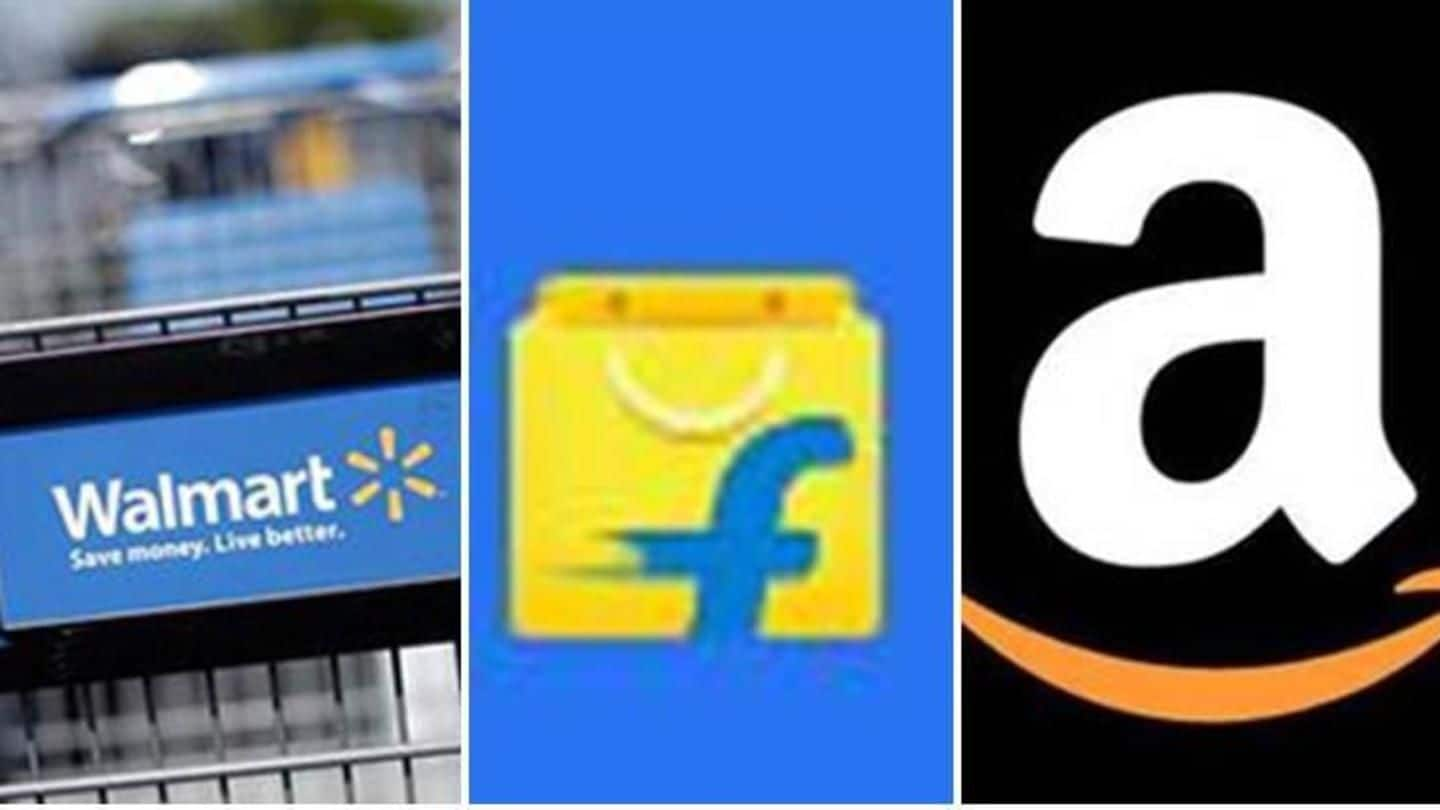 Here's the story: Basically, the two US retail rivals Walmart and Amazon are both attempting to buy Flipkart, which is the best start-up India has produced in over a decade. According to reports, Walmart wants to buy a 55% stake in Flipkart for about $12 billion. As a counter offer, Amazon is also holding talks to buy Flipkart, to stay in the game. The love triangle is interesting for all the stakeholders.
First off, why is Flipkart so attractive?
Flipkart, ironically founded by two former Amazon employees Sachin Bansal and Binny Bansal, defines e-commerce in India. As of April'18, it is valued at a whopping $20 billion. On the other hand, Walmart only has 20 superstores in India which operate under its Best Price banner. Notably, all of Flipkart's top investors, including SoftBank, Tiger Global, and Tencent, approve of Walmart's offer to overthrow Amazon as one of the market leaders in India.
What is in it for Walmart?
Other than the fact that Walmart wants to challenge Amazon's growth, it is also keenly looking to gain a notable presence in India. It's already trying to improve its online presence by buying e-commerce website Jet.com and working with Chinese company JD.com. Further, according to reports, India's e-commerce industry will reach $200 billion by 2026, up from $38.5 billion in 2017.
How is Amazon handling the situation?
To counter Walmart's offer and maintain its top position in the Indian e-commerce market, Amazon's bid to Flipkart is reportedly pegged at about $22-23 billion. This is a higher valuation than Walmart's offer to Flipkart of $18-20 billion. However, with Amazon, Flipkart runs the risk of having to open its trade secrets as part of due diligence, which is why Amazon's bid also comes with a break-up fee of $1.5-2 billion.
If Walmart marries Flipkart, will Amazon be responsible for divorce?
There can be only speculations regarding this. However, the possibility of this happening cannot be entirely ruled out as Amazon, with its leading market position, is not one to back down that easily. Walmart, at least currently, doesn't have adequate experience in running online retail.
Finally, who should Flipkart choose?
It should go with Amazon. Though Walmart looks like a more likely suitor for Flipkart, its track record in online space against Amazon in the US has been disappointing. Further, its strong suit is food and groceries, something which Flipkart has not ventured in so far. Needless to say, Amazon's technical prowess can really help Flipkart. Personalized shopping, anyone?
Either ways, it's a great sign for Indian start-up ecosystem
Either ways, Indian start-up ecosystem is bound to gain momentum when Flipkart sees this humongous exit. In a country, where there have not been any notable exits till date, this deal will certainly improve investors' confidence.