#CareerBytes: 5 tips for students to help manage stress
#CareerBytes: 5 tips for students to help manage stress
Written by
Ramya Patelkhana
Jan 16, 2022, 11:13 am
3 min read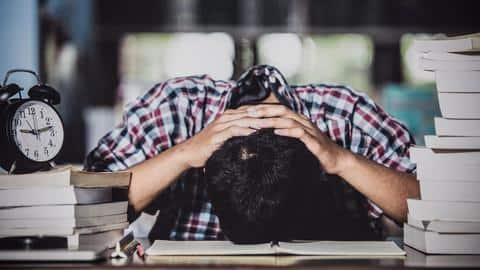 The exam season is almost here with the CBSE Term 2, ICSE Semester 2, and other state board exams and college exams set to commence in the next few months. Exams can be quite stressful and factors like performance expectations, deadlines, workload, etc. can induce stress, too. However, it is important for students to overcome it. Here are some useful tips for stress management.
Students should develop the habit of studying every day
It is important for students to stay on top of their school studies, assignments, and coursework to beat stress. They should focus on studies and make study time a part of their daily schedule even when there are no upcoming exams; they should have a proper study schedule and adhere to it. Staying up-to-date with studies will help students learn in a stress-free way.
Adopt time management techniques; stop procrastination
Students should also learn how to manage time properly. They should adopt time management techniques in order to lead a stress-free life. Many students tend to procrastinate on their studies, academic work, or other activities and postpone them to the last minute, which leads to piling up of work and increases the burden/stress on them. So, one must stop procrastinating to avoid unnecessary stress.
Try meditation, perform light physical activities for overall well-being
Students must also develop good habits that help them deal with stress and maintain good health. They can try meditation and perform light exercises/activities or yoga for physical and mental well-being. It is also necessary to find the right balance between studies and other activities to keep stress at bay. They can also pursue their hobbies, passions, and other activities they are inclined toward.
#4: Get sufficient sleep, eat healthy food
Students should also ensure that they stick to a healthy routine. They should get sufficient rest to reduce stress. One must sleep for at least 6-7 hours every day. Eating healthy food and avoiding junk food as much as possible is also essential.
Talk to parents, friends if you're facing any issues
In case students are facing some issues with their studies or anything else, they should talk to someone they trust to overcome stress and let their thoughts out instead of isolating themselves. Stress can get worse when someone feels lonely and tries to isolate themselves. Sometimes, spending time or interacting with family or friends is all that is needed to reduce stress levels.