'Battle of Winterfell': A look into GoT's ultimate battle scene
'Battle of Winterfell': A look into GoT's ultimate battle scene
Mar 06, 2019, 12:36 pm
3 min read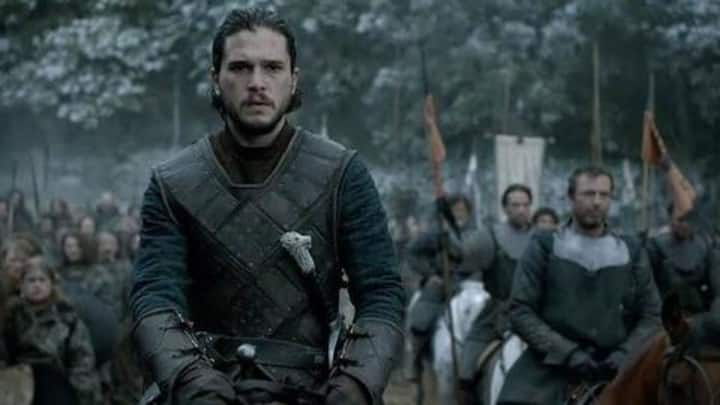 The final season of Game of Thrones is set to hit our TVs next month and fans can't keep calm. Raising the curiosity, the cast and showmakers of the fantasy series have now given some insights of the final battle scene in the upcoming eighth season. And, they revealed that the episode- Battle of Winterfell is going to be epic. Warning: Spoilers ahead!
Night King's army to battle 'an uneasy collection of allies'
In a recent interview, the crew revealed the experience of filming the ultimate battle scene of the series, which was shot for more than 55 consecutive nights. In the Battle of Winterfell, the Night King and his army will lock horns with "an uneasy collection of allies" and will feature Jon Snow, Daenerys Targaryen, Tyrion Lannister, Arya Stark, Sansa Stark, and Brienne of Tarth.
Episode helmed by the director of 'Battle of Bastards'
The episode has been directed by Miguel Sapochnik, who also helmed the Battle of Bastards episode in Season 6. A year before the episode was about to go on floors, Sapochnik called up Maisie Williams, who plays Arya Stark, and said, "Start training now, because this is going to be really hard." Sapochnik has directed two of the six episodes of Season 8.
Episode filmed with 750 crew members working for 11 weeks
It is said that the episode is the longest consecutive battle sequence ever filmed and had 750 crew members working for 11 weeks of night shoots. "What we have asked the production team and crew to do this year truly has never been done in television or in a movie," said co-executive producer Bryan Cogman, adding that the episode will blow people's minds.
There are sequences built within sequences, says co-executive producer
"This final face-off between the Army of the Dead and the army of the living is completely unprecedented and relentless and a mixture of genres even within the battle. There are sequences built within sequences," Cogman said. Further, Williams said, "But nothing can prepare you for how physically draining it is. It's night after night, and again and again, and it just doesn't stop."
Ian Glen, Rory McCain agree with Williams' sentiments
Ian Glen, who plays Jorah Mormont, shared Williams' sentiments. "You get to sleep at seven in the morning and when you wake in the midday you're still so spent you can't really do anything, and then you're back," the actor said. Rory McCain, who plays The Hound, also agreed with Williams and Glen saying, "Everybody prays they never have to do this again."
Sapochnik searched for similar battle scenes for ideas
To create the battling sequence, Sapochnik looked for similar scenes from previous films but in vain. The closest he could come across was the Battle of Helms Deep from Lord of the Rings 2, which lasted 40 minutes. "It feels like the only way to really approach it properly is take every sequence and ask yourself: 'Why'd I care to keep watching?'" he said.
Sapochnik said cast-members often wanted battle scenes to be theirs
Sapochnik explained that he directed the previous GoT battle scenes from Jon's perspective but often other cast members wanted it to be their scene, which made it complicated for him. "I keep thinking: 'Whose story am I telling right now?'" he said. The final season will air on April 14 and many spin-offs are in stages of development.