#GullyBoy review: This Mumbai-underdog film will leave you deeply inspired
#GullyBoy review: This Mumbai-underdog film will leave you deeply inspired
Feb 15, 2019, 02:30 pm
4 min read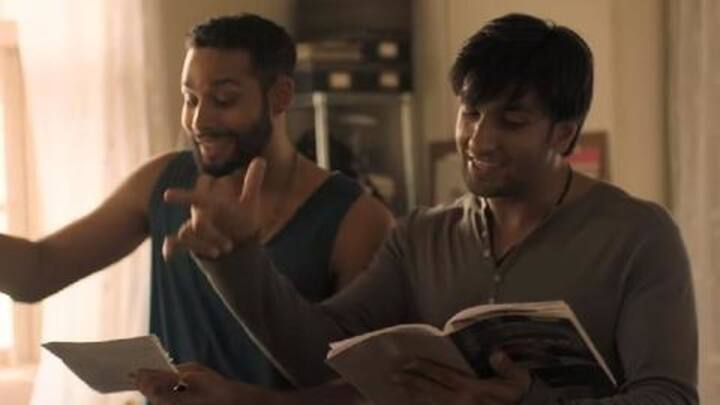 Zoya Akhtar's latest outing Gully Boy, like much of her filmography so far, is set in a big city- a city so big that it makes it excruciating for people like Murad (Ranveer Singh) to even dream in the backdrop of their grim realities. The movie, however, is no mystery- you get to know what's going to unfold, soon enough. But the magical ride it offers is what will make you stick tight to your seat.
A nobody in the slums of Dharavi
Murad, our 22-year-old protagonist, is not a hero, not in the conventional Hindi cinema sense, at least. He lives in a Dharavi rat-hole, with his family of six. And the bunch comprises an oppressive and orthodox father, and a stepmother. He waits for his girlfriend, Safeena (Alia Bhatt) to sit by his side in the bus, and share earphones with. And, he hopes to get a white-collar job one day, with his uncle's help.
The coming of the underdog
Murad does what he is supposed to: filling in for his father, a driver, when the latter gets injured; completes his degree, which his mother insists, must be the first priority, and takes up the sales job at his uncle's office. But gifted with a knack to write, he finds his calling in rap, and gives his everything to make it big.
'Gully Boy' draws inspiration from real-life Mumbai rappers
The film draws inspiration from, and rightfully pays a tribute in the title sequence, to real-life Mumbai rappers Divine (Vivian Fernandes) and Naezy (Naved Shaikh). The duo is popular for the hit 2015 song titled, Mere Gully Mein.
Ranveer Singh lends soul to 'Gully Boy'
In Gully Boy, Ranveer Singh is not his usual self. In fact, the flamboyant personality you know from social media is nowhere close to the world that Murad belongs to. As a hardworking and ambitious slumdog, Singh is both vulnerable and sensitive. The man puts so much energy in the rap-battles and stage performance scenes, and equal amount of subtlety in the phases of struggle, that he is a treat to watch.
One of the best characters Alia has ever portrayed on-screen
Alia Bhatt is a delight to watch. Her character, Safeena is a Muslim, and a medical student. But she defies all stereotypes related to both these identities, whatsoever. She is outspoken, passionate, and ambitious. And she loves Murad, so much so that she will get herself into a dirty brawl with about anyone who tries to hit on him, in literally no time.
Ranveer-Alia share a fervent chemistry in the film
The chemistry between Ranveer and Alia is so real and intense, that it takes us time to reflect on the fact that it's actually the first time they are sharing the silver screen. Their scenes together are some of the best ones in the film.
The spot-on supporting cast makes it impossible to get distracted
The real charm of Gully Boy couldn't be achieved without the spot-on performances by its superbly talented supporting cast. Vijay Raaz as the oppressive father of our hero hits all the right notes. Debutant actor Siddhant Chaturvedi, who essays the role of MC Sher, fellow rapper who introduces Murad to Mumbai's hip-hop scene, turns out to be a revelation. The power-packed support cast also includes Kalki Koechlin, Amruta Subhash, and Sheeba Chaddha.
'Asli Hip-hop se milaein Hindustan ko!'
In Gully Boy, Music isn't just an element. It's a character. And a strong, inspiring, and moving one at that. The 18-piece soundtrack of the film created by as many as 54 contributors (rappers, beatboxers, producers), is so anti-Bollywood that it might feel overwhelming for a regular movie-goer. Gully Boy's music is politically subversive, extremely catchy, and unconventionally inspiring, all in equal parts.
What makes the slums of Dharavi come alive in Gully Boy is its awe-inspiring cinematography. The photography is so precise that the conventional shots of the Marine Drive, or The Gateway have been totally done away with. In a simplistic-yet-brilliant shot, Singh is seated in the shady pilot seat of a shiny Mercedes, while every other part of frame is filled with lights. Contrast between Murad and the richie-rich people he works for, is well established. It leaves you wanting for more.
In 'Gully Boy', everybody wins
In Gully Boy, Murad achieves more than he could dream of. The film celebrates the victory of music, art, dreams, and passion. But above all, it's a victory for Indian Cinema, for the film guarantees that the times are changing. And changing for better.