Is Vivek Agnihotri-directed 'The Kashmir Files' based on true events?
Is Vivek Agnihotri-directed 'The Kashmir Files' based on true events?
Mar 14, 2022, 06:17 pm
3 min read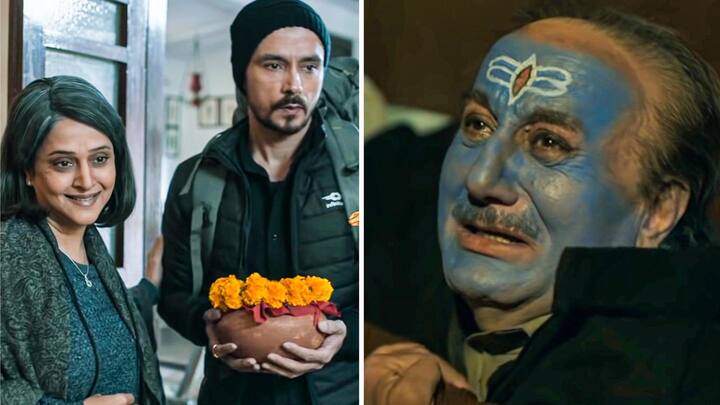 Ever since its release on Friday (March 11), Vivek Agnihotri's The Kashmir Files has been in the news. Working extremely well in theaters across the country, the film is being hailed for bringing the truth about the genocide of Kashmiri Pandits in Kashmir Valley out to light. But is the Hindi production based on true events? Here, we discuss some similarities. (Spoiler warning)
Pandit Tika Lal Taploo's death was covered via newspaper clippings
According to Agnihotri, he and his wife Pallavi Joshi (also a producer and primary cast member) spoke with around 700 "first-generation victims of Kashmiri genocide" across regions while researching for the film. These testaments, along with media reports, formed the basis of The Kashmir Files. It showed major events—like the killing of Kashmiri Hindu leader Pandit Tika Lal Taploo—via newspaper cuttings and radio announcements.
When a woman was force-fed rice soaked with husband's blood
In one scene, we see terrorists looking for a man on their hit-list whose wife advises him to hide in a rice barrel. When the terrorists find and kill him, they don't just stop there. Horrifically, they force-feed rice soaked with the man's blood to his wife (played by Bhasha Sumbli). Reports suggest this is what had happened to telecommunications officer BK Ganjoo's family.
When terrorists, dressed as Indian Army, killed over 20 Indians
In one of the most disturbing scenes from the film, we see terrorists killing numerous Pandits after luring them out dressed as Indian Army personnel. A link to this can also be established through the Nadimarg massacre of 2003 when over 20 people—ranging from an infant to middle-aged men and women—were shot dead in Nadimarg of Pulwama on March 24, 2003.
The disturbing story of Girija Tickoo
The nauseating story of Girija Tickoo also finds a mention in The Kashmir Files, albeit differently. Tickoo, a laboratory assistant, had left the Valley with her family. But she had to return to receive her salary. Then, she was abducted and gang-raped for days, after which her body was sawed. A character gets sawed in the movie, too, but the abduction/rape part is omitted.
The death of Kashmiri poet Sarvanand Kaul 'Premi'
Another spine-chilling scene is where a group of Pandits—while migrating in the dead of the night—see a father and son hanging from trees. These two had provided the group with shelter and had willfully walked out with armed men earlier in the night. Reports suggest Kashmiri poet Sarvanand Kaul "Premi" suffered a similar fate as he and his younger son were killed in 1990.