Karan Johar feels "responsible" for Hardik Pandya, KL Rahul controversy
Karan Johar feels "responsible" for Hardik Pandya, KL Rahul controversy
Jan 23, 2019, 02:57 pm
3 min read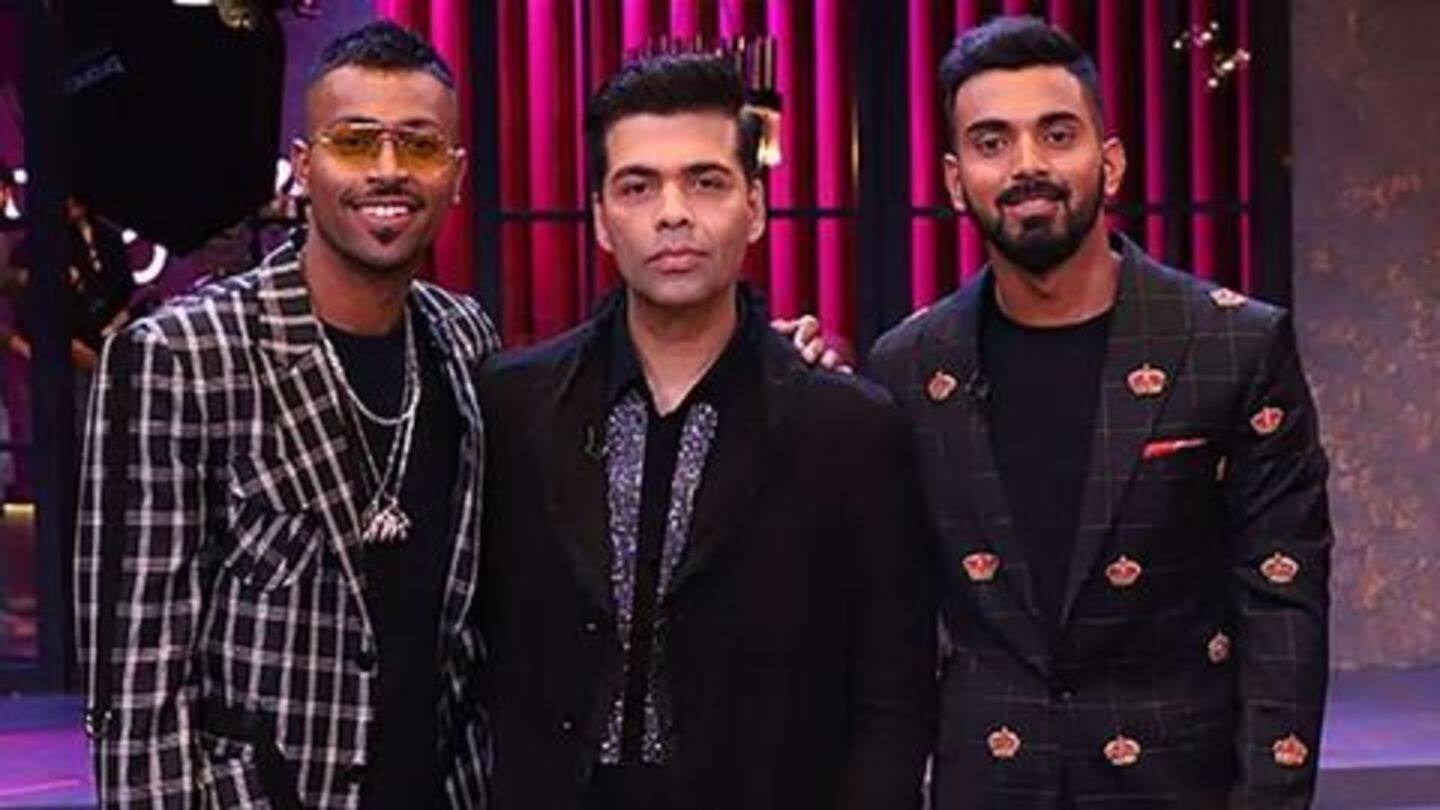 Cricketers Hardik Pandya and KL Rahul received a lot of flak (and were subsequently banned by BCCI) after their controversial remarks on Karan Johar's Koffee With Karan 6. They were criticized for their misogynist remarks from all quarters. Unsurprisingly, their statements brought KJo under the fire. While he maintained a stoic stance for long, he has now broken silence on the controversy. Here's more.
Backstory: Cricketers landed in trouble after 'KWK' debut
It all started when Pandya and Rahul made their debut on KWK 6. Pandya flaunted his unabashed lifestyle as he spoke about his relationships and crushes. While Rahul kept his head on shoulders, Pandya made demeaning statements about women throughout the show. In fact, Pandya also boasted about his sex life and how he hooked up with multiple women.
Finally! Karan Johar breaks silence
The episode snowballed into a controversy forcing BCCI to take action against Pandya and Rahul. While the issue became a raging one, everyone waited for KJo to address it. After weeks, KJo spoke on it and said, "It was my show, my platform. I invited them as guests and so the ramifications and repercussion of the show are my responsibility".
KJo wishes the damage could be undone
Expressing his disappointment, KJo said that he endured several sleepless nights since then. The ace filmmaker wished he could undo the damage. "I've had so many so many sleepless nights just wondering about how I can undo this damage, who is gonna listen to me. It's now gone into a zone which is beyond my control," KJo added.
I don't care about ratings: KJo
Notably, after the controversial episode went on air, KJo was accused of enjoying the traction it got for KWK 6. However, he clarified that it was never about TRP for him. Instead, he deeply regretted what happened with Pandya-Rahul. "I regret what has happened to them. And, then there was talk about me actually enjoying the TRP, I don't care about TRPs," KJo asserted.
KJo apologizes for the controversy
KJo further defended KWK 6 and apologized for the controversy. "I think that perhaps things were said that may have crossed boundaries and I apologize because it was my platform. I feel Pandya and Rahul have faced the price for it already," KJo said.
Pandya and Rahul were suspended by BCCI
Following his misogynist remarks, Pandya apologized on Twitter and admitted being carried away on KWK 6. However, BCCI wasn't satisfied with his apology and suspended both Pandya and Rahul from the team. The two were called back home from series against Australia. In fact, Pandya and Rahul were also slammed by former cricketers Sunil Gavaskar and Harbhajan Singh for their controversial statements on women.