#MadeInHeaven unravels the ugly truth underneath big-fat Indian weddings
#MadeInHeaven unravels the ugly truth underneath big-fat Indian weddings
Mar 10, 2019, 05:08 pm
4 min read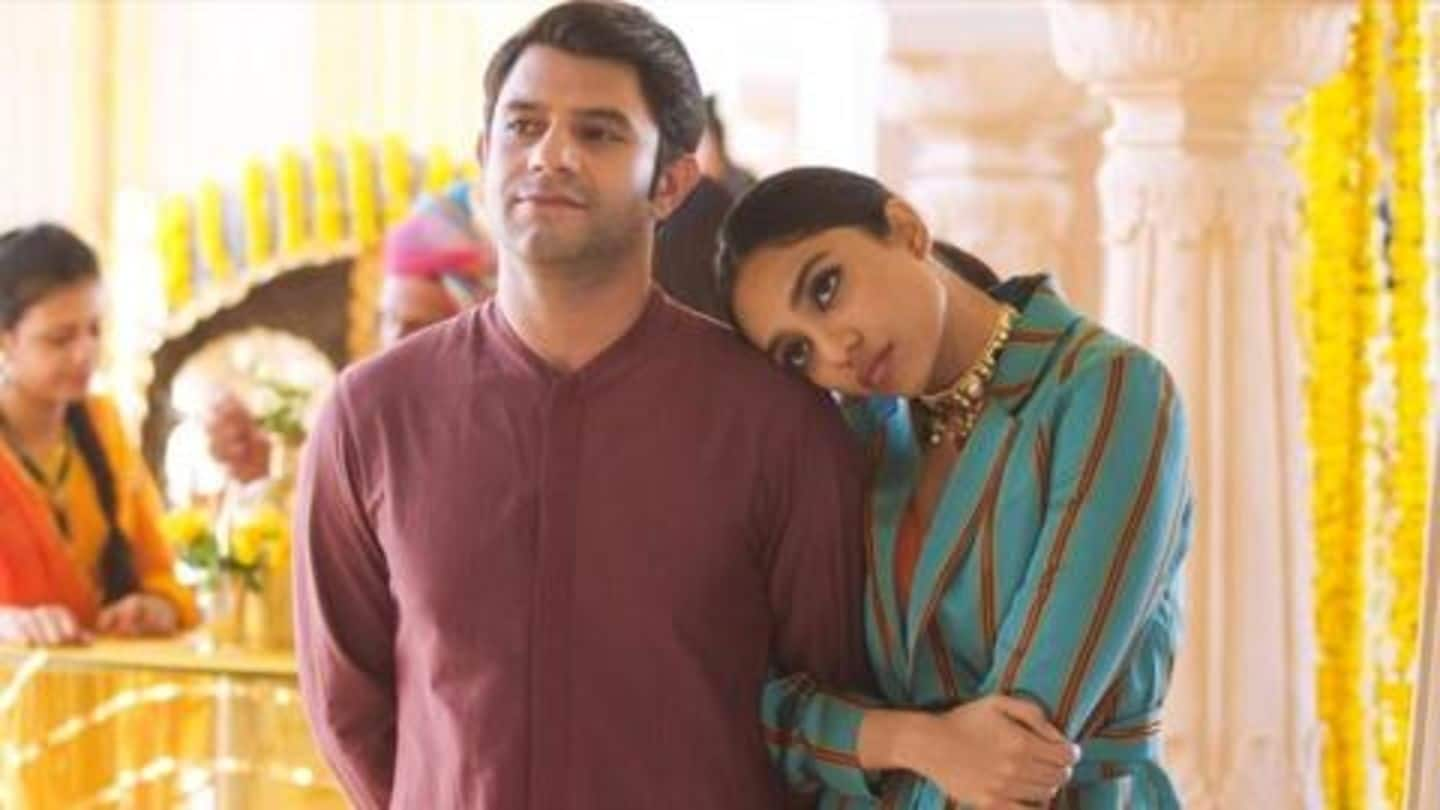 Every middle-class Indian, like this writer, wonders what all really goes into the making of those extravagant, too-good-to-be-true big fat Indian weddings. Turns out, show-creators Zoya Akhtar and Reema Kagti, with their latest product - Made In Heaven (Amazon Prime Video), have taken the onus of addressing our curiosity, that too, in an enormously entertaining and engrossing way. Here's our review of the series.
A little bit of introduction
Made in Heaven is a nine-episode Indian web television series that exclusively premiered on Amazon's streaming platform Prime Video, on March 8. It has been written by Zoya Akhtar, Reema Kagti, Niranjan Iyengar, Alankrita Shrivastava, and Vivek Anchalia. Zoya Akhtar, Prashant Nair, Nitya Mehra, and Alankrita Shrivastava served as the directors of the show.
Focus is on the lives of two Delhi-based wedding planners
Made in Heaven chronicles the lives of Tara Khanna (Sobhita Dhulipala) and Karan Mehra (Arjun Mathur), who run a reasonably successful two-year-old wedding planning company, whose name inspires that of the show itself. Talking in a no-nonsense fashion, these planners are supposed to do (quote, unquote): Design, Venue, and Catering. But the interesting part is that they always end up doing (way!) more.
What makes Made in Heaven special is its courage. On the outside, it's a glittery show, with quite expensive lighting, sets, and costumes, but the writers here have aimed for more: a hard-hitting, thought-provoking commentary on the Indian society, using high-class urban-weddings as a prop.
An honestly (humiliating) mirror to the society
The show, with all its might, has attempted to serve as a mirror to our (progressive?) society. And an honest and humiliating one at that. It brings to light several filthy facets of the society- patriarchy, male chauvinism, hypocrisy, homophobia, dowry negotiations, and political opportunism, against the backdrop of Indian weddings and the modern-day boom in urban wedding planning industry in cities like Delhi.
"Just crazy, rich people getting married"
The show explores the corrupted, empty souls of rich, classy people. And in that way, serves as a fine satirical take on upper-class India. On the face of it, these people have everything, but just as you start digging the surface, you meet hollowness.
Zoya Akhtar's latest movie outing Gully Boy (released on February 14) is still running strong at theaters. The film garnered rave reviews from audiences and critics alike. And, now Made in Heaven goes on to prove her brilliance as a storyteller. She is undoubtedly one of the best mainstream filmmakers in the country right now.
Acting? As good as it gets
Sobhita and Arjun carry their performances in a similar fashion that their characters carry the business- with courage, responsibility, passion, and hard work. Arjun, as a smart-yet-vulnerable Karan Mehra desperately trying to succeed at his second attempt at business, delivers the performance of a lifetime. Sobhita as the classy, ambitious, and manipulative Tara Khanna is compelling. Her stake in the industry is bound to broaden after this show.
More noteworthy performances
Super-consistent Jim Sarbh, playing the successful entrepreneur Adil Khanna hits all the right notes. Kalki Koechlin as Tara's not-so-loyal best friend plays an emotionally turbulent Faiza, who is trying to recover from an abusive marriage. Shivani Raghuvanshi as a newly-hired Production assistant turns out to be a revelation. Her character, Jaspreet (or Jazz, as she insists on being called) is outspoken and ambitious, but also a bit naive. She is a treat to watch.
Supporting cast and guest appearances
The jam-packed supporting cast includes Shashank Arora, Vijay Raaz, Vinay Pathak, Dalip Tahil, and Manini Mishra, among others. Deepti Naval, Neena Gupta, Pulkit Samrat, Manjot Singh, and Shweta Tripathi show up for guest appearances.
Cinematography and Design artists
The cinematography by Jay Oza, and John Jacob Payyapalli is tasteful. The shots are colorful and charming- good enough to bring out the authentic and celebratory feels of traditional Indian weddings. Also, credit where it's due: the costume designers and set designers have done a fine job to make the show feel like an actual wedding in its very own right.
Made in Heaven delivers potent social commentary, without compromising on entertainment at all. It is impactful and immersive- just the right amount to keep you hooked. Safely put, it is undeniably one of the most finely created (and enacted) Indian web television series, ever.