Oscars 2020: 'Parasite' wins Best Picture, and a lot more!
Oscars 2020: 'Parasite' wins Best Picture, and a lot more!
Feb 11, 2020, 05:45 pm
3 min read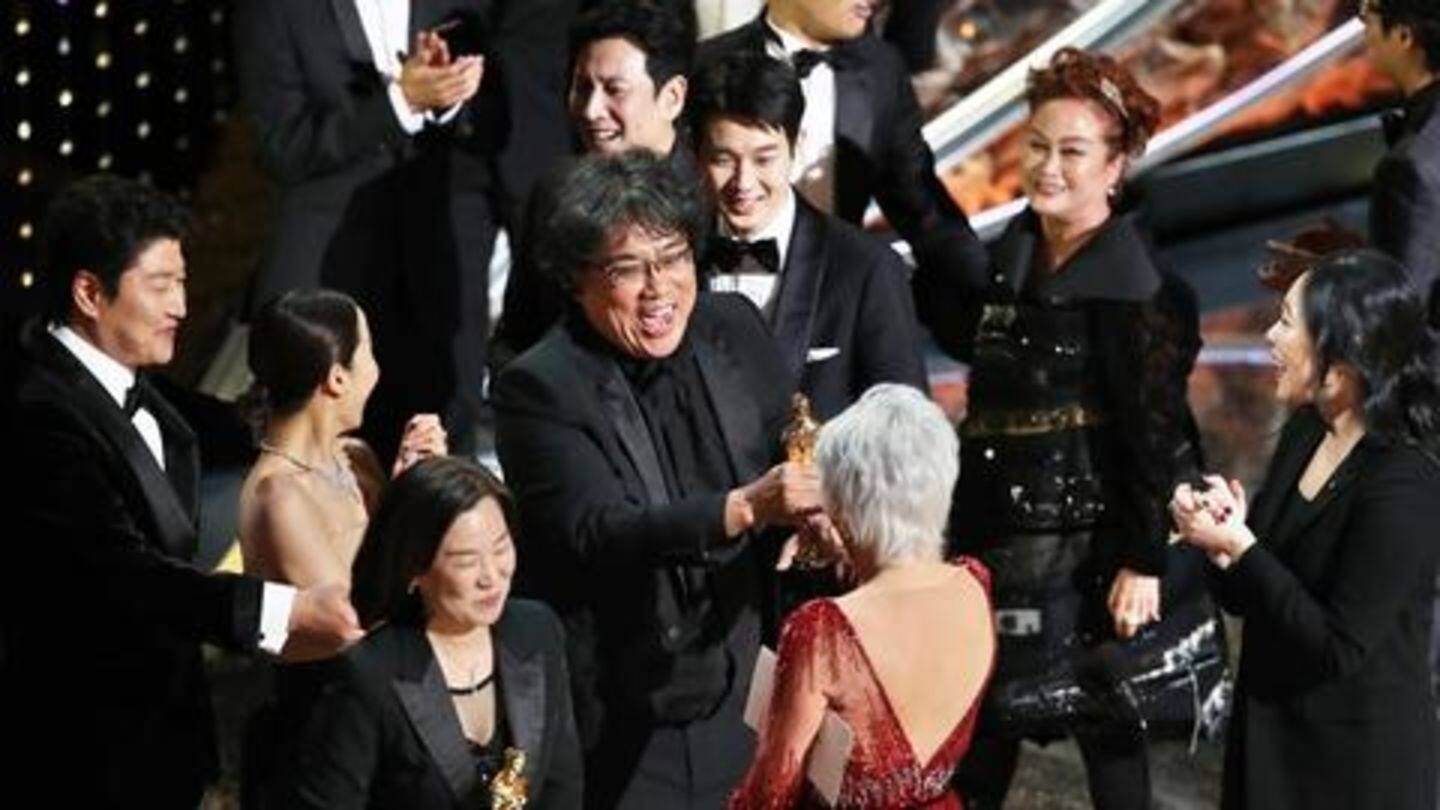 Parasite, the cinematic marvel of Bong Joon-ho, created history at Oscars 2020 by becoming the first-ever non-English movie to win the award for Best Picture in the 92-year span of the Academy Awards. Taking home four awards out of six nominations, the South Korean thriller also won Best International Film, Best Original Screenplay, and the Best Director award for Joon-ho. Let's decode this win.
'Parasite' is a satirical take on class and economic divide
The first South Korean film to win an Oscar, Parasite, co-written by Joon-ho and Han Jin-won, revolves around a poor family of four, that orchestrates a plan to get employed by a rich family, finely bringing out pertinent social issues of class and economic divide. The film has received glowing reviews, with top publications calling it a "miracle" and a "masterpiece".
'Parasite' also has a Palme d'Or and two BAFTAs
Parasite headed into the Sunday night ceremony in LA, with a long line-up of accolades already to its name, including a Palme d'Or at 2019 Cannes Film Festival, two British Academy (BAFTA) awards, and a Screen Actors Guild Award for outstanding performance by its cast.
While accepting Best Director award, Joon-ho praised fellow nominees
Thinking that he was "done for the day and ready to relax" after collecting the award for Best International Feature, Joon-ho returned to the stage to accept the Best Director trophy. The filmmaker revealed that he studied fellow nominee Martin Scorsese's movies, when he was in school, saying that he considered it an honor to be nominated along with filmmaking giants from the West.
His speech had a Tarantino reference
Joon-ho also gave a shoutout to Quentin Tarantino. "Quentin, I love you," he merrily said. "And Todd [Phillips] and Sam [Mendes], great directors that I admire. If the Academy allows, I would like to get a Texas chainsaw, split the award into five and share it with all of you," Joon-ho said.
Joon-ho's acumen was cemented long before the Oscars nod
But it should be noted that Joon-ho didn't really need an Oscar to get validation for his filmmaking acumen. Even before Parasite became one of the rare non-English films to gain the attention of the global audience, Joon-ho crafted several socially relevant movies such as crime drama Memories of Murder (2003), black comedy movie The Host (2006), and action-adventure film Okja (2017).
Parasite's win a saving grace for the Academy
The decision to honor Parasite with the top prize is not only rewarding for the movie's team but also works as a saving grace for the Academy, which has long been mired in controversies concerning under-representation of people of color and women. However, the debate that Parasite didn't get even a single nod for its acting talent, remains still as relevant.
The win is also crucial for promotion of non-English films
After almost a century, a non-English film was declared the best film at the biggest award show. This will help promote the viewership of more international films globally. "Once you overcome the 1-inch-tall barrier of subtitles, you will be introduced to so many more amazing films," Joon-ho himself had noted while accepting the prize for the best foreign-language film at this year's Golden Globes.
South Korean President Moon Jae-in is ecstatic after the win