When Kapil Sharma appreciated PM Modi's sense of humor
When Kapil Sharma appreciated PM Modi's sense of humor
Jan 20, 2019, 02:04 pm
2 min read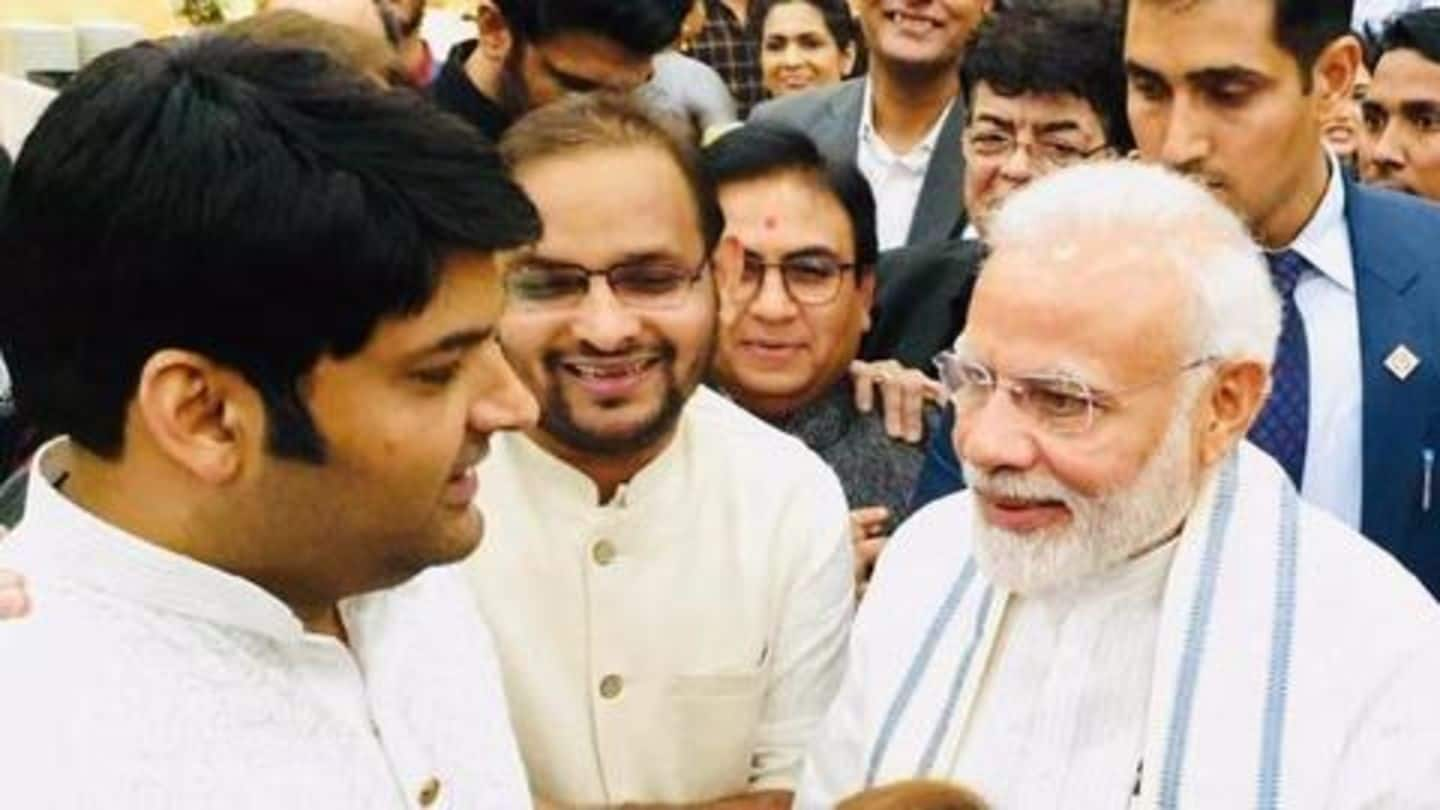 Prime Minister Narendra Modi met a host of Bollywood stars during the inauguration of National Museum of Indian Cinema on Saturday. The event was attended by celebrities like Aamir Khan, AR Rahman, and Kangana Ranaut who were delighted to meet PM Modi. One of the attendees, Kapil Sharma, lauded PM Modi for his sense of humor and the latter thanked him. Here's what happened.
Kapil Sharma is all praises for PM Modi
Kapil has been over the moon post his meeting with PM Modi. He shared a picture from their meeting on social media; he was all smiles as he spoke to PM Modi. Kapil captioned the picture, "It was nice meeting you and great knowing your inspiring ideas about our nation. I must say you have a great sense of humor too!"
Respected pm Sh @narendramodi ji,it was nice meeting u n great knowing ur inspiring ideas and progressive views about our film industry and our nation. N sir I must say u have a great sense of humor too! regards 🙏 pic.twitter.com/2fDpGC2qwh

— KAPIL (@KapilSharmaK9) January 19, 2019
Kapil's comment made PM Modi happy
PM Modi was delighted after Kapil appreciated his sense of humor. On Twitter, he wrote it was wonderful that a renowned comedian had good things to say about him. Expressing gratitude towards Kapil, PM Modi wrote, "When Kapil appreciates somebody's humor, it sure makes that person happy and I am no exception. Thank you for the kind words".
PM Modi and Kapil are fans of one another
When Kapil took a jibe at PM Modi
To recall, Kapil had once invited flak after he took a jibe at PM Modi's 'Achhe Din'. In 2016, he wrote a series of angst-ridden tweets and alleged that he was asked for a bribe of Rs. 5 lakh by BMC for setting an office in Mumbai. However, he later clarified that he didn't blame any political party for corruption in the nation.
Tagging PM Modi, Kapil wrote what happened with him
I am paying 15 cr income tax from last 5 year n still i have to pay 5 lacs bribe to BMC office for making my office @narendramodi

— KAPIL (@KapilSharmaK9) September 9, 2016
Indian Cinema is the mirror of society: PM Modi
Meanwhile, during the inauguration, PM Modi said Indian Cinema has always shown a mirror to the society. "What you see in films is happening in society and what is happening in society is seen in films. This shows India is changing," he added. He also urged the filmmakers to make movies on history, science, and tourism to educate youth.