'Super 30' review: Too much drama, abrupt plot, lukewarm performance
'Super 30' review: Too much drama, abrupt plot, lukewarm performance
Jul 11, 2019, 03:57 pm
4 min read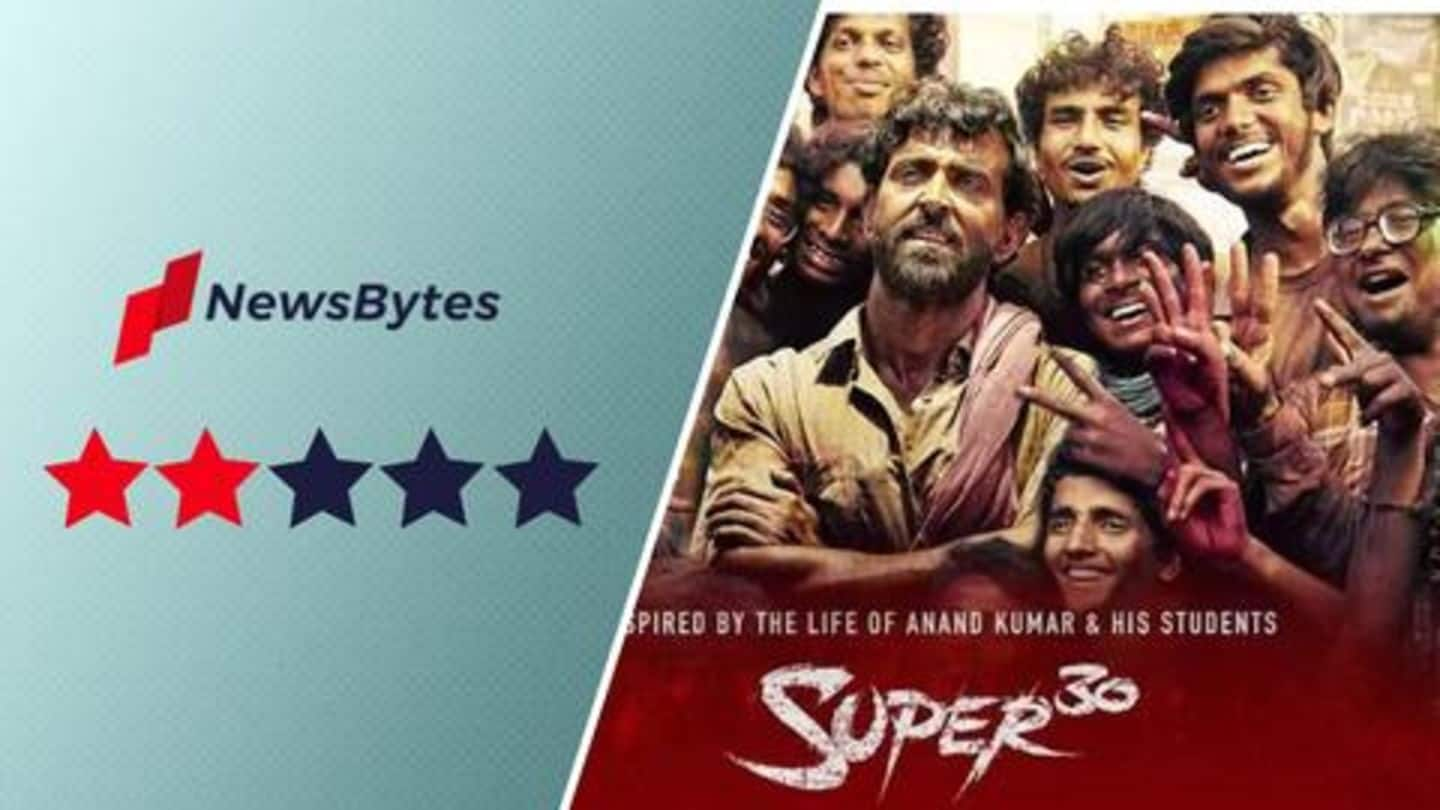 When you are obsessed with something, you are bound to swing towards extremes. Unfortunately, Bollywood's recent obsession with making real life-based films suffers from a similar fate, as most of the end-products are either propagandist or delusive (looking at you, Sanju Baba!), or just unacceptably shoddy. And its latest offering, Super 30 is probably one of the worst biopics in a long time.
'Super 30' draws inspiration from mathematician Anand Kumar
Directed by Vikas Bahl (the guy has been given a clean chit now, hence has been credited), and produced by Phantom Films, Super 30 is based on the life of genius Bihar mathematician-educationalist Anand Kumar, best recognized for his teaching program for underprivileged students.
A brilliant student, Anand struggles to make it big
In the film, Anand (Hrithik) is the brilliant student every parent dreams of. In his introductory scene, he is awarded a gold medal from the State Education Minister. He even received an acceptance letter from the Cambridge. But because of his poor financial condition and his father's undue demise, Anand fails to go to Cambridge, and is even forced to sell papads on streets.
There are two love-stories in 'Super 30'. One is unnecessary
There are essentially two love-stories in Super 30 - first is, of course, Anand's love affair with mathematics. There are hints of Anand's passion of the subject in instances like his love-letter to girlfriend, and his weekly bus trips to BHU for buying books. The other love story (with the actual girlfriend) is merely a prop. Sadly, the part is so undercooked, it feels almost unnecessary.
Anand undergoes transformation, suddenly and abruptly
Anand doesn't suffer for too long, his time changes rather abruptly. He meets a wealthy coaching-center owner, Lallan Singh (played by the brilliant Aditya Srivastava) and gets employed instantly. But the transformation from a humble prodigy to a money-minded, arrogant, and boastful coach is way too sudden and downright abrupt, and so is his later journey to becoming the savior of the poor.
Anand's change of heart is ironically disheartening
In the middle of it, as Anand is walking out of a bar, drunk on alcohol, talent, and power, he sees a poor kid studying. That, coupled with some quick flashbacks, drive him to become the savior of the poor. What were you thinking, filmmakers? Such lazy filmmaking dupes you into believing that people can change easily, which is disheartening, because they just don't.
And then there's too much needless drama
For a biopic (really, though?), Super 30 packs too much needless drama, which is intended for the right purpose- to make the audiences connect with the story, and to feel for the characters. But the execution is such a tragedy that the film has so many meaningless scenes, unnecessary dialogs and unreal turns that it makes the journey distracting and unconvincing.
Barring the main man, the performances are top-notch
Hrithik arrives on the silver screen after almost two-and-a-half years (his last was Kaabil, 2017), but the wait doesn't get justified. To begin with, he looks nowhere close to real Anand (which is totally fine), but his attempts feel desperately overdone. The man tried so hard to mimic the mathematician, that he just couldn't justify the subtleties of Bihari accent, and Anand's demeanour.
'Super 30's supporting cast deserves all the applaud
Probably the best (and maybe the only) good thing about Super 30 is the stellar performances by its supporting cast. As always, Pankaj Tripathi (as a power-hungry minister) is a treat to watch. Aditya Srivastava as the shrewd educationalist businessman/coaching center owner, who often manipulates our genius, makes his presence felt in all his scenes.
A few more noteworthy performances
The film also has the delightful Mrunal Thakur, posted as Anand's love interest, a confident Amit Sadh as a badass reporter, Nandish Sandhu as Anand's ever-supportive brother, and veteran actor Virendra Saxena as Anand's proud yet struggling father.
'Super 30' is a biopic nobody needs
In conclusion, Super 30 fails because although it wants to show an inspiring story of an ordinary man, it doesn't want to stick to an ordinary/simple story. For sake of entertainment (money?), it brings in political conspiracies, murder attempts, and other intolerable absurdities. Honestly, I found Anand Kumar's Wikipedia page more inspiring than the entire flick. Final verdict: 2/5 stars