'Thappad' review: A slap on the normalization of domestic violence
'Thappad' review: A slap on the normalization of domestic violence
Feb 27, 2020, 04:21 pm
5 min read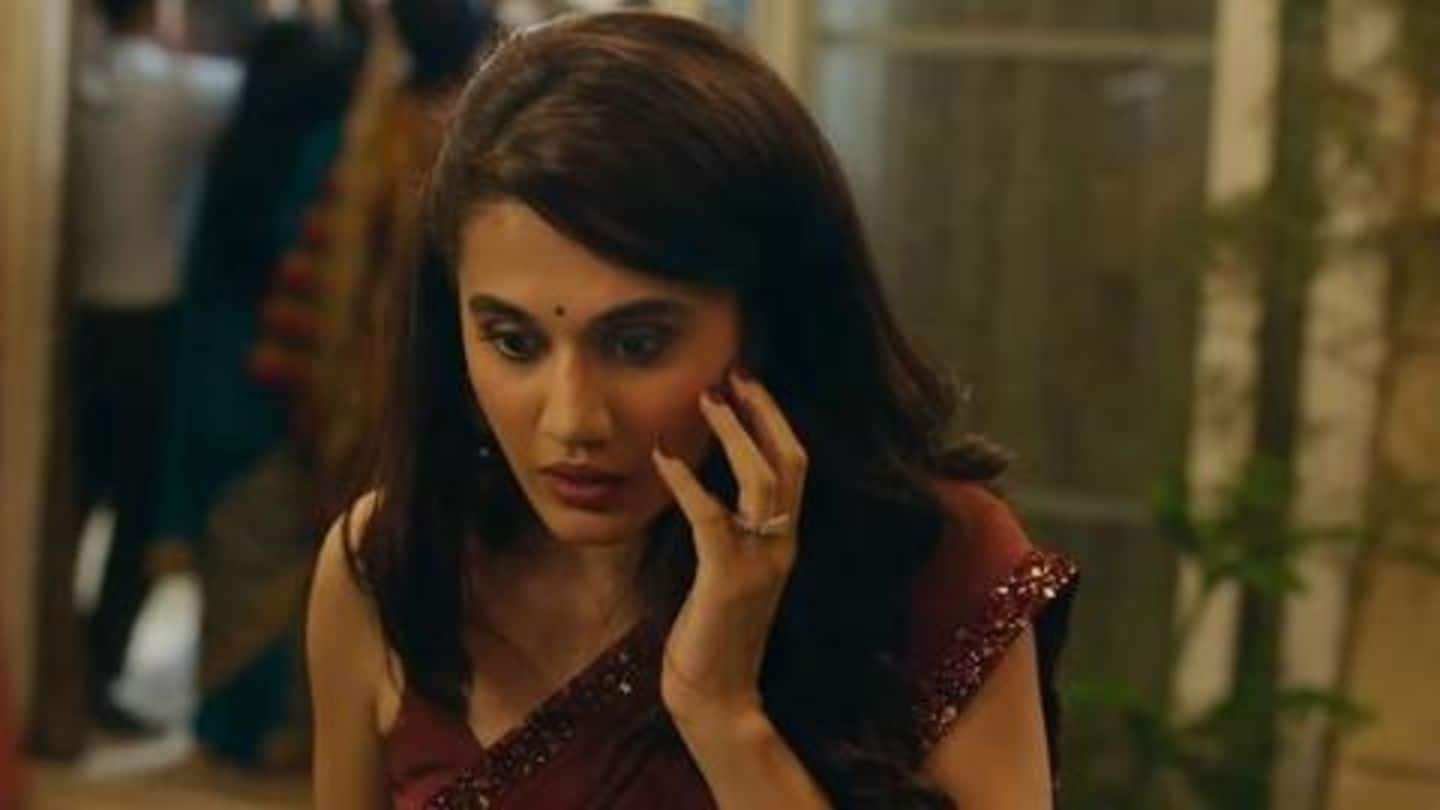 Thappad is not just about one thoughtless slap, it's about all the prejudice and injustice that exist in lopsided relationships and marriages, all around us. After Mulk and Article 15, Anubhav Sinha's Thappad, a hard-hitting take on domestic violence (or the start of it) is well-intended, powerful and relevant, but like every other almost-perfect movie, it has its flaws. Here's our review.
Taapsee plays a loving wife and the perfect homemaker
Amrita (Taapsee Pannu), or Amu as she is lovingly called, is the perfect wife. Even when she is not, she tries her best. She is a homemaker and does everything she is supposed to, in that capacity. Except cooking, one thing she's admittedly not good at. She has chosen a humble, routine life, not out of compulsion but out of love for her husband.
Amrita is a deep and endearing character
Co-written by Sinha and Mrunmayee Lagoo, Thappad's Amrita is a deep and endearing character. As she admits herself, she had never thought she would be a housewife, but she's content with the respect and the love she gets. She even discontinued dancing, after getting married, even though she loved it while growing up. "Time nahi milta hai", she tells her supportive father (Kumud Mishra).
She is married to Vikram, a hardworking manager
Amrita is married to Vikram (Pavail Gulati), a hardworking manager. When we meet Vikram, he is occupied with an important presentation that could land him and Amrita in London. He is borderline desperate for it. Eventually, Vikram nails it and gets the London gig. Thrilled, the man then throws a party for his colleagues, but that's just the beginning of a nightmare.
The rock-bottom for Amrita and Vikram
However, in a (un)expected turn of events, Vikram is told that he would not be the boss but a subordinate at the London office. This is contrary to what was promised to him. He is furious and engages into a heated argument with a colleague at the party. As Amrita tries to drag him away, Vikram hits her, right in front of everyone.
Amrita is shattered after the incident at party
What happens at the party invites different reactions from people around. Some try to justify Vikram's wrongdoing, and some are worried what everyone else would think. While pretty much everything goes on as usual, Amrita is shattered. It's as if her whole life has fallen apart in one night. Even though she tries her best, she just can't get over the trauma of it.
There are several subplots that connect with Amrita's story
Meanwhile, in Thappad, there are several subplots that connect to Amrita's story in one way or the other. Her housemaid (a spot-on Geetika Vidya), for instance, gets thrashed by her husband every other day. She often jokes about it and goes on with her life. The message is clear — countless women face domestic violence. They, unfortunately, either choose silence or brush it aside.
While everyone expects Amrita to move on, she can't
While Vikram, and almost everyone around, expects Amrita to forgive him and move on, a lot changes inside her. For her, the incident is a flashback of the past and a mirror to the future. It brings to her notice all the unfairness she has been mindlessly ignoring in her marriage, and all that could happen if she decides to continue with it.
'Thappad' is a slow-burn, takes time to build
But Thappad has its flaws. Perhaps due to poor editing, it comes off as stretchy and might feel tiring at some point. However, it's the strong messaging and the mature treatment by Sinha that makes it a powerful product. Also, given his bold and meaningful choice of movies in the recent past, Sinha's progression as a filmmaker is commendable, to say the least.
Taapsee is the soul of 'Thappad'
Taapsee has dealt with Amrita's character so brilliantly that the reel-real difference is wiped off. Amrita loves and cares deeply but is not someone who would swallow injustice only because that's what women are supposed to do. The scenes where she continues to live and sleep with Vikram, despite the slap, show the pain and hollowness in her marriage, rather remarkably.
'Thappad' is an ugly mirror for all of us
It's when a movie like Thappad arrives, that we realize how much we still have to progress as a society. Patriarchy runs so deep that when a man slaps his wife, the best we can come up with is to tell her that it's not a big deal and advise her to move on. But Thappad successfully manages to dilute that evil thought-process.
And, it's a much-needed answer to Bollywood's misogyny
Just as it is for all of us, Thappad is also equally relevant for Bollywood's misogyny. It comes off as a hard-hitting and thought-provoking punch in the face of all those movies where women have been beaten, abused, or mistreated. Like Taapsee said a disclaimer regarding such behavior is also necessary in movies. Our rating: 3.5/5 stars.