Kangana Ranaut-Karan Johar tiff leads to viral nepotism debate
Kangana Ranaut-Karan Johar tiff leads to viral nepotism debate
Mar 10, 2017, 04:52 pm
3 min read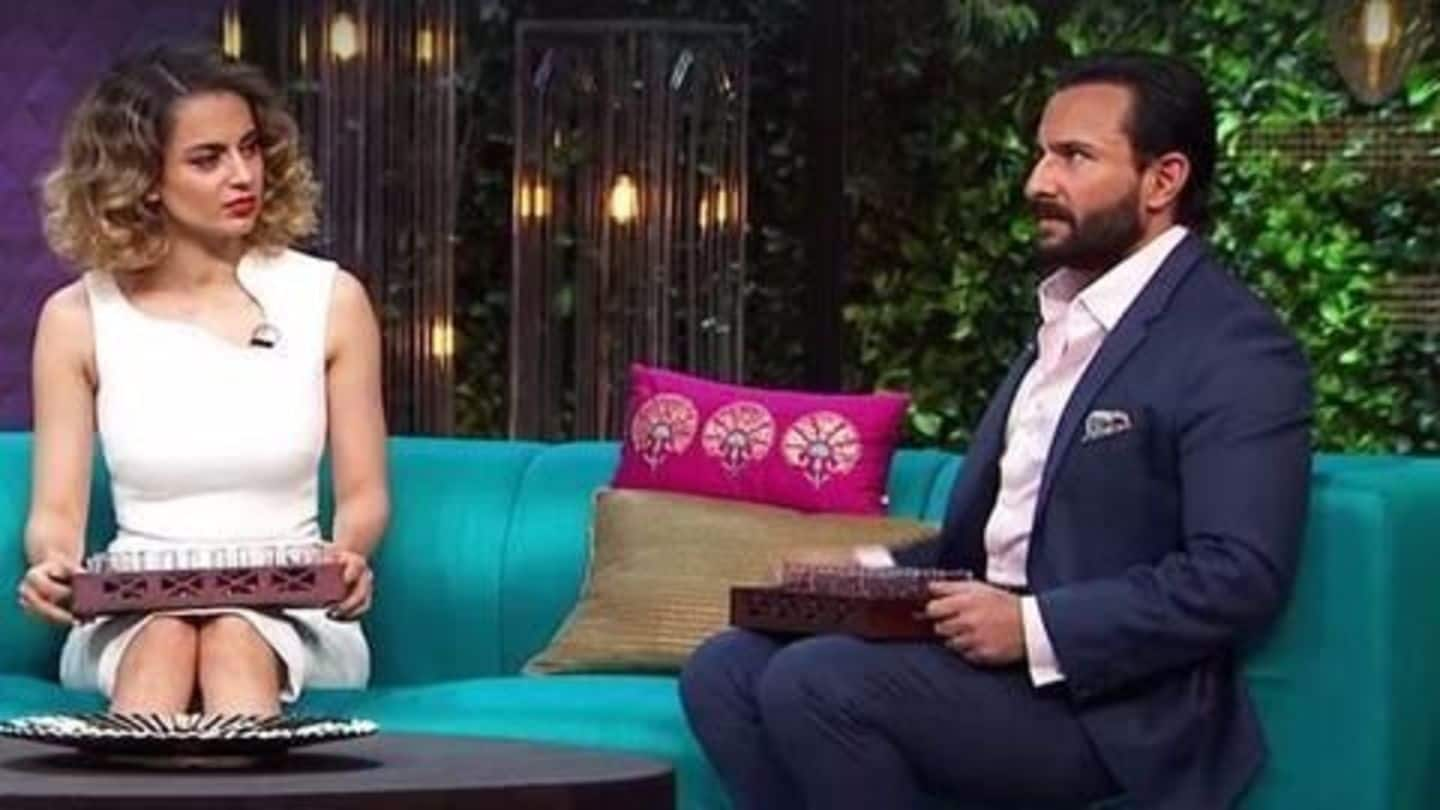 In the last month, Bollywood has been divided after Kangana Ranaut went on Karan Johar's 'Koffee With Karan' and called him a "flag-bearer of nepotism". Johar reacted by asking her to leave the "bad world of the industry" and not use the "victim card". But in this back-and-forth, has the actual issue of Bollywood's nepotism been left out? We chart the bigger picture.
"Flag-bearer of nepotism", "movie mafia": Kangana describes Johar
Ranaut and 'Rangoon' co-star Saif Ali Khan appeared on Johar's show, where she called the industry's rejections and mocking, including by the director himself, the "driving force" in her life. "In my biopic, you will play this stereotypical Bollywood biggie who is snooty and intolerant to outsiders and flag-bearer of nepotism, the movie mafia," she said, while calling him out for his "unnecessary attitude".
Johar hits back, but industry 'outsiders' back Kangana
Though he didn't respond in the show, Johar opined in an interview with Anupama Chopra that Ranaut was free to leave Bollywood, saying he was "gracious enough" to not edit out her comments. However, Huma Qureshi, Prachi Desai, Tapsee Pannu, and even non-actor Mira Rajput have earlier commented on Bollywood being a "family business", saying opportunities are not equal for star kids and "outsiders".
The nepotist Bollywood, from the 90s to 2017
Decades ago, star Madhuri Dixit starred with then-unknown names like Sanjay Kapoor, whose brothers got her a role in the hit-movie 'Tezaab', and Kumar Gaurav, Sanjay Dutt's brother-in-law. Industry links have also helped other struggling actors like Imran Khan and Armaan Kohli. Even in the 2013 Shakti Kapoor casting couch controversy, he solicits an aspiring actress by promising her benefits due to his friendship.
Sexism in Bollywood and the consequent wage gap
The inherent nepotism created an air of exclusivity, resulting in a dearth of prominent female characters and a striking wage gap. Whereas Hrithik Roshan gets paid Rs. 50cr a movie, his peer Kareena Kapoor earned Rs. 7cr for 'Bajrangi Bhaijaan'. Deepika padukone was the only woman in Forbes' 2015 list of 100 richest Indian celebrities. A majorly-male audience adds to the sexist tendency.
An all-pervasive phenomenon
Television director and writer Vinta Nanda says Ranaut's commentary stands true for thousands of others; she was allegedly asked to make the "women (characters) less bold", "dress like a woman", and to keep her "shameful" thoughts to herself.
'Outsiders' valued more overseas than here: Richa Chadda
Richa Chadda appeared in a TedX show in 2016, speaking on a range of issues including nepotism in Bollywood. "People forget to realize that sometimes those not born in the fraternity attract more work from overseas because of their talent. But back home, we are not welcomed or valued," she said, claiming she had been called an "outsider".
The exceptions to the industry's 'nepotism rule'
Alia Bhatt says a star kid might get his/her first movie due to family connections, but it doesn't ensure constant successful projects. Sonam Kapoor quotes Deepika Padukone and Priyanka Chopra, who are today's top heroines without any industry links. Raima Sen says she had to audition like everyone else, and Bobby Deol opines star kids who have disappeared are overlooked in related debates.
Bollywood justifies the exclusivity culture
Bollywood often quotes two common justifications for the nepotism it blatantly exhibits: genetic inheritance, and the exposure star kids have to the whole movie-making process since childhood. Stars also argue their sons and daughters will be judged by the same audience that judges non-industry members.