Woke on streets, predator in sheets: AIB confirms Tanmay knew
Woke on streets, predator in sheets: AIB confirms Tanmay knew
Oct 05, 2018, 05:42 pm
4 min read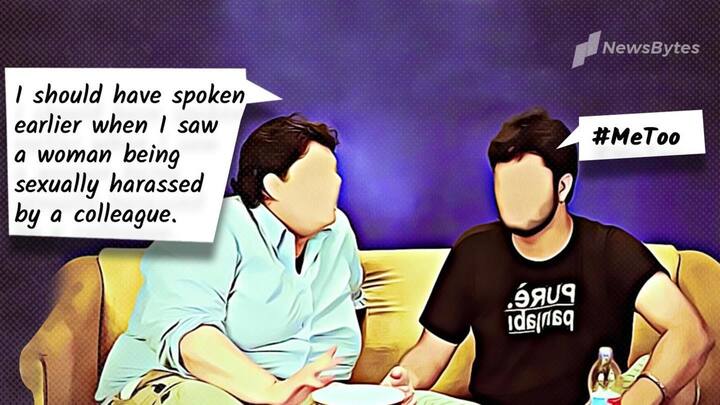 Unless you are free from the vice of social media (congratulations to you then), you would be knowing what happened in the last 24 hours. A 'woke' comedian Utsav Chakraborty was accused of asking sexually explicit images/videos from minors. Don't know who Utsav is? He is a regular on AIB videos. Their lawyer-framed apology and little than less action is what we, women, don't need. And, now they confirmed that their founder, Tanmay Bhatt knew about Utsav.
Woman who called him out, said she told AIB
Mahima Kukreja, who enabled the #MeToo movement, shared screenshots of victims of Utsav's predatory nature. The victims were minors, and some incidents happened way back in 2013. Kukreja in one of her tweets mentioned she told AIB about Utsav, but they continued associating with him, making videos and writing scripts. Had it not been for social media pressure, they wouldn't even have acknowledged it.
Of course AIB was slammed, of course they were sorry
Facing massive backlash for keeping silent despite being aware of Utsav's behavior, AIB released a statement, a short while ago. This is different from their Thursday's release, which was beautifully crafted by a lawyer and informed about what was being done. In the new "We're sorry" statement, AIB acknowledged Tanmay Bhat learnt details about it and yet didn't tell other people, because of 'privacy'.
AIB claims they understand if people feel betrayed or disappointed
Further, the statement highlights Tanmay confronted Utsav and the latter called out the victim, hence more harassment. In fact, AIB also heard whispers in the comic circles about his behavior. "We should have cut ties immediately," reads the statement and claims AIB understands if people are feeling disappointed, betrayed or angry. The bottom line is: They knew, yet chose silence.
Here is the 'fresh out of oven apology' statement
This is bigger than AIB, the industry should be ashamed
Anyone who has followed the stand-up circuit in India closely (like this writer), would know this is more than disappointing. These people, with mics in their hands, made us believe the roast was funny, and we were convinced. They spoke about sexism, harassment, equal rights, and we listened. But when one of their own was a predator, they chose silence.
The comedy industry has probably pulled the biggest prank ever
The sketches of AIB or any of these woke comedians had a common ingredient: women empowerment. Their tweets hinted they were empathetic towards women, when in reality they were clearly not. When Bollywood was to be called out, or establishment to be questioned, their voices were the loudest. But when Utsav's actions caused harm what did they do?
Yes, you are introspecting only after being called out
A look at the tweets of all the star comedians will tell you they are in damage control mode. Be it Kenny Sebastian or Abish Mathew or Kunal Kamra, they are all hinting at introspection and saying they believe the victims. But they didn't believe it earlier. Right? Were all of their meetings in swanky pubs about how the government is wrong or how Rahul Gandhi jokes can fare or how Bollywood has so many problems? Did they never look at the mirror?
It's unacceptable, tweets Abish
I am committed to learning, writes Kenny Sebastian
Thank you @AGirlOfHerWords for coming forward speaking out.

I am sorry that anyone had to go through what Utsav put them through this behavior is just not acceptable.

The burden is now on us men and I'm committed to learning and being better.

— Kenny Sebastian (@knowkenny) October 4, 2018
For comedy industry too, it is all about power abuse
The comedy industry was supposed to be Bollywood's anti-thesis. Only AIB would have made the Kangana Ranaut video calling out sexism and only EIC would have explained Aadhaar the way they did. The ones at the top were supposed to have a spine and were expected to create a safe environment for women. It was all supposed to happen, but the world isn't perfect.
They said they were different, they are not
Now one may argue the comedians really don't owe us anything, they can be like other industries, turning a blind eye to victims' testimonies. But the other industries never claimed they were 'woke'. It's more damning since they pretended they care. At the end, it is us women left for each other. Giving shout outs when it's needed and believing each other when no one does.