Around the world in 311-days: Indian Navy Officer's next voyage
Around the world in 311-days: Indian Navy Officer's next voyage
Written by
Pallabi C Samal
Jun 27, 2018, 09:41 pm
3 min read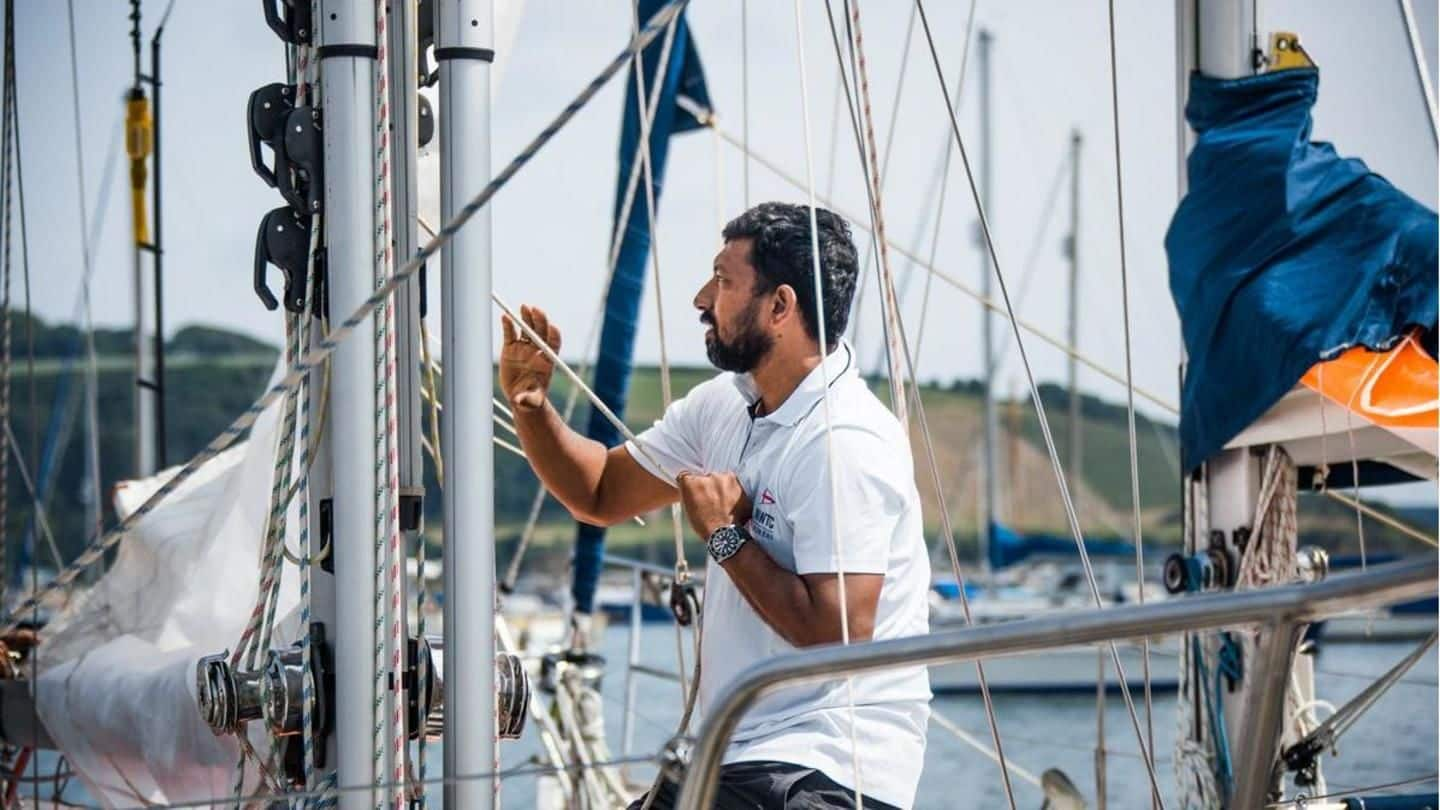 Last time when Commander Abhilash Tomy made it to news was in 2013, when he became the first Indian to circumnavigate the world, non-stop and unassisted. Five-years later, he's set for another voyage around the world, this time as a participant of the Golden Globe Race that'll start on July-1. The race, which will start from France, would involve a grueling 30,000-mile solo circumnavigation.
Golden Globe Race being held to honor Silver Jubilee
The competition is being organized to commemorate 50 years since it was held for the first time in 1968. Interestingly, it was also the only time the race was held, as two participants committed suicide and one's boat sank. However, Sir Robin Knox-Johnston of Britain trudged ahead and emerged as the winner. This year, the race returns having 18 skippers at the start line.
The commemoration is actually being taken very seriously, as the participants have been asked to sail "similar yachts and equipment to what was available to Sir Robin Knox-Johnston in the original race in 1968-69." This means "sailing without modern technology or benefit of satellite based navigation aids." That's why, replicating Knox-Johnston's boat, the 39-year-old had his manufactured at Ratnakar Dandekar's Aquarius Shipyard, Goa.
'At GGR, I've to make do with compass, printed maps'
"At the Sagarparikrama (the first circumnavigation), I had used GPS-based maps and other satellite-based technologies. But at GGR (Golden Globe Race), I've to make do with a compass, printed maps, star and planetary movements. There is a solitary HF radio set for contact," said Tomy.
Tomy's vintage-style boat 'Thuriya' will be vulnerable amid crashing waves
Named 'Thuriya', his 10m boat may not have enough space for bulky-sextants, charts and older equipment. It may also get toppled by violent waves of the Southern Ocean. However, that hasn't deterred Tomy from preparing for the voyage. He engaged himself for 2yrs to prepare for the rigorous journey. Currently in Les Sables d'Olonne (France), the Indian Navy officer will soon start packing things.
Stuffed-up: Tinned food, 1,000 "ready-to-eat" meals, 140lts fuel, 300lts water
This week, he and his team will stock up on food, stationery, and toiletries for the forthcoming months. He has packed tinned food, 1,000 "ready-to-eat" meals, including from the popular South India eatery Mavalli Tiffin Rooms, 140 litres of fuel, gas cylinders and books. For drinking, he would keep 300lts of water on standby, depending solely on rains, as was done by Knox-Johnston.
Tomy targets 311 days to finish the voyage
Last time, Tomy had sailed 23,000 nautical-miles aboard INS Mhadei and finished it in 151 days. This time, he targets 311 days, a day shorter than Knox-Johnston's. For this race, Tomy, like all others, will first travel south till Cape-of-Good Hope, then traverse eastward in the Southern-hemisphere and pass Cape-of-Horn to start sailing north in the Atlantic Ocean for the final leg.
Commander (Retd) Dilip Donde will be overseeing the trip
Tomy, currently posted at the Indian Naval Watermanship Training Centre, Mumbai, has found support in the Indian Navy and in Commander (Retd) Dilip Donde, who'll be overseeing the trip as a base-manager. Interestingly, Donde is also the first Indian to have circumnavigated the world, albeit with stops. Though Tomy will remain incommunicado, the Golden Globe Race website will be updating his progress every three-hours.