Falling panels, glitchy screens mar Ahmedabad-Mumbai Tejas's first commercial run
Falling panels, glitchy screens mar Ahmedabad-Mumbai Tejas's first commercial run
Written by
Siddhant Pandey
Jan 19, 2020, 09:45 pm
4 min read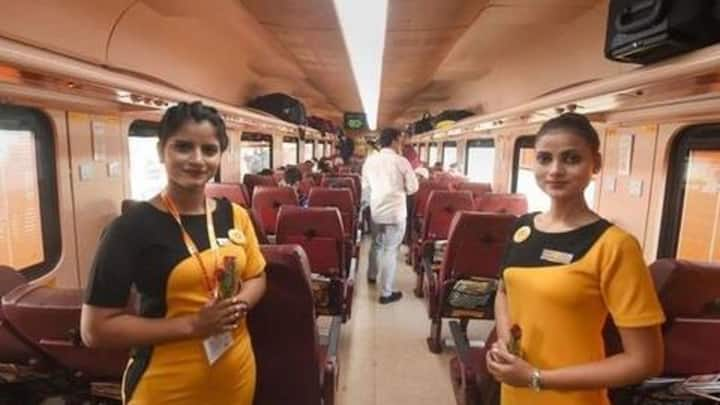 The much-anticipated Ahmedabad-Mumbai Tejas Express took its first commercial run on Sunday, two days after its inaugural run. The Tejas is only India's second private train and had been touted as a premium mode of transport with flight-like amenities. However, on the very first commercial run, a panel reportedly fell off in the executive coach raising concerns about safety. Here are more details.
30% of all entertainment screens didn't function
According to The Indian Express, the Indian Railway Catering and Tourism Corporation (IRCTC) has written to the Rail Coach Factory (RCF) reporting defects on the Ahmedabad-Mumbai Tejas Express's first commercial run and seeking repairs. Besides a panel falling off, 30% of all entertainment screens on-board failed to function, while the rubber coating on the glass windows was peeling off.
Leaking taps, automatic blinders bothered passengers
Reportedly, the IRCTC is now considering upgrading all entertainment screens on-board with better quality alternatives akin to those used in flights. Apart from these issues, it was reported that some sensor taps were leaking, while automatic blinders and dustbins also caused problems.
'Coach still under warranty; manufacturers asked to fix equipment'
An IRCTC official told TIE, "The panel falling off is unacceptable. Besides, several safety items had issues, including the rubber coating of the glass windows, which was coming off." Talking of solutions, a Western Railway official said, "The coach is still under warranty and hence the various Original Equipment Manufacturers (OEMs) have been asked to fix the equipment at no cost to the railway."
Tejas Express witnessed similar defects on inaugural run
The train had had its inaugural run on January 17, which too witnessed many glitches, including panels falling and non-functional entertainment screens. Apart from that, coolies reported being trapped inside the train when its automatic doors shut and passengers faced issues with the Wi-Fi, Mid-Day reported. A tubelight panel also reportedly fell close to a senior citizen in the E1 coach.
MNS previously threatened to disrupt train's operation
Earlier, the Maharashtra Navnirman Sena had threatened to disrupt the train's operations if officials failed to represent Maharashtrian culture. Hence, passengers on Tejas will now feast on Maharashtrian cuisine for breakfast and lunch while heading from Ahmedabad to Mumbai. On the return journey, they will be served Gujarati food. The train staff was also given Gandhian topis to replace kathiyawadi caps when approaching Mumbai.
875 tickets booked from Ahmedabad-Mumbai for tomorrow
According to TIE, on Sunday, 963 passengers had booked Ahmedabad-Mumbai tickets on the Tejas, while 945 had booked tickets for the return journey. For Monday, 875 people have booked Ahmedabad-Mumbai tickets and 352 from Mumbai to Ahmedabad. The Tejas Express has a capacity of 736.
Tejas Express operates on all days except Thursdays
The Tejas Express operates on the Ahmedabad-Mumbai route on all days of the week except Thursdays. It stops at Nadiad, Vadodara, Bharuch, Surat, Vapi and Borivali stations on its journey. The Ahmedabad-Mumbai train departs at 6:40 am and arrives in Mumbai at 1:10 pm. The return journey starts off at 3:40 pm from Mumbai Central, reaching Ahmedabad at 9:55 pm.
Tejas offers compensation to passengers if train is delayed
The train—which has dynamic pricing—includes high-end services such as service staff, high-quality food, and offers passengers compensation for train delays (Rs. 100 for an hour's delay, Rs. 250 for delays of two or more hours). IRCTC also offers free Rs. 25 lakh insurance for the train's passengers.
Another private train between Mumbai-Shirdi in the works
Reportedly, the IRCTC plans to include foot massaging services for executive class passengers for Rs. 50/100. It also plans to start another private Mumbai-Shirdi train via Pune, which would return the same day. Officials told TIE that trains which make the return journey the same day are being prioritized for privatization, and is mulling reducing the duration of Mumbai-Delhi Rajdhani Express to 10 hours.