Railways' new luxurious Uday Express to roll out soon
Railways' new luxurious Uday Express to roll out soon
Feb 09, 2018, 05:28 pm
2 min read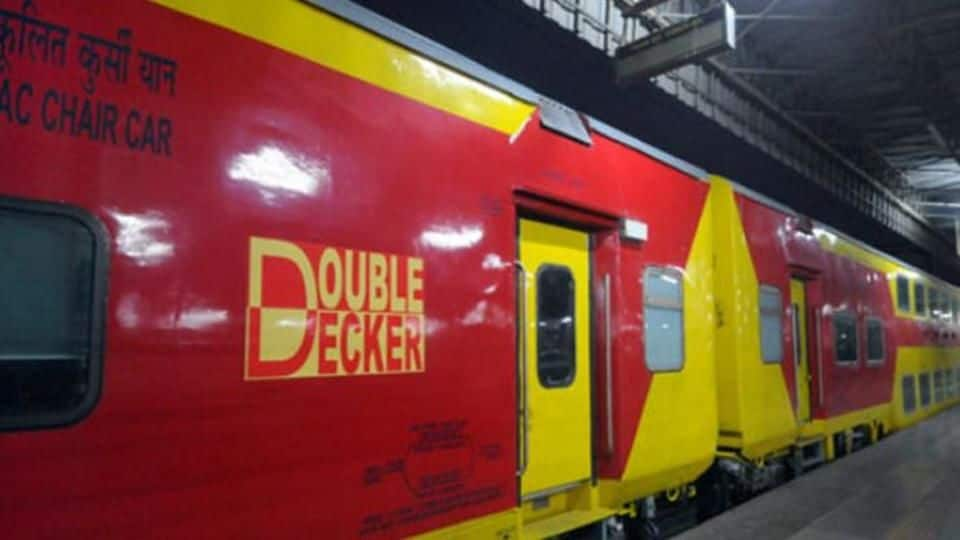 The Indian Railways is all set to launch the Uday Express with state-of-the-art amenities on three routes. Uday, or 'Utkrisht Double Decker Air Conditioned Yatri Express,' has been specially designed for business class travel on India's three busiest routes: Coimbatore-Bengaluru, Bandra-Jamnagar and Vishakhapatnam-Vijayawada. Facilities include automatic food-vending and tea/coffee-vending machines, LCD screens with bluetooth/wifi headphones and anti-graffiti vinyl wrapping.
The Uday Express was announced in the 2016-17 Railway Budget
The Uday Express was announced in the Railway Budget 2016-2017. The first trial run was conducted in August'17 at a speed of 80kmph. In the second run in December on the Coimbatore-Bengaluru route, the speed was 100kmph. About 235km was covered. This will be the 10th double-decker train in the Railways, and will be an improvement over the normal AC double-decker chair-car coaches.
Luxurious amenities for passengers on board
The new "luxury-trains" will have onboard wifi, LCD screens for displaying journey updates and Shatabdi-like seats. In a first, the Uday Express will have food-vending machines placed in modified dining areas. The exteriors and interiors will be wrapped in anti-graffiti vinyl coating. The outside will be brightly-colored in yellow, orange, pink etc, like the Tejas. The modular toilets will eventually be replaced by bio-toilets.
First Uday Express expected on the Coimbatore-Bengaluru route
Uday Express will have 40% additional seating capacity, officials said: 120 per normal coach, and 104 in the ones modified to include the special dining area. The rake is being made by Southern Railways by revamping existing double-decker coaches from the Rail Coach Factory in Kapurthala. Two coaches have already been made. The first Uday Express is expected to run on the Coimbatore-Bengaluru route.