Demonetization Part-2? ATMs across India run out of cash
Demonetization Part-2? ATMs across India run out of cash
Apr 17, 2018, 02:47 pm
3 min read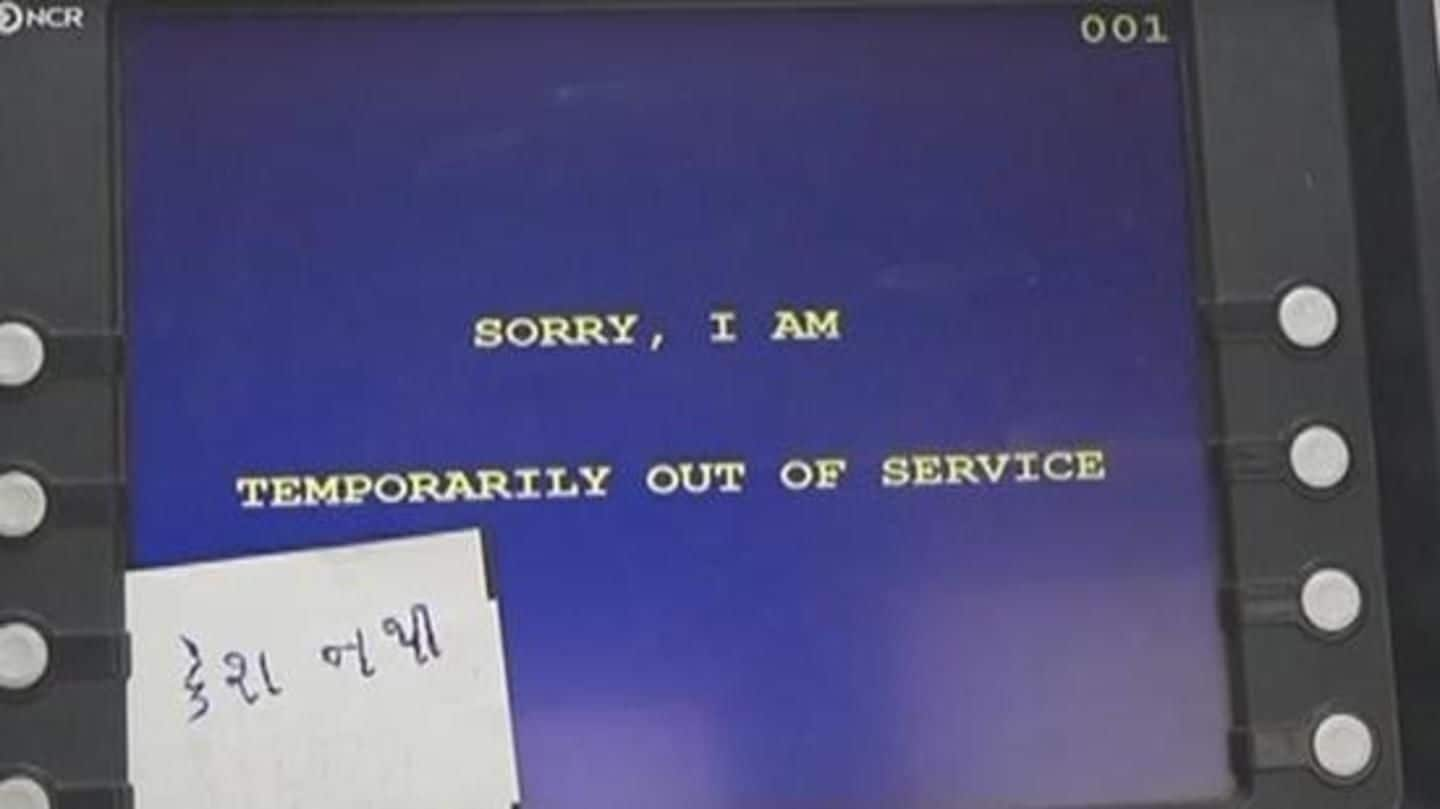 People in several states including Delhi, Telangana and Gujarat are facing an unexpected cash crunch as ATMs run out of money. In some places, ATMs stopped dispensing notes 15 days ago. FM Arun Jaitley attributed it to 'sudden and unusual increase' of cash in some areas, and assured it would be resolved in three days. But public-ire ahead of 2019 could cost BJP highly.
#ATM and #cashcrunch are trending on Twitter
#ATM and #cashcrunch have been trending on Twitter. "Just yesterday I had to travel 100kms to and fro to withdraw cash," vented Aviral Hembrom. Lucknow trader Puneet Sharma compared it to the demonetization period, when a severe cash crunch rattled the economy. A Varanasi resident expressed inability to "purchase groceries." Similar reports have come in from MP, Bihar, Chhattisgarh, Karnataka, Maharashtra, AP and Rajasthan.
Helpless citizens take to Twitter to vent
#CashCrunch is massive here in #Delhi .... #ATMs are nit dispensing Cash from last 2 weeks!! All notes of higher denomination like ₹2000 and ₹500 are out! U can rarely find any atm dispensing them!! @RBI do something plz.

— Anirudh Ranjan (@AnirudhRanjan) April 17, 2018
Shivraj Singh Chouhan alleges 'conspiracy'
MP CM Shivraj Chouhan has alleged a conspiracy ahead of state polls. "Currency worth Rs. 15,00,000cr was in circulation before demonetization. After the demonitization exercise, the currency in circulation increased to Rs. 16,50,000cr. But notes of Rs. 2,000 are missing from the market." Interestingly, demand for cash in poll-bound Karnataka has gone up, India Today reports. Cash is often used to bribe voters.
Several factors have possibly contributed to this trend
SBI Chief Rajnish Kumar said one reason was procurement season; payment to farmers had gone up. RBI sources said there was "higher than normal withdrawal" due to harvest festivals. Rumors about a new bill that would transfer banks' losses to depositors are also driving people to withdraw more cash. However, some bank officials believe RBI is deliberately doing it to boost digital transactions.
Congress, CPI(M) lash out at the government
Opposition parties were quick to attack the government. Congress President Rahul Gandhi said PM Narendra Modi had "destroyed the banking system." It even ran a Twitter poll, asking if the current situation is "just gross mismanagement by modi government...or...a deliberate move." "ATMs were empty in November'16. ATMs are empty now. The only party flush with cash is the BJP," CPM leader Sitaram Yechuary tweeted.
Enough currency in circulation, will be resolved in three-days: Jaitley
The finance ministry held a meeting with RBI officials last week, and asked them to ensure there's no hoarding. Jaitley has assured there's "more than adequate currency in circulation and also available with the banks." "Government has formed state-wise committee & RBI also formed committee to transfer currency from one state to other. It'll be done in three days," said SP Shukla, MoS Finance.
'Taking all steps to resolve matter at the earliest'
The Government of India with the Reserve Bank of India have taken all steps to meet this unusual demand. We had adequate reserves of currency notes which have been used to meet fully the extraordinary demand generated so far

— Ministry of Finance (@FinMinIndia) April 17, 2018