India to witness annular solar eclipse after Christmas: Details here
India to witness annular solar eclipse after Christmas: Details here
Written by
Siddhant Pandey
Dec 25, 2019, 03:00 pm
2 min read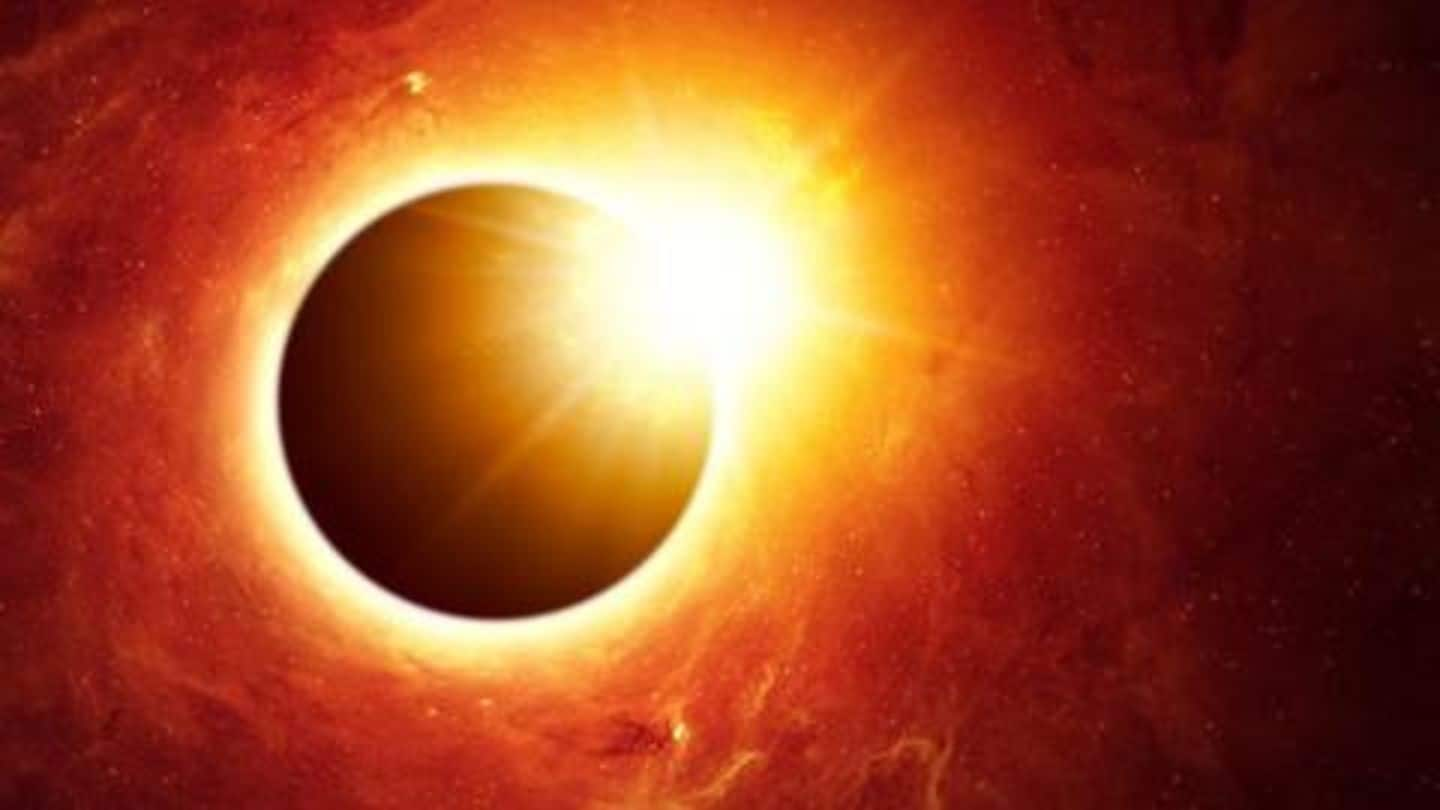 Before bidding goodbye to 2019, India will catch a glimpse of the year's last solar eclipse. The eclipse will be visible from several parts of India and elsewhere in the world on December 26 as the new moon falls between the Earth and the Sun. It would be a rare annular solar eclipse. Here's more on where and when can you watch the eclipse.
What is an annular solar eclipse?
An annular solar eclipse occurs when the new moon is farther away from the Earth in its elliptical orbit. This results in a unique eclipse as the moon blocks a lesser area of the sun, leaving the star's edges visible. It's then witnessed as a "ring of fire" around the moon, as opposed to a total eclipse, when the moon fully blocks the sun.
Where can you view the eclipse from?
According to the Birla Industrial and Technological Museum, the rare "ring of fire" will only be visible from regions along the southern coast of the country such as Kannur in Kerala. The rest of India will witness a partial eclipse. Bengaluru will witness 89.4% obstruction of the sun, followed by 84.6% in Chennai, Mumbai (78.8%), Hyderabad (74.3%), Ahmedabad (66%), Kolkata (45.1%), and Delhi (44.7%).
Apart from India, these regions can view the eclipse
Internationally, the eclipse will also be visible from Saudi Arabia, Qatar, United Arab Emirates, Oman, Sri Lanka, Malaysia, Indonesia, Singapore, Northern Mariana Islands, and Guam. Reportedly, the eclipse will start around 180 kilometers west of Dammam in Saudi Arabia.
What are the timings for the eclipse?
In India, the partial eclipse will begin at 7:59 am, according to Norway-based timeanddate.com. The annular eclipse will be visible starting at 9:04 am from the southern coastal regions. The maximum eclipse, when the moon is nearest to the sun's center, will begin at 10:47 am. This event will last for a total of three hours and will only be visible from South India.
You can catch another annular solar eclipse next year
If you happen to miss this one, you can catch an even rarer 99% annular solar eclipse on June 21, 2020. This eclipse will be visible from India, along with Congo, Democratic Republic of Congo, South Sudan, Ethiopia, Eritrea, Yemen, Oman, Pakistan, Tibet, China, Taiwan, and Guam. On January 10, 2020, India will be able to observe the upcoming year's first penumbral lunar eclipse.