Rain, lightning and winds kill 200 across India in two-weeks
Rain, lightning and winds kill 200 across India in two-weeks
May 14, 2018, 05:01 pm
2 min read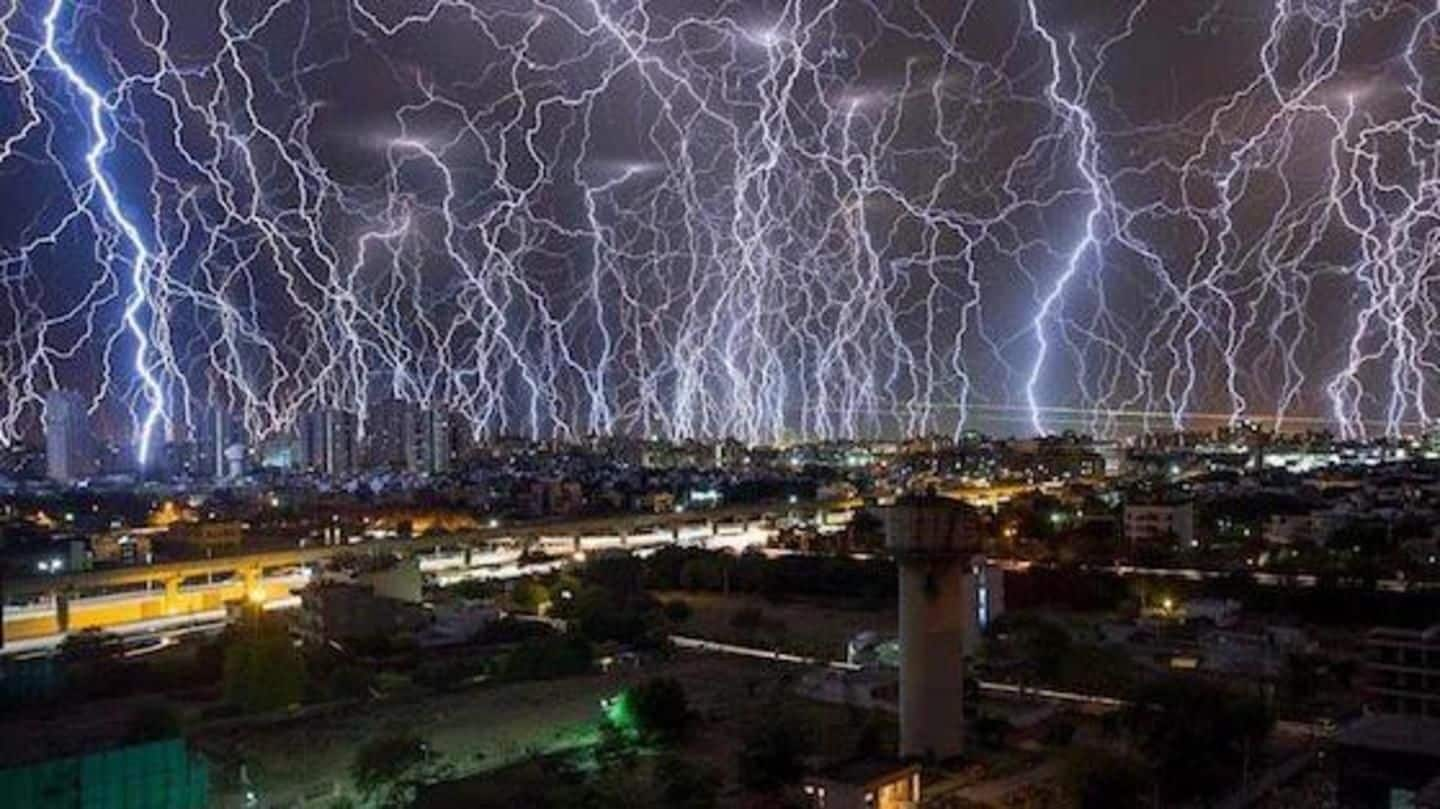 Around 70 people were killed as rain, lightning and winds lashed various states yesterday, taking the death toll in two weeks to more than 200. Two casualties were reported in Delhi, where flight and metro services were thrown out of gear. UP recorded 42 fatalities, WB 14, AP 12, Odisha four and Uttarakhand one. The IMD says such weather conditions are likely to persist.
Lightning guts nearly 100 houses in UP's Sambalpur
In UP, deaths were reported from Kasganj, Bulandshahr, Saharanpur, Ghaziabad, Aligarh, Kannauj, Hapur, Sambhal, Gautam Buddha Nagar and Barabanki. Casualties included a tourist from Maharashtra. Lightning triggered a fire in Sambalpur, gutting 100 houses. MP Hema Malini was briefly stranded while on her way to Naujheel when a tree fell and blocked the road. CM Adityanath has asked officials to ensure relief to the affected.
In Delhi, flight and metro services were severely disrupted
In Delhi, flight movement was suspended in the afternoon as an intense storm hit the city. Many were delayed or diverted to Amritsar, Jaipur, Lucknow, Jammu, Ahmedabad and Dehradun. As metro services were snapped, thousands of commuters got stranded, crowding stations.
Storm death toll in WB goes up to 46
In WB, casualties were reported from Howrah, Nadia, West Midnapore, North 24 Parganas and Murshidabad. This took this month's total deaths in the state due to storm to 46. In AP, Amaravati, Srikakulam and Kadapa recorded deaths. IMD said storms also occurred in parts of HP, Punjab, Uttarakhand, Haryana, MP, Chandigarh, Jharkhand, Meghalaya, Assam, Maharashtara, Kerala, Karnataka and TN.
PM Modi condoles loss of lives
Saddened by the loss of lives due to storms in some parts of the country. Condolences to the bereaved families. I pray for the speedy recovery of those injured. Asked officials to provide all possible assistance to those affected.

— Narendra Modi (@narendramodi) May 13, 2018
IMD warns of more storms in several regions
The MET department has predicted more thunderstorms, rains and dust storms over North and West India in the next 48-72 hours. This might affect parts of Uttarakhand, J&K, HP, UP, WB, the northeast, Jharkhand, Punjab, Haryana, Chhattisgarh, Telangana, Bihar, AP, Karnataka, TN, Puducherry, Kerala and Lakshadweep. Rajasthan might witness dust storms. An orange category warning has been issued for parts of Odisha.