After violent Dalit protests, states brace for 'Bharat-Bandh' against reservation
After violent Dalit protests, states brace for 'Bharat-Bandh' against reservation
Apr 10, 2018, 10:47 am
3 min read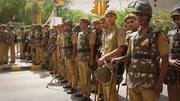 States across India have upped security after reports of a planned 'Bharat Bandh' against caste-based reservation. Demonstrators stopped trains in Bihar's Arrah, a week after protests against the alleged dilution of the SC/ST Act left a dozen dead. Curfew has been imposed in several places and additional forces deployed. The MHA warned district magistrates and police superintendents will be personally held responsible for violence.
MHA issues guidelines for states in an advisory
In an advisory, the MHA yesterday asked states to "beef up security and make appropriate arrangements to prevent any untoward incident, including issue of prohibitory orders, if necessary," a ministry official said. States have been asked to intensify patrolling in sensitive locations.
Mobile internet services snapped, curfew imposed
Internet services have been suspended in many places, including Jaipur, Alwar and Bharatpur in Rajasthan, and Saharanpur and Hapur in UP. Prohibitory orders have also been issued in Bhind, Bhopal and Morena in MP, which was the worst affected in last week's shutdown, as well as Jaipur and Bharatpur. But no effect was seen in Meerut, Odisha, Telangana, AP and TN in the morning.
Jignesh Mevani warns of fresh Dalit agitation on April 14
Meanwhile, Vadgam MLA Jignesh Mevani has warned of another agitation on April 14 if "PM Narendra Modi and his government fails to assure Dalits to bring in an ordinance before then." He termed the Supreme Court's order "an act of inflicting judicial atrocity on SCs/STs."
What is the controversial SC order about?
On March 20, the SC barred automatic arrest and registration of cases in alleged cases of harassment of SCs and STs under the SC/ST (Prevention of Atrocities Act) 1989. Arrest of government servants now needs prior sanction, and private citizens can only be arrested after inquiry. The purpose, it said, was to protect honest public servants from being blackmailed with false cases.
In various places, Dalits clashed with police, vandalized property
Dalit groups, who allege the "dilution" of the Act will increase caste-based violence, protested across India on April 2. Violence broke out in Ranchi, Meerut, Barmer, Dehradun, Jaipur, Ahmedabad, Rajkot and elsewhere. Six people were killed in violence in MP, two in UP and one in Rajasthan. Several other related deaths, including two of hospital-bound patients getting caught in traffic jams, were reported later.
Despite violence, SC refuses to budge
The same day, the Center filed a review petition in the SC against its order on the SC/ST Act, seeking a freeze on it. But the court refused, saying, "Our aim is to protect innocents, we have not diluted the law in any manner."