Bihar floods death-toll climbs to 29; government seeks IAF support
Bihar floods death-toll climbs to 29; government seeks IAF support
Sep 30, 2019, 02:21 pm
3 min read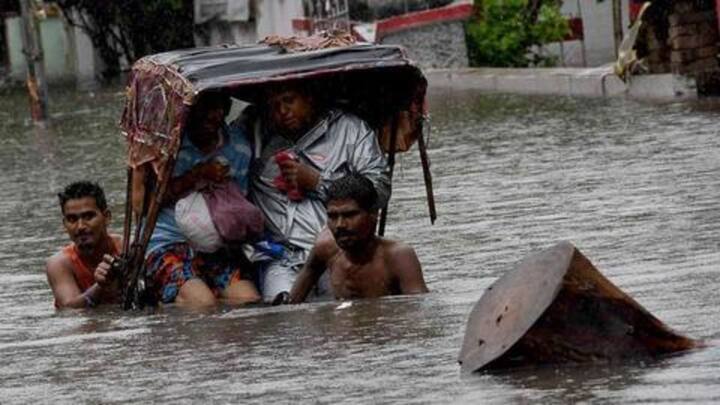 In what has been termed a delayed withdrawal of the monsoon, the death toll climbed to 29 in flooded Bihar on Sunday. Patna remained among the worst-hit regions of the state, which is so waterlogged that a bird's eye view of the city gives the impression of a huge lake dotted with concrete structures. Here's a detailed report on the devastating floods.
Schools shut till Tuesday; residents protest power outages
In Patna, private hospitals, medical stores, and other shops remained submerged in waist-deep water throwing life out of gear. Schools in Patna are to remain shut till Tuesday due to the floods, which have disrupted road and rail traffic, leaving many trains canceled or diverted due to flooded tracks. Reportedly, the power supply was also disrupted, triggering resident protests on Kadamkuan-Nala Road.
Four people, including 1-year-old, killed in Danapur in rain-related accident
Meanwhile, in Bhagalpur, three died after a temple boundary wall collapsed while several were buried as a house collapsed in Khanjarpur area. Four people, including a one-year-old, were killed after a tree fell on an auto-rickshaw in Danapur. Three people were reported to have died after two mud houses collapsed in Bhabhua while three others, swept away by strong currents in Nawada, are yet to be found.
Bihar government requests IAF for 2 helicopters for rescue/relief operations
Across Bihar, 19 National Disaster Response Force (NDRF) teams have been deployed to conduct rescue operations. Boats, even bulldozers, are being used to shift people stranded in submerged areas. Reportedly, 26,000 people have been rescued in Patna. Bihar government has also requested the Indian Air Force (IAF) for two helicopters to help with lifting and dropping food packets and medicines.
Rail, air traffic disrupted due to floods
Further, 30 trains have been canceled, while others have been short-terminated or diverted due to flooding in Patna and Danapur junctions, the East Central Railway stated. Air traffic was also affected due to the floods as GoAir diverted its Mumbai-Lucknow and Delhi-Varanasi flights. GoAir and IndiGo also advised passengers to consider slow traffic due to floods when they leave from homes to catch flights.
Bihar Chief Minister Nitish Kumar blamed nature for floods
Separately, Bihar Chief Minister Nitish Kumar said, "We're making all possible efforts. I would appeal to the people of the state to have patience and courage." However, Kumar seemed to shift the blame to nature for the floods. He said even the IMD, which issued a red alert in many districts, remained unclear on when rains would stop.
Patna received over 200mm rainfall since Friday
According to the weather department, Patna received over 200mm rainfall since Friday evening, termed "totally unexpected" by the Disaster Management Department Principal Secretary Pratyay Amrit. India Meteorological Department (IMD) Director General Mritunjay Mohapatra said the four-month monsoon officially ends on Monday, however, is unlikely to withdraw before the weekend. Meanwhile, active monsoon prevails over parts of Rajasthan, Bihar and Uttar Pradesh, IMD stated.
93 dead in Uttar Pradesh, worst-affected among flood-hit states
Apart from Bihar, floods have ravaged several other states including West Bengal, Jammu and Kashmir, Uttarakhand, Rajasthan, and Uttar Pradesh, which remains the worst-hit state. In UP, 93 people have died since Thursday. Reportedly, 850 prisoners also had to be shifted from UP's Ballia jail because of water-logging. Meanwhile, in J&K, a 54-year-old Border Security Force sub-inspector drowned in a swollen river.