Private member's Bill proposes banning non-veg food at government functions
Private member's Bill proposes banning non-veg food at government functions
Dec 01, 2022, 12:53 pm
3 min read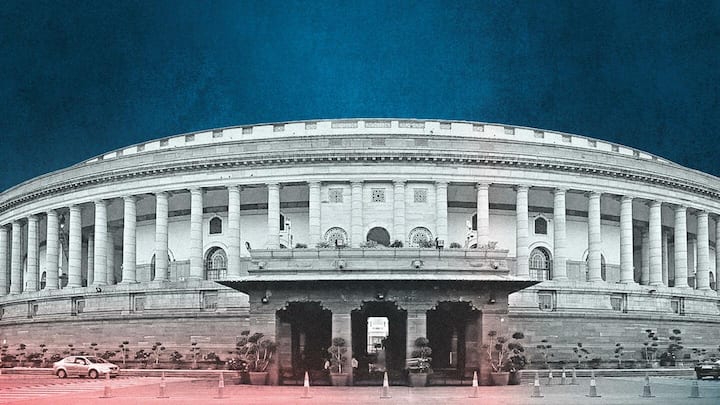 A private member's Bill to ban serving non-vegetarian food at government programs is among the 20 Bills to be tabled for discussion in the Parliament's upcoming winter session, a Lok Sabha notification said. The Bill, moved by the ruling BJP's West Delhi MP Parvesh Sahib Singh, cites a similar proposal by Germany's environment ministry to reduce its carbon footprint and adopt a climate-friendly lifestyle.
Why does this story matter?
Singh moved the same Bill in 2018 as well.
A Bill introduced by an MP, who isn't a minister, is called a private member's Bill.
Although private member's Bills are usually rejected after a brief discussion, as many as 14 such legislations have been passed in the Parliament since Independence.
The last private member's Bill to receive approval was in 1970.
Non-veg foods have huge impact on environment: Singh
Listing the Official Government Meetings and Functions (Prohibition on Serving Non-Vegetarian Food) Bill, Singh said non-vegetarian food has a huge impact on the climate and global warming. He underlined that the Bill doesn't seek a blanket ban for common people. Still, such an initiative could be undertaken in India at least from the government's side to move away from non-vegetarian food.
In 2018, Singh cited animal abuse in Bill's support
Proposing the same Bill in 2018, Singh also mentioned rampant abuse and killing of animals citing a report by the United Nations (UN). Meanwhile, Congress MP from Kerala's Idukki, Dean Kuriakose will introduce the Payment of Compensation to Victims of Wildlife Encounters Bill.
Forced vegetarianism versus rampant malnutrition
In August, a Karnataka BJP leader drew criticism for opposing eggs in mid-day meals as vegetarians found it "offensive". A 2018 report based on Pradhan Mantri Poshan Shakti Nirman Scheme's data showed most BJP-ruled states skipped eggs in mid-day meals in schools and anganwadis, citing vegetarian sentiments. The latest National Health and Family Survey (NHFS 5) data reported over 67% of children as anemic.
Here's the map by Swati Narayan, author of the report
14 of 19 BJP-majority states, deny eggs to children in schools and anganwadis

In Saeed Ahmed v State of U.P. (6871 of 2017), Allahabad High Court ruled "food that is conducive to health cannot be treated as a wrong choice..."

Latest #AndaDo maps of weekly eggs #AndaAbhiyan pic.twitter.com/6me0wwE1TS

— Swati Narayan (@SNavatar) July 8, 2018
Other listed Bills for compulsory yoga, preventing private sector bribery
Former Uttarakhand Chief Minister and BJP MP from Garhwal, Tirath Singh Rawat will introduce the Compulsory Teaching of Yoga in Educational Institutions Bill, mandating schools to teach yoga as it helps with mental and physical growth, he said. BJP MP from Bihar's Sheohar, Rama Devi is set to move a Bill to outlaw bribery in the private sector.
Bill by Opposition MPs to increase annual cap of MGNREGA
Opposition MPs from Kerala, NK Premachandran and VK Sreekandan will push Bills to amend Mahatma Gandhi National Rural Employment Guarantee Act's (MGNREGA) Section 3, which stipulates 100 days of an annual job guarantee, which the lawmakers want to be upped to 150. The government earlier refused to raise the cap arguing that it could provide 150 days of employment in case of natural calamities.