Detained before CAA-protest in Hyderabad, Chandrashekhar Azad sent to Delhi
Detained before CAA-protest in Hyderabad, Chandrashekhar Azad sent to Delhi
Jan 27, 2020, 03:53 pm
3 min read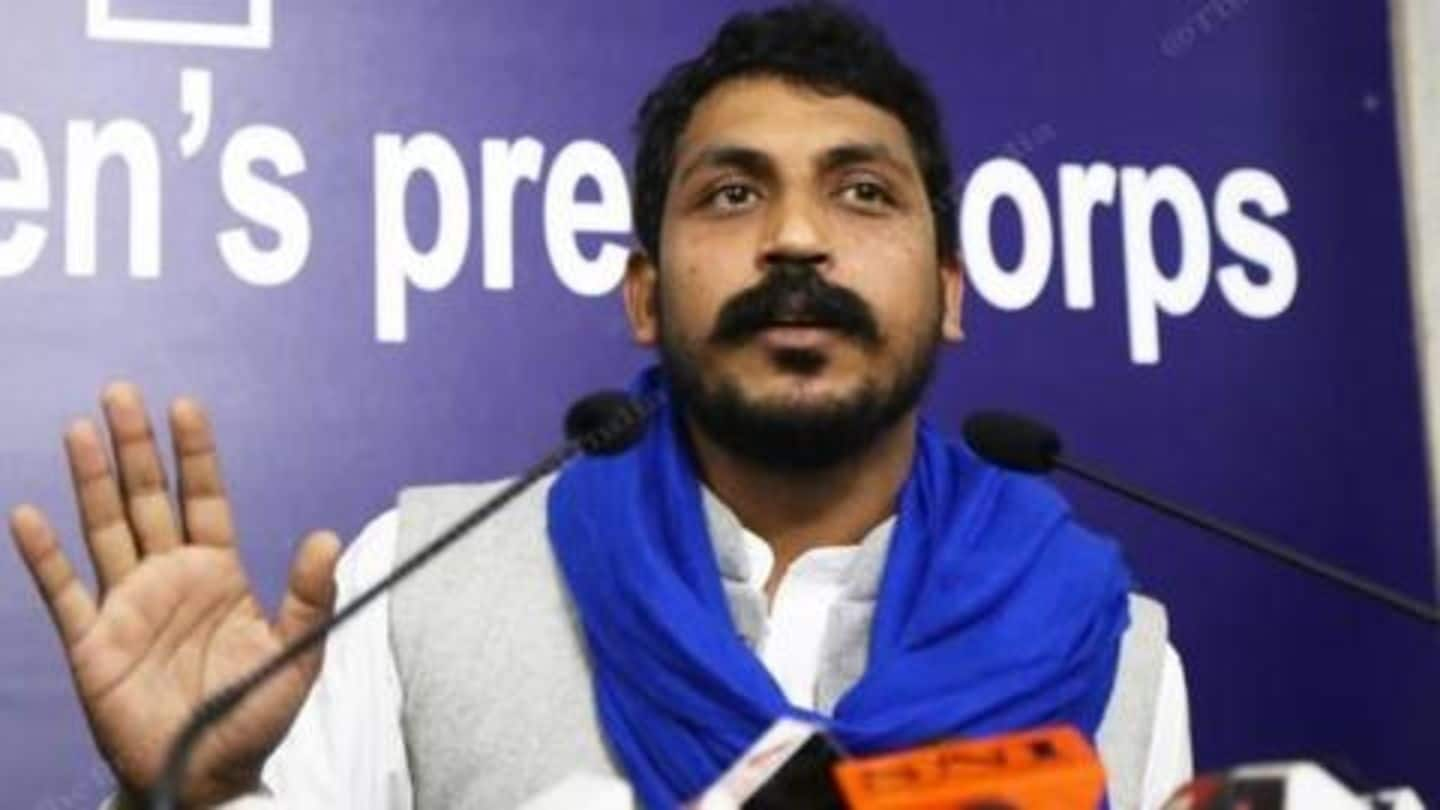 Bhim Army Chief Chandrashekhar Azad, who has emerged as one of the loudest critics of the Citizenship Amendment Act, was sent to Delhi this morning from Hyderabad, where he was detained last evening before a planned peaceful protest. Fuming at the turn of events, Azad claimed the Dalit community will not forget this insult and promised to return. Here's more on what happened.
For weeks now, Azad has been protesting CAA
Like a large number of politicians, Azad has been raising his voice against CAA, a new law that makes religion a criterion for getting Indian citizenship for the first time in history. In December, he was arrested by Delhi Police, sent to Tihar, and granted bail on January 15. Initially, he was forbidden from entering the National Capital, but the rules were relaxed later.
Azad was arrested as a "preventive measure"
Azad was greeted the same way in Telangana's capital where he was scheduled to address a gathering against CAA. Before he could do so, he was taken away by the cops in Mehdipatnam as a "preventive measure". The protest he was supposed to participate in was organized by the Tata Institute of Social Sciences students' union.
Azad said police stopped people from reaching venue
Before being detained, Azad tweeted, "I am right now, at 4 pm, reaching Crystal Garden in Mehdipatnam, but look at the Hyderabad police which has turned the place into a police camp and are preventing people from reaching the programme venue. (sic)"
IPC Section 151 was evoked for Azad's detention
A couple of reports claimed some students of Hyderabad University were detained too, outside the varsity's main gate. They were marching towards Ambedkar statue to protest against CAA. About Azad's detention, Hyderabad Police Commissioner Anjani Kumar said Section 151 of Indian Penal Code (IPC) was evoked, since permission to hold a protest wasn't given. This provision lets police arrest those who could disrupt peace.
This is peak dictatorship: Azad on being sent to Delhi
Having spent the night in Hyderabad, Azad was sent to Delhi on a 6:55 am flight. He called it "peak dictatorship". "First, our people were thrashed with sticks and then I was arrested. Now, they have been brought me Hyderabad airport, they are sending me to Delhi," he wrote in a tweet in Hindi, and promised, "I will be back soon".
Won't forget, will return, swore Azad
तेलंगाना में तानाशाही चरम पर है लोगों के विरोध प्रदर्शन करने के अधिकार को छीना जा रहा है पहले हमारे लोगों को लाठियां मारी गई फिर मुझे गिरफ्तार कर लिया गया,अब मुझे एयरपोर्ट ले आएं है दिल्ली भेज रहे है। @TelanganaCMO याद रखे बहुजन समाज इस अपमान को कभी नही भूलेगा। जल्द वापिस आऊंगा

— Chandra Shekhar Aazad (@BhimArmyChief) January 27, 2020
In Shaheen Bagh, Azad said more such pockets will emerge
Not long ago, Azad addressed a gathering in Delhi's Shaheen Bagh, where a protest against CAA has been going on for more than a month. He said some 5,000 Shaheen Baghs will crop up across the country in the next couple of days. His participation gave new-found energy to protesters, one of whom said like them even Azad swears by the Indian Constitution.