Bihar #EncephalitisDeaths: Child dies during Health Minister Harsh Vardhan's visit
Bihar #EncephalitisDeaths: Child dies during Health Minister Harsh Vardhan's visit
Jun 16, 2019, 07:55 pm
2 min read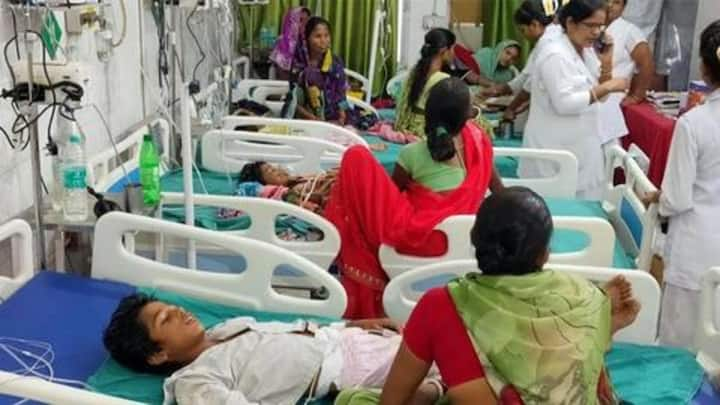 A five-year-old girl died of suspected encephalitis fever during Union Health Minister Harsh Vardhan's visit to Bihar's Sri Krishna Medical College Hospital. The girl's family alleged she died in front of the minister who was reviewing the situation there. As many as 82 children died, many of them due to hypoglycemia, in Bihar's Muzaffarpur which has been grappling with Acute Encephalitis Syndrome (AES).
Children at the hospital showed symptoms of AES, hypoglycemia
Health Minister Vardhan, MoS for Health Ashwini Choubey, and Bihar Health Minister Mangal Pandey visited the Muzaffarpur hospital to meet the patients and their families. Children at the hospital were reportedly having symptoms of AES and hypoglycemia. Vardhan was expected to meet with multi-disciplinary teams deployed at the Ground Zero of the encephalitis outbreak and also address a state-level meeting to review the situation.
Union Health Minister visits patients at the Muzaffarpur hospital
Bihar: Union Health Minister Dr Harsh Vardhan MoS Health Ashwini Choubey meet patients their families at Sri Krishna Medical CollegeHospital in Muzaffarpur. So far, 80 people have died due to Acute Encephalitis Syndrome (AES) in Muzaffarpur. pic.twitter.com/zQA1q3Pp6n

— ANI (@ANI) June 16, 2019
One of the worst encephalitis outbreaks in Bihar ever
This year, Bihar is witnessing one of the worst outbreaks of encephalitis it has ever experienced. Officials said, in Muzaffarpur, 62 children died at the state-run Sri Krishna Medical College Hospital while 11 others died at the Kejriwal Children Home private hospital. Earlier on Saturday, there have been 61 fresh admissions of children in these two hospitals where 93 others were already being treated.
Bihar CM Nitish Kumar announces Rs. 4 lakh ex gratia
Meanwhile, Bihar CM Nitish Kumar has announced "an ex gratia payment of Rs. 4 lakh to the next of the kin of those who have died." Earlier, he said that there was a lack of awareness among people on how to tackle encephalitis.