After woman records statement, rape-accused BJP leader Chinmayanand 'falls ill'
After woman records statement, rape-accused BJP leader Chinmayanand 'falls ill'
Sep 17, 2019, 02:58 pm
3 min read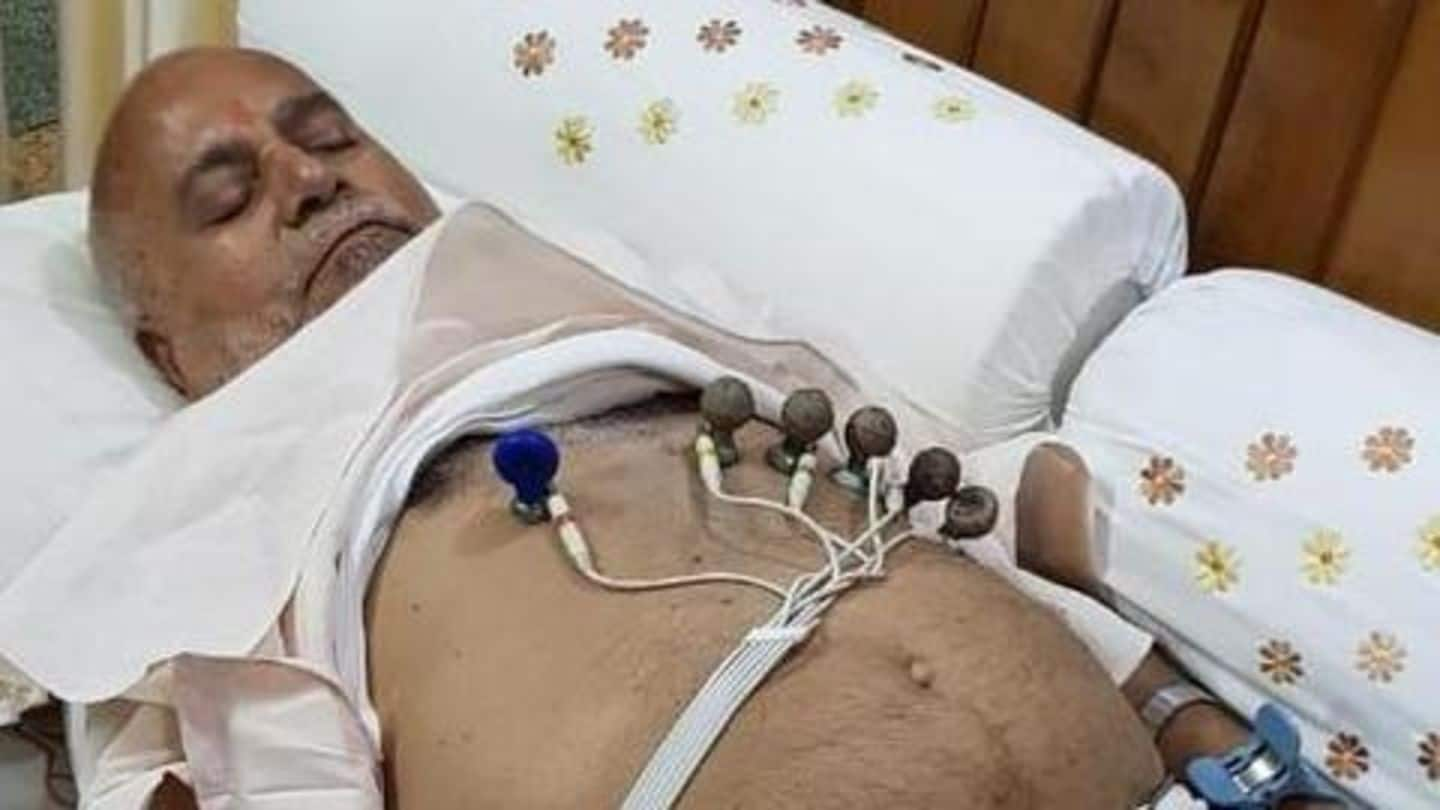 Days ago, he was accused of raping, filming and threatening a 23-year-old law student of Uttar Pradesh's Shahjahanpur. And now, 72-year-old Chinmayanand, a former Union Minister and BJP leader, was treated by doctors after he complained of "uneasiness and weakness". The doctor leading the team advised him "complete rest". Pertinently, this happened after the victim recorded her statement in front of a magistrate.
Chinmayanand, who was suffering from diarrhea, was given proper medicines
Chinmayanand had been suffering from loose stools since the last four days, and on Monday complained of uneasiness. Soon, state-run medical college doctor professor ML Agarwal and cardiologist KC Verma examined him at his home Divya Dham in Shahjahanpur. "He is also diabetic and this led to weakness. We have given him necessary medication and advised him complete rest," Agarwal said.
Meanwhile, here's a quick recap about the case
Chinmayanand holds a top position in SS Law College and last month a video surfaced in which a woman made an impassioned appeal to Chief Minister Yogi Adityanath and Prime Minister Narendra Modi. She said a "big leader of saint community" harassed her, and a day later, the woman went missing. A week later, she was traced to Rajasthan and subsequently made stunning claims.
Woman claimed Chinmayanand raped her for a year
The woman's mysterious disappearance and the media outrage got the Supreme Court's attention too, after which an SIT was formed to investigate the case. In her first interaction with media, she claimed Chinmayanand raped her for a year. He had allegedly filmed her taking a bath and used it to violate her. Earlier this year, the woman began recording the abuse to collect evidence.
The big question: Is Chinmayanand just putting up an act?
To note, Chinmayanand's health dipped hours after the woman recorded her statement before Judicial Magistrate Geetika Singh. The next step, reports said, would be to book the BJP leader. The woman was brought to the court under the protection of over 50 police personnel and stayed there for four hours. She told PTI her statement was recorded in 10-12 pages by the magistrate.
Told magistrate about my missing spectacles: Woman
"I have told the magistrate about the rape complaint I gave in New Delhi, my missing spectacles and a chip from the hostel room. I also informed her about the bedding and liquor bottles, which were removed from Chinmayanand's room," the woman said.
However, Chinmayanand's lawyer called it a case of "extortion"
However, Chinmayanand's lawyer Om Singh said, "We don't see any problems after the statement of the 'so-called' victim was registered as it's an open case of extortion." He hoped that the SIT would shed light on the truth. Separately, the Allahabad High Court, which took cognizance of the case, asked the woman or her lawyer to be present on September 23.