Passenger finds dead cockroach in food served, Air India apologizes
Passenger finds dead cockroach in food served, Air India apologizes
Feb 05, 2019, 02:00 pm
3 min read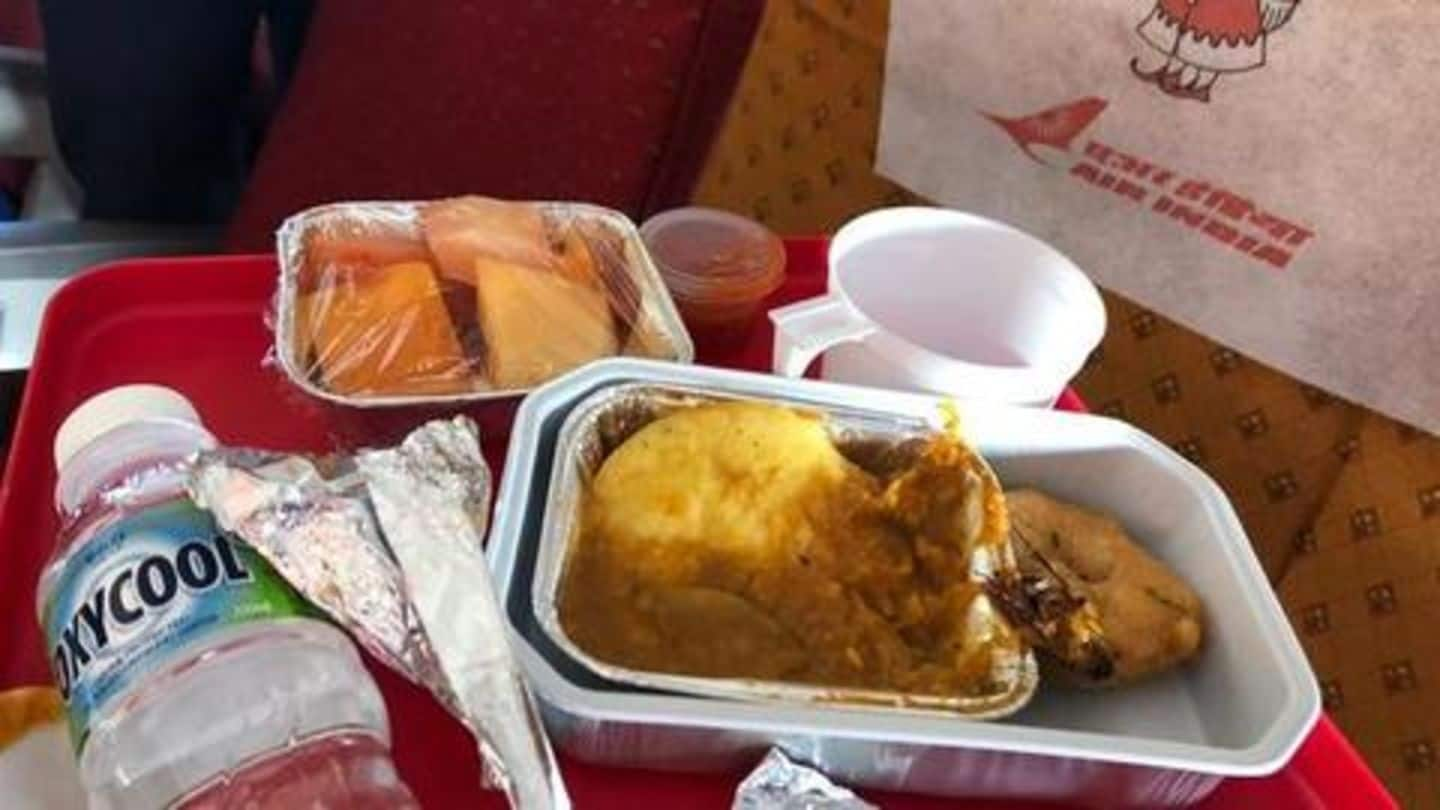 A few days ago, a passenger traveling from Bhopal to Mumbai aboard Air India flight AI-634 had complained of being served a cockroach in his breakfast. The passenger, Rohit Raj Singh Chauhan, also alleged that no action was taken when he complained to the airline crew. On Monday, the airline apologized and said it has initiated "corrective action internally". Here's what happened.
Chauhan says crew members ignored his concern, continued serving food
Last week, on Saturday, shortly after the crew members had begun serving breakfast in the flight, Chauhan discovered the dead cockroach in his meal kit. The insect was found inside the idli-vada-sambhar. He tried to bring the matter to the crew's attention, Chauhan claimed. However, they chose to ignore whatever he had to say, and continued serving food to other passengers.
Here are some images of the tainted food
'I even objected to their serving food to others'
Chauhan said that as the crew members didn't listen to him, he returned the food. "I even objected to their serving food to others, but to no avail," he told media. Later, he wrote a letter stating his complaint and took signatures of the crew members on it. He lodged a complaint with the authorities at the Mumbai Airport, and tweeted about his experience.
Air India manager says airline received no complaint
In response to Chauhan's complaint, Air India manager Rajendra Malhotra said the airline hadn't received any complaint in Bhopal. However, yesterday, Air India issued an apology on Twitter, saying, "We sincerely apologize for the incident where our valued pax (passenger) had a disappointing experience with the meal served on board our Bhopal-Mumbai flight. Air India always endeavors to ensure our pax enjoy our services."
'Air India has zero tolerance policy in this respect'
Air India recently decided to serve passengers stocked food
Last week, reports emerged that Air India will save Rs. 49cr annually by serving food stocked from India while returning from foreign destinations. Assuring that it remains 'fresh' and 'tasty', an official said, "When the aircraft departs from India, the food is stocked in chillers to keep it fresh. So, when the aircraft returning from a foreign city to India, this food is served."
Last year, passengers complained of bedbugs in business class seats
After the directive, the national carrier served stale food on 11 flights returning from eight foreign cities. Last July, Air India was slammed for its bedbugs-infested overseas flights, after passengers traveling in business class from the US to Mumbai complained of the crawling insects.