Two passengers at Kolkata airport, suspected of coronavirus, isolated
Two passengers at Kolkata airport, suspected of coronavirus, isolated
Feb 13, 2020, 07:30 pm
3 min read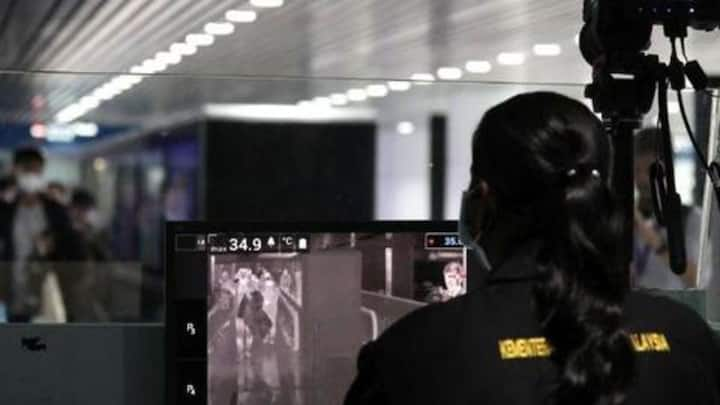 Authorities at Kolkata's Netaji Subhash Chandra Bose International Airport detected two suspected cases of coronavirus on Thursday. The two passengers have since been referred to Beliaghata's ID Hospital, airport officials said. Earlier, another passenger was suspected to be infected with the virus at the airport. Meanwhile, Union Health Minister Harsh Vardhan said on Thursday that the three confirmed cases in Kerala are now "stable."
Two passengers arrived from Bangkok
According to PTI, the two isolated passengers—Himadri Barman and Nagendra Singh—had arrived from Bangkok. Barman was reportedly quarantined on Tuesday while Singh was quarantined on Wednesday, government officials in New Delhi told the news agency. They were sent to Beliaghata ID Hospital. Kolkata airport director Kaushik Bhattacharjee said a passenger named Anita Oraon was also found exhibiting signs of fever during thermal scanning.
Airport officials dismiss false reports of confirmed cases
Notably, several news outlets misreported the three cases as confirmed cases of coronavirus. The officials have, however, dismissed the reports. The official Twitter handle of the NSCBI Airport stated, "Media reports mentioning coronavirus positive cases detected at NSCBI Airport are totally wrong and baseless. Three passengers traveling through Kolkata Airport were referred to ID Hospital, Beliaghata by Airport Health Office as suspected cases."
You can view the tweet here
#Coronavirus Update: Media reports mentioning about Coronavirus positive cases detected at NSCBI Airport is totally wrong baseless. 3 passengers traveling through #KolkataAirport were referred to ID Hospital, Beliaghata by Airport Health Office as suspect cases.

— Kolkata Airport (@aaikolairport) February 13, 2020
3 coronavirus cases in Kerala stable: Health Minister
Meanwhile, addressing a press conference on Thursday, Union Health Minister Harsh Vardhan said that the three confirmed cases in Kerala are now stable. He also said that two out of the three cases are now "negative," i.e., cured. He said that people are being screened at 21 airports across India. He also mentioned that 402 people quarantined at the ITBP facility have tested negative.
SpiceJet passenger from Bangkok quarantined in Delhi
Separately, a passenger aboard the SpiceJet Bangkok-Delhi SG-88 flight was quarantined on Thursday on the suspicion of coronavirus infection, the airline said. An airline spokesperson said he was quarantined by the Airport Health Organization (APHO) after landing in Delhi. The Indian Embassy in Japan also said on Wednesday that two Indians have tested positive for coronavirus on a cruise quarantined off Japan's coast.
What is the coronavirus outbreak?
The ongoing coronavirus outbreak involves a new strain called the SARS-CoV-2 (previously 2019-nCoV), which originated in China's Wuhan. The virus has since spread to over two dozen nations, including India. It causes flu-like symptoms in hosts, and in serious cases, may cause pneumonia, multiple organ failure or death. The infection has killed 1,369 and sickened over 65,000 people, mostly in China.