Bank unions to organize dharna in Delhi on 21 March
Bank unions to organize dharna in Delhi on 21 March
Written by
Rajashree Seal
Mar 09, 2018, 03:58 pm
2 min read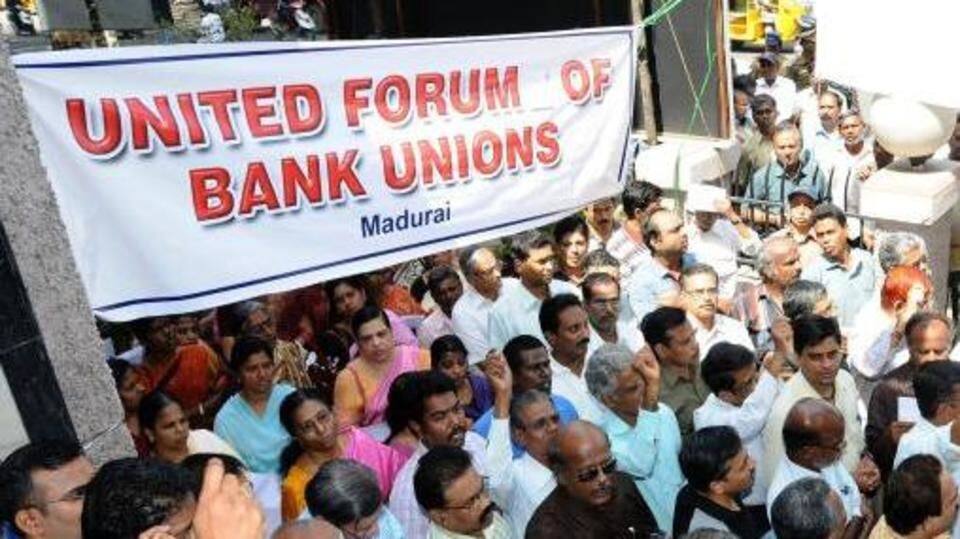 The United Forum of Bank Unions (UFBU) on Friday said it would organize a "massive" dharna in Delhi on 21 March in support of its demands, said a report. UFBU's Andhra Pradesh and Telangana state units alleged that an orchestrated campaign has been unleashed against public sector bank employees and the banks after the PNB issue came to light. Here's more.
Unions' demands include action against loan defaulters
The demands include taking tough action against loan defaulters and stopping alleged harassment of bank staff following the recent PNB scam. "Subsequent to the recent fraud in Punjab National Bank, an orchestrated propaganda is being unleashed against all the bank employees, and the functioning of PSBs is being projected in poor light," said VVSR Sarma, convener of the UFBU AP and Telangana State Units.
Privatization of PSBs without acknowledging the role of PSU banks
Sarma alleged that suggestions towards privatization of PSBs are being made in some quarters without acknowledging the pivotal role played by the PSU banks in the country's growth since the banks' nationalization in 1969. "It is also a known fact that those corporate and industrial houses which are responsible for the huge bad debts in PSBs are freely suggesting privatization of PSBs," he said.
Apart from dharna, a mass signature campaign to be held
"The UFBU demands that tough action be taken against all those involved, connected, and responsible for the fraud in Punjab National Bank," Sarma said. "Do not single out lower level staff. Avoid harassment of employees and officers by mass transfers," he said. UFBU would also conduct a signature campaign and the signatures would be sent to the Lok Sabha Speaker in April, Sarma added.