Indian geologist says Lord Brahma was first to discover dinosaurs
Indian geologist says Lord Brahma was first to discover dinosaurs
Jan 07, 2019, 07:19 pm
2 min read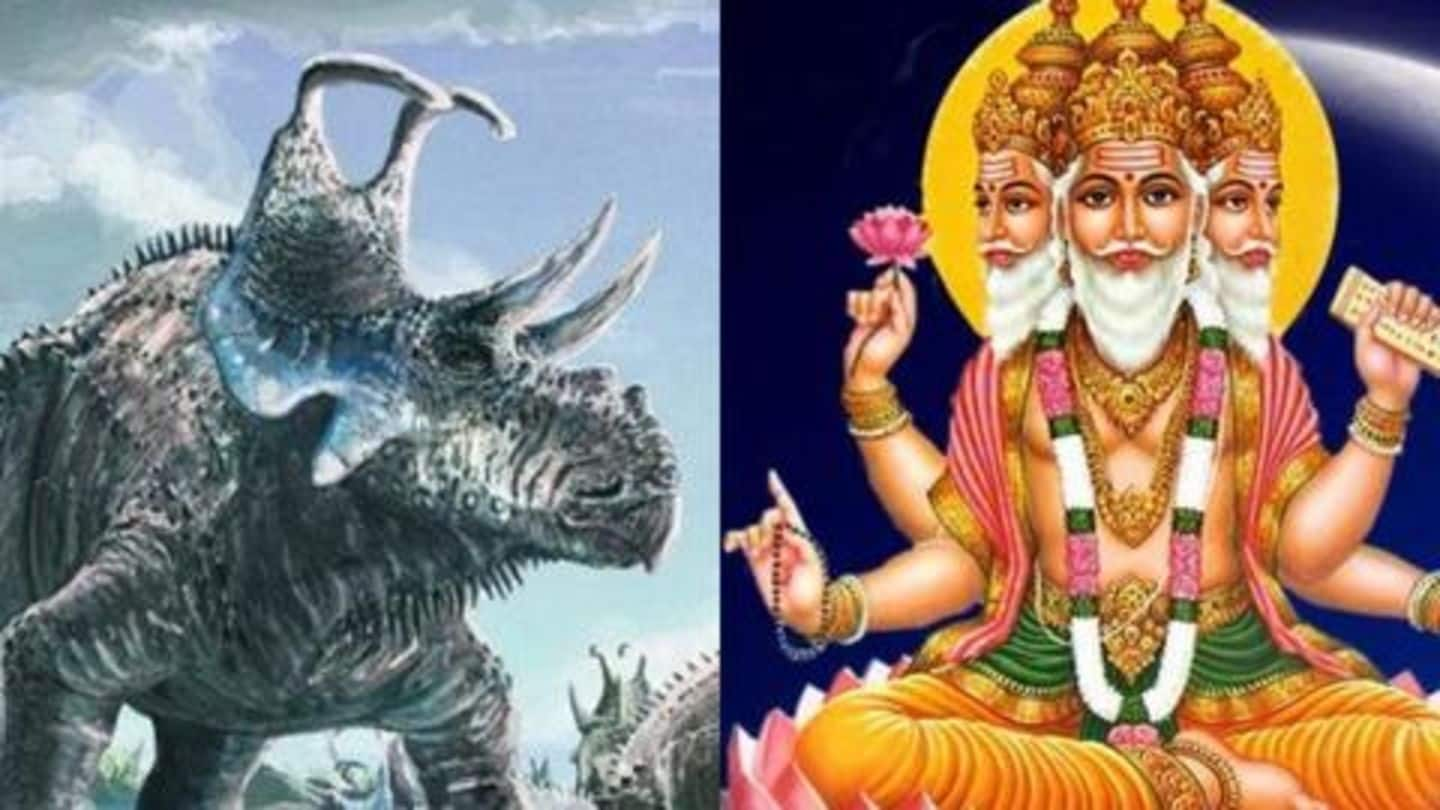 Technically, dinosaurs were first discovered by some British geologists in the 19th century. However, a geologist at Panjab University refuses to believe it. In fact, Ashu Khosla, associate professor in the department of geology at Panjab University, Chandigarh, believes it was Lord Brahma who first discovered the extinct species, and wrote about them in the Vedas 25,000-30,000 years back. Really, what?
'Brahma got to know about dinosaurs through his spiritual powers'
According to Khosla, it is from our Vedas that Americans and British took the concept of dinosaurs and got to know about them. "Even though the dinosaurs must have become extinct 6.5 crore years back, Lord Brahma must have got to know about them through his unmatched spiritual powers when he might have closed his eyes, writing the Vedas," he told media.
Khosla explains how 'dinosaur' word is derived from Sanskrit
Khosla made the statement after presenting his research paper on topic 'Biotic assemblages from the Deccan trap-associated sedimentary sequences of peninsular India' at Lovely Professional University in Phagwara. Khosla feels none will believe his statement but said the word dinosaur has its origin in Sanskrit. 'Dino' means terrible, it translates to 'daayan' (witch) and 'saur', which otherwise means lizard, is related to 'asur' (rakshas).
Khosla talks about discovering remains of Indian dinosaur Rajasauras
Khosla claimed he and his team discovered the remains of an Indian-dinosaur in Gujarat's Kheda district in 2001, and named it Rajasauras Narmada ensis, as it was found along the banks of Narmada. They named it 'Raja' to signify lion as it was a meat-eating dinosaur. Rajasauras was initially linked to Tyrannosaurus, of North America origin, but Khosla proved it was of Indian origin.
'Since Vedas were written on leaves, no scientific evidence available'
When asked about scientific evidence if dinosaurs were mentioned in the Vedas, Khosla said the Vedas were written 25,000-30,000 years back, whereas dinosaurs became extinct 6.5 crore years back. "Since Vedas were not written on paper but on leaves, we might not have a scientific evidence, but dinosaurs were certainly mentioned in Vedas by Lord Brahma," the geologist said.
'Even Wright Brothers took idea of aeroplane from Pushpak Vimaan'
Hailing Lord Brahma, Khosla further said, "When I go to field for excavation of dinosaur fossils, I pray to Lord Brahma to help me. Even Wright Brothers took the idea of aeroplane from Pushpak Vimaan that was used by Ravana in Ramayana."