BJP leader in soup for distributing liquor at temple event
BJP leader in soup for distributing liquor at temple event
Jan 08, 2019, 01:43 pm
2 min read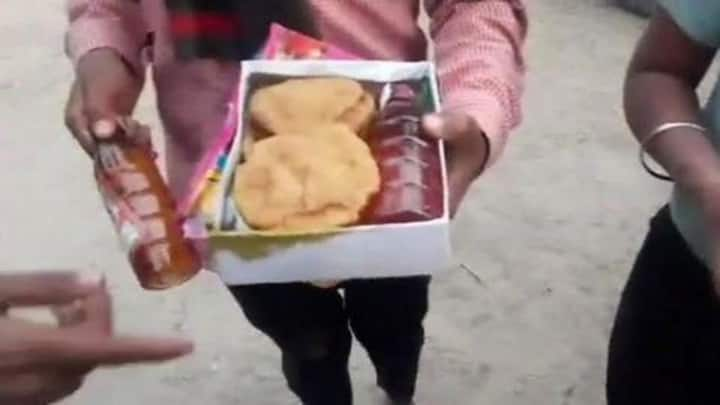 Former Uttar Pradesh minister Naresh Agarwal and his son Nitin have landed themselves in controversy after two videos surfaced on the Internet yesterday showing 200ml plastic liquor bottles being distributed inside lunch packets at a temple event. The incident happened at a sammelan (conference) organized by the Agarwals for the Pasi community at the revered Shravan Devi temple in Hardoi, yesterday. Here's what happened.
Lunch packets with liquor received by minor boys as well
In one of the videos, Nitin could be seen announcing that the food packets will be distributed to the village headman, who will further distribute it to the people accompanying him. A person who got the packet confirmed receiving the liquor bottle in his food packet. In the other video, children can be seen showing liquor bottles placed neatly in the lunch packets.
To rectify its mistake, BJP will have to rethink: MP
Hardoi: Liquor bottles, kept in food packets, were distributed in an event organised by BJP's Naresh Agarwal's son Nitin at a temple y'day where the former was also present. BJP MP Anshul Verma says "I'll inform the top leadership. To rectify its mistake,BJP will have to rethink" pic.twitter.com/Sohkk4oJlF

— ANI UP (@ANINewsUP) January 7, 2019
Hardoi MP criticizes Agarwals, says will inform party leaders
Following the incident, BJP MP from Hardoi, Anshul Verma, asserted that he will raise the issue with party leaders. "I'll call it an unfortunate event because, to the same children whom we gave pens and copies, Agarwal distributed the liquor bottles. I'll inform the top leadership. I will also write a letter to how the administration allowed this thing to happen," he told media.
Nareshji has mocked and insulted Pasi community: Verma
Verma further said, "How did the excise department not take notice of such a large-scale distribution of liquor? To rectify its mistake, BJP will have to rethink." He also said that "Nareshji has mocked and insulted the Pasi community and distributed liquor at such a revered temple". Verma wrote a letter to Chief Minister Yogi Adityanath yesterday seeking stern action against the Agarwals.
Upon confronting about allegations, Naresh asks 'Who is Anshul Verma?'
Interestingly, when Naresh was asked about the allegations, he said, "Who is Anshul Verma?" Naresh, a former Rajya Sabha member, left the Samajwadi Party last year and joined the BJP. He's preparing to contest in the 2019 general elections on a BJP ticket from Hardoi. Of late, he's been trying to forge friendship with the Pasi community, which is dominant in Hardoi.