Not all banks will be privatized: FM amid employees' strike
Not all banks will be privatized: FM amid employees' strike
Mar 16, 2021, 05:55 pm
2 min read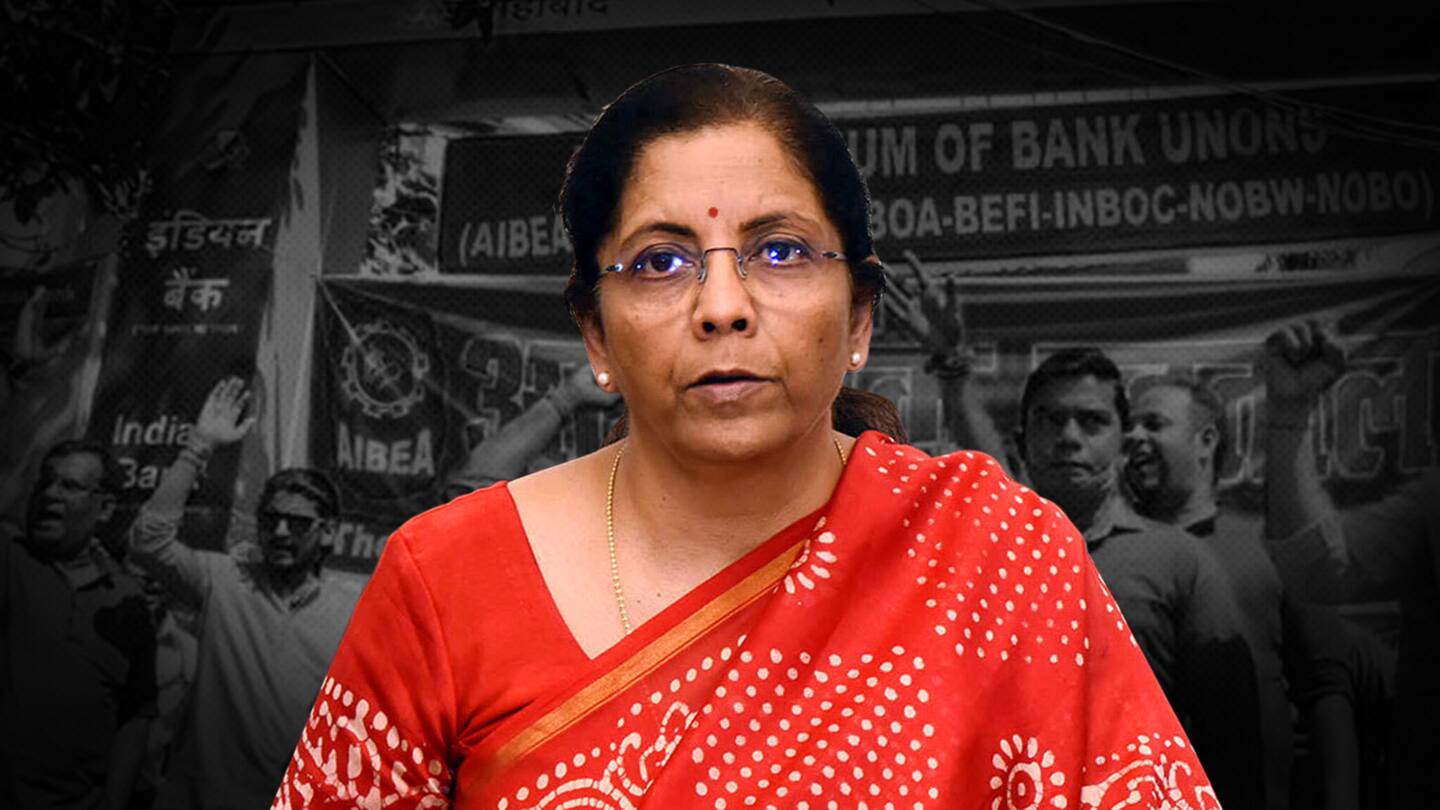 Union Finance Minister Nirmala Sitharaman today assured that not all the banks will be privatized and wherever it may happen, the interest of the employees will be protected. Her comment came even as tens of thousands of employees under the United Forum of Bank Unions are observing a two-day bank strike against the central government's move to privatize banks. Here are more details.
'Interest of every staff member will be protected'
"The decision of privatization is a well thought out decision. We want banks to get more equity...We want banks to meet the aspirations of the country," Sitharaman said while addressing the media. "Those banks which are likely to get privatized, the interest of every staff member will be protected. Interest of existing employees will be protected at all cost," she added.
All aspects will be taken care of: Sitharaman
"We also want their staff to be able to perform their duties which they have really acquired as a skill over the decades and have run the banks," Sitharaman said. Salaries, pension, and other aspects of their service will be taken care of, she added.
Banking services were hit today and yesterday
Key banking services across the country were hit by the strike on Monday and Tuesday, in which as many as 10 lakh employees participated. The protest was triggered by the government's plan to privatize two public sector banks as part of its ambitious disinvestment drive to generate Rs. 1.75 lakh crore. The FM had made the announcement while presenting the Budget on February 1.
Sitharaman slammed Rahul Gandhi in her speech today
In her speech today, Sitharaman also slammed Congress leader Rahul Gandhi, who had criticized the government's move in a tweet. "Rahul Gandhi has probably outsourced his comments to outsiders. These two liners do not help. I would want him in engage in serious discussion...Rahul Gandhi should think, do homework first, and then level allegations against us," she said.
GOI privatizing profit, nationalizing loss: Gandhi
"GOI (Government of India) is privatizing profit and nationalizing loss. Selling PSBs to Modicronies gravely compromises India's financial security. I stand in solidarity with the striking bank employees," Gandhi had written in a tweet this morning.