#CaughtOnCam: Girls in UP-school thrash eve-teaser with sticks inside campus
#CaughtOnCam: Girls in UP-school thrash eve-teaser with sticks inside campus
Dec 10, 2018, 04:11 pm
2 min read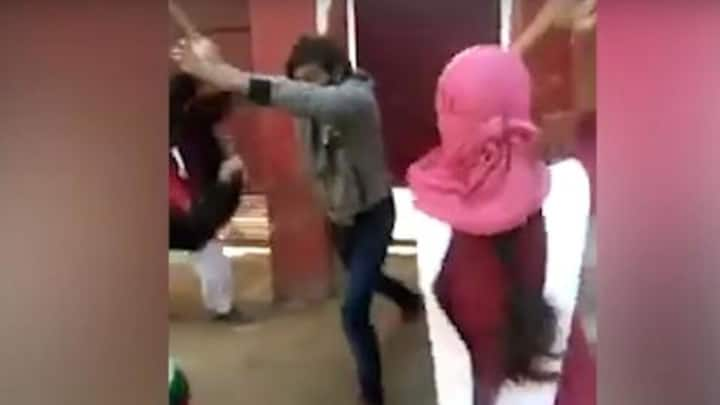 Upset with the inaction of school authorities despite repeated complaints about an eve-teaser, girls of Dharma Singh Girls Inter College in Baghpat district of Uttar Pradesh took matter in their hands. A video which has surfaced on social media shows girls, who have covered their faces with dupattas, beating the eve-teaser with sticks. Their teacher also joined them, TOI reports.
The main gate was closed and eve-teaser beaten
The report claimed the girls had complained to authorities about the accused, but no action was taken. So they locked the main gate of the institution and unleashed their anger on him. In the video, he can be seen pleading for mercy just as the girls rained him with blows. He managed to escape after jumping off the terrace.
Teacher says he won't dare roam around school again
A second video of the incident purportedly shows a teacher abusing the man. She said a lesson has been taught. "He has been trying to ruin the lives of these girls and now he will never dare to roam around the school," she said. SP Police (Baghpat) Shailesh Kumar Pandey said the man has been detained for interrogation. After a formal complaint, he will be arrested, Pandey added.
Here is the video of the incident
Some appreciated the girls, others didn't agree with action taken
The video received a plethora of comments after it was posted. Most of the social media users lauded the girl with one Abhijit Shrivastav commenting: Very well done... This is called "bhaga bhaga ke maarna". Ranjith Kumar Gundra wrote: Well done. There were others who opined this treatment should have been avoided while another one equated it with mob justice.