#CBSE2019: 5 useful apps for Class 10 Science preparation
#CBSE2019: 5 useful apps for Class 10 Science preparation
Dec 10, 2018, 03:25 pm
2 min read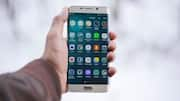 CBSE board exam preparation can be a stressful time for many Class 10 students, but they need not worry if they study hard and prepare properly. Science is one of the main subjects for Class 10 students and with a thorough understanding of concepts and right preparation, one can score high. Here are 5 apps to prepare for CBSE Class 10 Science exam.
BYJU'S, one of the best educational apps
BYJU'S is one of the best online learning platforms in India. Its mobile app is among the most preferred ones for CBSE exam preparation. For Class 10 Science, the app provides free study material prepared by BYJU'S subject experts, model papers, previous year question papers, chapter-wise tests, and important questions. Students can also watch videos to have a clear knowledge about different concepts.
EduRev app also provides good preparation material
Popular online learning platform EduRev's "CBSE Class 10 App" is also among the best ones to prepare for CBSE board exams. It provides the required study material in an interesting and interactive manner and helps students understand the concepts in an easy and step-by-step way. The app offers Science notes, practice tests, topic-wise quizzes, question bank, previous question papers, free video lectures, etc.
MarkSharks 10th Class Science & Maths learning app
MarkSharks' "CBSE 10th Class - Maths & Science Education App" is another useful app for science exam preparation. The app helps students learn and understand concepts in a fun way for better retention. It covers all Class 10 Physics, Chemistry, and Biology topics. It offers a number of interactive exercises, online tests series, solved CBSE questions and sample papers, practice questions, preparation notes, etc.
'Class 10 CBSE Board' is another useful app
"Class 10 CBSE Board" mobile app by Kaushik Khambhadiya is also a good one that offers useful material for almost all Class 10 subjects, including Science. The app offers CBSE syllabus, previous year board exam question papers, revision notes, chapter-wise important questions, and question papers with solutions, among other required material. It also offers free video lectures for adaptive learning and lesson retention.
#5: Students can test their knowledge with this quiz app
QuizNext is a great app for students to test their knowledge with chapter-wise quizzes. It is an app dedicated to CBSE and ICSE students of Classes 6-10. Students can practice science (and math) quiz questions to master complex concepts and perform better in the exam.