Here is the list of all long weekends of 2019
Here is the list of all long weekends of 2019
Edited by
Pallabi C Samal
Jan 01, 2019, 12:01 pm
4 min read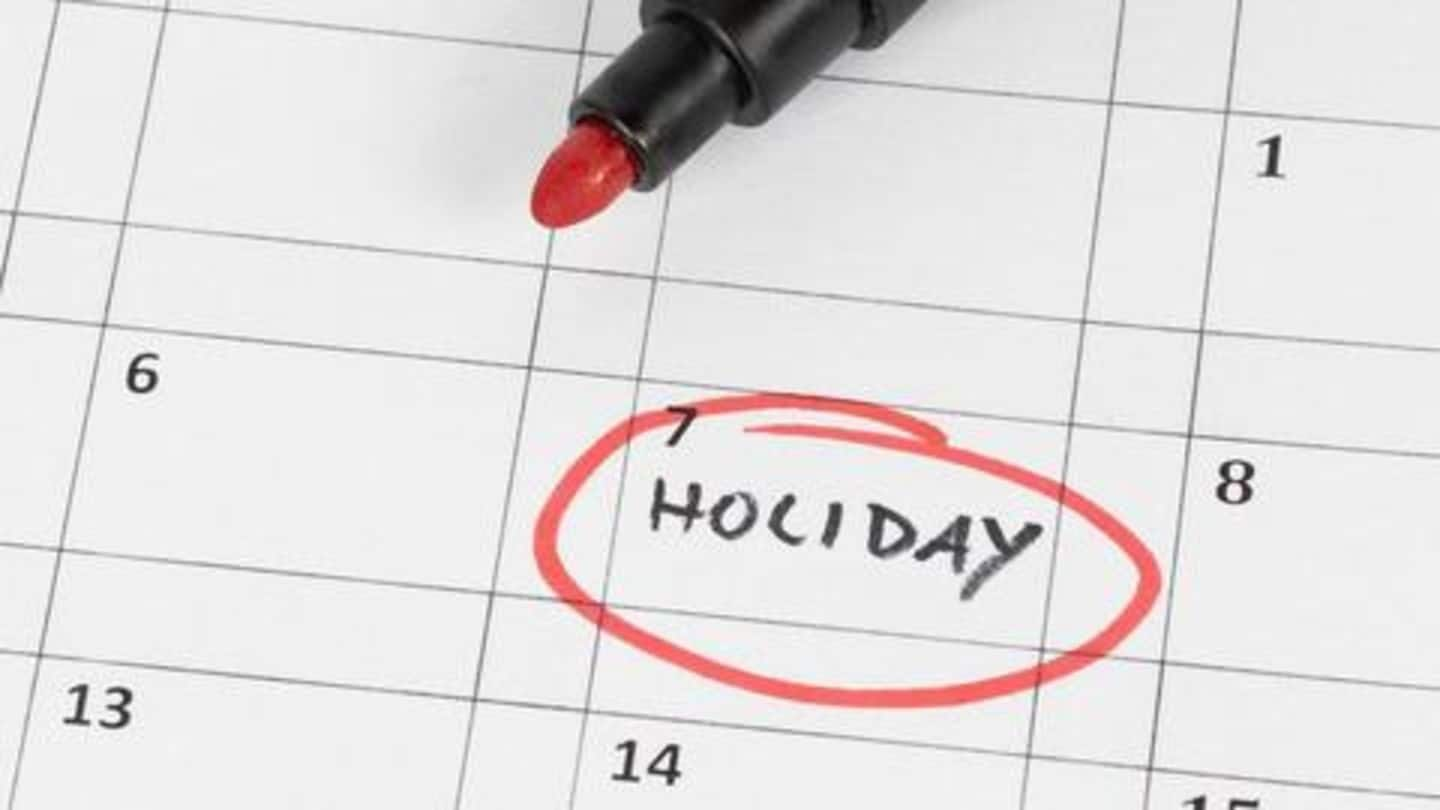 2018 has ended and we can't believe how time went away in a blink. The year was quite eventful for some but for others, it was normal or simply boring. And, if you couldn't go on vacations last year because of lack of planning or some other reason, we got you covered. Here's the list of all the long weekends in 2019.
Here are some things you should keep in mind first
First the good news. In 2019, there are long weekends in 9 out of 12 months. The three unfortunate months are February, May, and July. The list however doesn't include regional holidays, which vary in different states, and also those holidays that might be restricted for particular religions. Also, remember that you might have to take 2-days leave to enjoy the long weekends.
Get one long weekend in January, two in March
In January, you have one long weekend- January 12 (Saturday)-January 14 (Monday), which is a public holiday for Makar Sankranti/Pongal. March is lovely as you get two long weekends. A) March 2 (Saturday)-March 4 (Monday), public holiday for Mahashivratri. B) March 20 (Wednesday) for Holika Dahan, March 21 (Thursday) for Holi, March 22 (Friday) take a leave, March 23 (Saturday) and March 24 (Sunday).
Enjoy the spring with April's 5-day long weekend
April comes with a 5-day long weekend. Starting from April 17 (Wednesday), which is Mahavir Jayanti, April 18 (Thursday) take a leave, April 19 (Friday) holiday for Good Friday, April 20 (Saturday) and April 21 (Sunday). June begins with a long weekend as June 1 is Saturday, June 2 (Sunday), take a leave for June 3-4 (Mon-Tue), and June 5 (Wed) is Eid-ul-Fitr.
August comes with options. Pick yours
August comes with options. In the second week, there are two holidays- Aug 12 (Monday) for Eid al-Adha and Aug 15 (Thursday) for Independence Day. If you club it up with the preceding weekend, and take leaves on 13, 14 and 16, you get solid 7-days for a trip. Or, there's Janmashtami on Aug 23 (Friday) and a weekend following. So, plan your way!
You can get three long weekends if you wish
August also has other options. By taking leaves on Aug 16 and 17 (if Saturday isn't an off for you), you can add another option from Aug 15-18. Or, take leaves on Aug 14, 16 and 17, and plan a 5-day trip from Aug 14-18. Or, take 3 days of leave on Aug 13, 14, and 16 and get an entire week, Aug 10-18.
Sweet September has Ganesh Chaturthi and other holidays
September starts with a Sunday. September 2 (Monday) is Ganesh Chaturthi. Club it up with August 31 (Saturday) for a 3-day short trip. The second long-weekend starts from September 7 (Saturday). September 8 is Sunday. Take a leave on September 9 (Monday), and club it up with September 10 (Tuesday), which is Muharram, and September 11 (Wednesday) which is Onam (tentatively).
'Diwali waala October' comes with long-weekends and some choices
October will welcome Diwali and you also get two long weekends by default. There is a holiday for Gandhi Jayanti on October 2 (Wednesday), Dussehra on October 8 (Tuesday), Dhanteras on October 25 (Friday), Diwali on October 27 (Sunday), Govardhan Puja on October 28 (Monday), and Bhai Dooj on October 29 (Tuesday). Now your Diwali week is fixed starting from Oct 25-29.
In October, take one or two leaves, plan your trip
Apart from Diwali week, there are other options for you. First: Take leaves on Oct 3, 4 and 5 (if applicable) and get one long weekend from Oct 2-6. Second: Take leaves on Oct 5 (if applicable), 7 and get one long weekend from Oct 5-8. Third: Take leaves on Oct 3, 4, 5 and 7 and get an entire week from Oct 2-8.
Take the Christmas trip from December 21-25
November gives you one long-weekend from November 9 (Saturday), November 10 (Sunday) which is Eid-e-Milad, take 1-day leave on November 11 (Monday) and November 12 (Tuesday) is Guru Nanak Jayanti. In December, you can take a Christmas trip from December 21 (Saturday), December 22 (Sunday), take two-day leave on December 23 and 24 and December 25 (Wednesday) is Christmas itself. Start planning, folks!