He was once a Naxalite, now teaches students for free
He was once a Naxalite, now teaches students for free
Written by
Siddhant Pandey
Jul 20, 2019, 06:23 pm
3 min read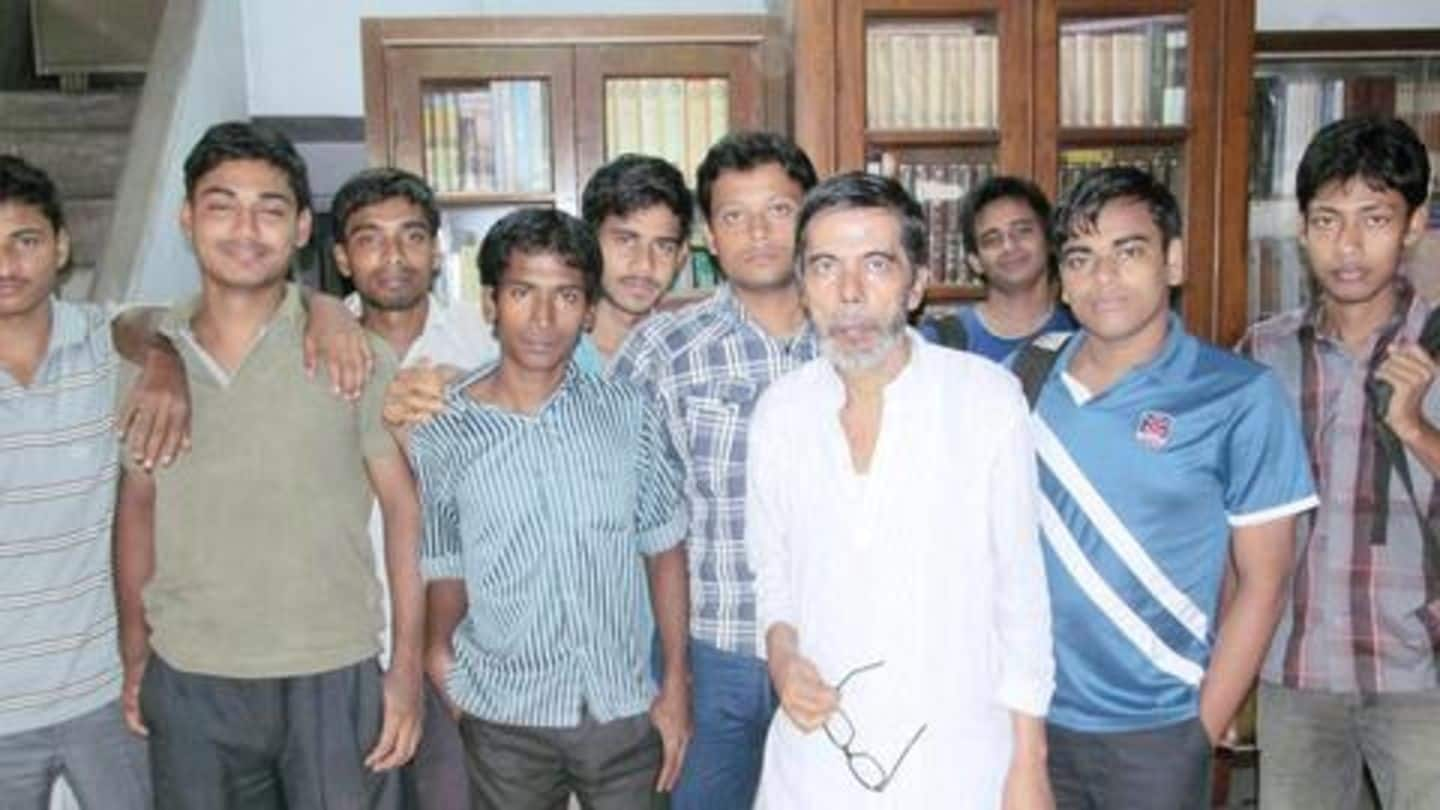 Years before mathematician Anand Kumar launched his famed Super 30 program, a West Bengal man started free coaching to help uplift the underprivileged. For three decades, septuagenarian Subhash Chandra Kundu's Institute of Physics has been helping break the cycle of poverty by making his students employable. Kundu says his desire for public service originated from his days as a Naxalite back in the 1960s.
Naxalite movement instilled 'spirit to serve' in Kundu
"I was into active politics between 1968-1971 when I was teaching at Basirhat College," Kundu told The Telegraph. The Naxalite movement helped him be "infused with the spirit to serve," hence, upon release from the Dum Dum correctional center in 1974, he "decided to pursue a mission not through the path of armed revolution, but by spreading science education among the poor."
Established in 1988, Institute now a prominent landmark in Basirhat
Notably, in 1988, Kundu, who joined the Naxalite movement as a student of MSc in Physics at Rajabazar Science College, established the Institute of Physics on a two-cottah plot, purchased from his siblings. Now, the two-story building is a prominent landmark in Basirhat.
Loans, donations from former students, funded institute
Today, the institute has six rooms, including two classrooms, stocked with books and laboratory equipment; some purchased and many donated over the years. Kundu, who used to teach at the Basirhat High School, previously relied on his pension to fund the tuition classes. But over the years, donations from former students and benefactors have helped sustain the Institute, for which, Kundu also took loans.
Kundu's students now teach at IITs
To note, Kundu takes in students whose parents struggle to provide them with a good education. Many of his students now teach at IITs and other institutes like the St Xavier's College in Calcutta, which has obviously earned him good reputation.
Not knowing about Institute of Physics shameful: Basirhat resident
"If you're from Basirhat and don't know where the Institute of Physics is located," Basirhat-resident Sayan Ganguly told The Better India, "then it's a matter of shame." Further, an ex-student said, "He has earned the respect of people of this entire belt for his dedication." Kundu, who suffered partial paralysis a decade ago, still holds exhibitions and quizzes across the district to promote education.
Unilateralism bane of Naxalite movement: Kundu
Speaking about why he distanced himself from the Naxalite movement, Kundu told The Tribune in a separate interview, "The leaders of the movement made several errors as a result of which it was discredited and, ultimately, rejected," adding that unilateralism became the movement's bane. Kundu believes that people should instead demand accountability from the State over failures such as poverty and inequality.
Further, Kundu said for social emancipation, education, organization and (democratic agitation) is crucial. "The key is education. Only education can create, slowly but surely, an awareness from the roots that can challenge the hegemonies of power and ideology," he concludes.