INS Sarvekshak: First naval warship to run on solar energy
INS Sarvekshak: First naval warship to run on solar energy
Feb 13, 2017, 07:31 pm
2 min read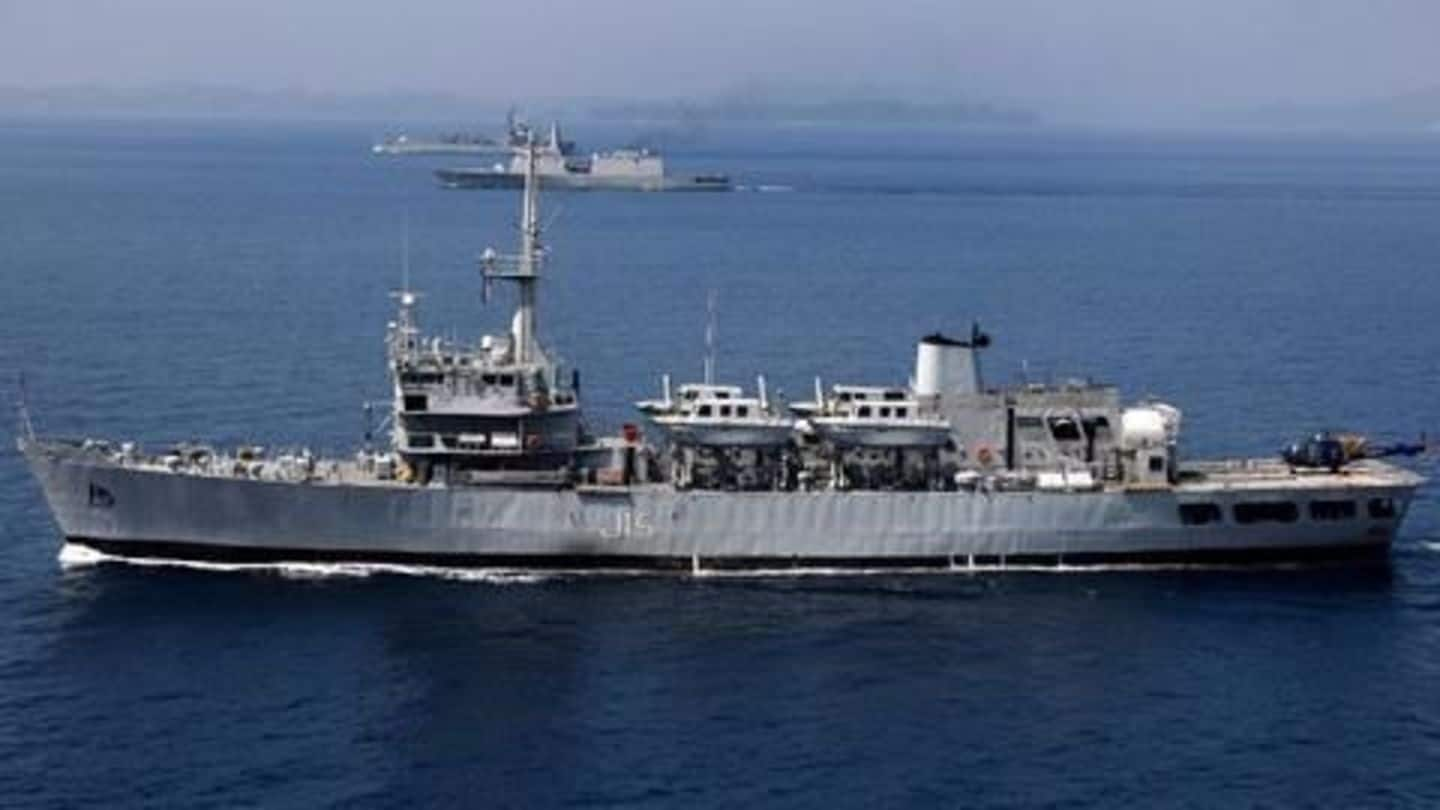 For the first time in India, a naval warship has had solar panels installed on it. INS Sarvekshak is a survey class vessel attached with the country's southern naval command; 18 sheets of solar panels have been fitted on top of its hangar. According to Commanding Officer of the ship Captain Rajesh Bargoti, it took six months to install the entire system.
INS Sarvekshak belongs to the Sandhayak-class survey ship, ninth in the series of vessels built by Garden Reach Shipbuilders and Engineers (GRSE) for the Indian Navy. These vessels are equipped with varied surveying, navigational and communication systems. Apart from their primary role of hydrographic survey, these ships also assist in times of war/natural calamities as troop-transports and casualty holding ships.
In January 2017, Indian Navy's largest ship and also its newest aircraft carrier, INS Vikramaditya became the first Indian naval ship to include an ATM on board.
Characteristics of the solar powered warship
According to the Navy, the system works using sunlight which makes it a 100% reliable power source for communication equipment, battery charging as well as general lightings onboard. The 300-Watts panels generate 5.4 kilo-watts (KW) of power. Rs. 19 lakh were spent in installing the system; in 15 years of its service life, the savings are expected to be Rs. 1 crore.
Alternative source of energy
The solar panels installed replace INS Sarvekshak's traditional 4.4 KW emergency diesel alternator. This means that the panels save 165 kg of carbon per day, 60,225 kg of carbon per year and 22,995 litres of diesel of the Indian Navy.
Difficulties faced while installing the solar panels
According to Captain Bargoti, one of the challenges faced by this project was that marine environments are unsuitable for the installation of normal solar panels. The panels could be damaged by the saline and humid surroundings, and they could also be uprooted due to the wind speed. Due to these constraints, "light-weight, extra-thin and flexible panels" were imported from a local vendor from USA.
A globally-unique warship
A navy spokesperson describing the project said, "In its 25 years of life-cycle, total carbon saved is approximately 15 lakh kg. This was a unique activity never attempted on any warship in India..perhaps not even abroad on warships."