Why is 'Dal Raisina' highlight of today's ceremony? Chef tells
Why is 'Dal Raisina' highlight of today's ceremony? Chef tells
May 30, 2019, 08:59 pm
5 min read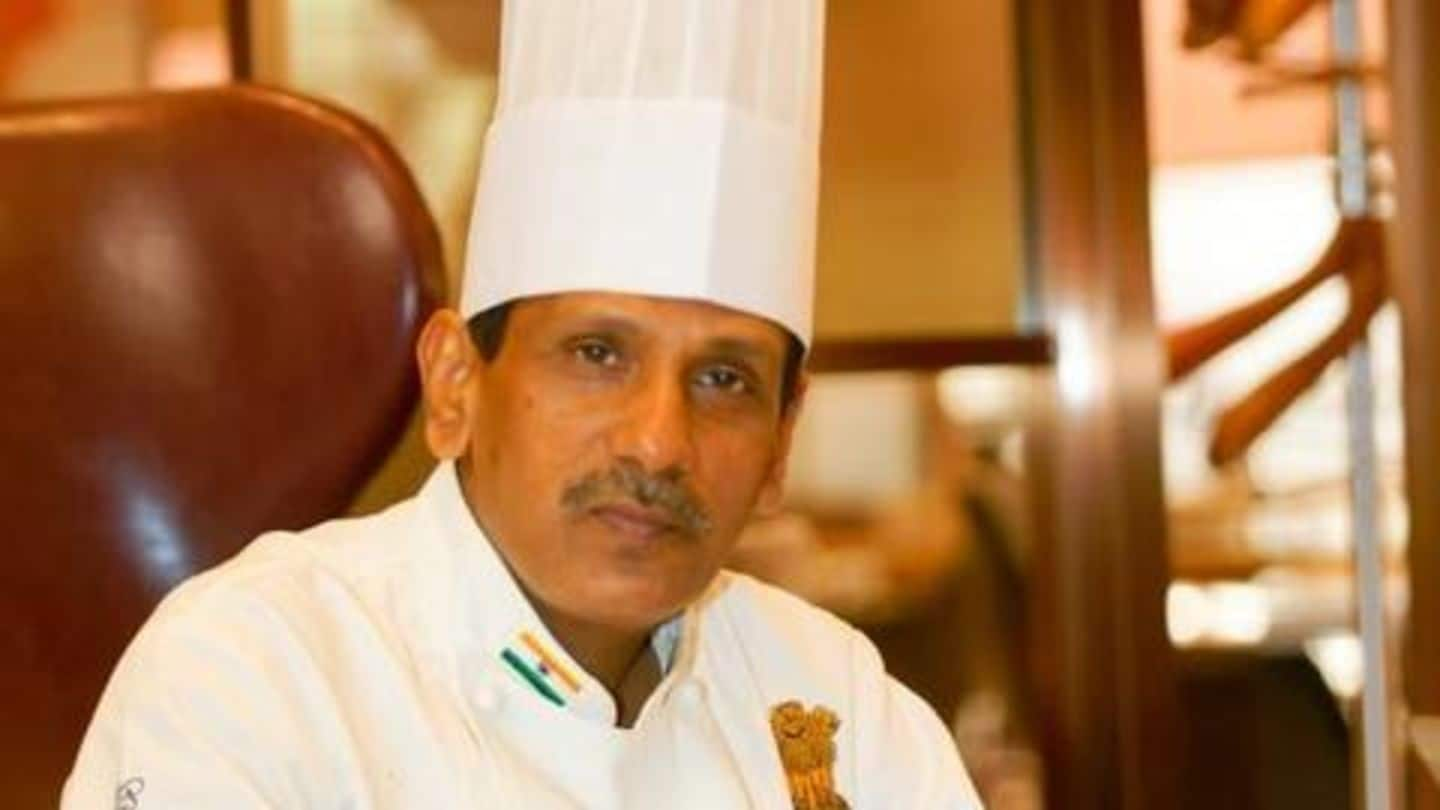 The entire world has its eyes set on Narendra Modi's swearing-in ceremony. But a dish, which will be the highlight of the menu, has sort of stolen Modi's thunder. People on the web can't stop talking about Dal Raisina, which will be served to attendees at Rashtrapati Bhavan. We spoke to Chef Machindra Kasture, who invented the dish in 2010, to understand the hysteria around it. Read on.
In a short while from now, Modi will take oath
After steering BJP to a historic win in 2019 elections, Modi will take oath as PM in the presence of 8,000 attendees. Heads of BIMSTEC countries, the Kyrgyz Republic and Mauritius, have already arrived in the national capital for the event. Apart from politicians, Bollywood celebrities will also be a part of the event. Notably, Modi's council of ministers will take the oath too.
Of all dishes, Dal Raisina is the one being talked-about
Getting Rashtrapati Bhavan ready for the much-awaited ceremony wouldn't have been easy. The organizers must have spent days and nights to make everything perfect. While guests will be served a plethora of vegetarian and non-vegetarian dishes, Dal Raisina has taken all the attention. Even, Kasture didn't imagine that a dish, which he made of Urad Dal and tomato puree, would become a rage.
Pratibha Patil asked Chef Kasture to cook something different
Kasture was the first resident chef of Rashtrapati Bhavan and served there from 2007 to 2015. Currently, he is the Executive Chef at The Ashok. When we asked him how Dal Raisina came into being, he said it happened by chance. Pratibha Patil, who was the President at the time, asked Kasture to whip up something interesting, and he did.
"If there are no comments, it means everything was fine"
Considering that the dish became a rage, we assumed Kasture must have gotten many compliments. But he told us, that is not how it works. "When there are no comments, it means everything from presentation to taste was fine," he explained. He added foreign dignitaries like to eat food from their country, but his job was to present Indian food with a foreign touch.
Kasture said Patil appreciated the dishes often
"You have to understand you can't satisfy everyone. Someone will complain about salt, another person will complain about something else. No one gave me compliments, but overall the meal used to be hearty. Yes, sometimes Madam (Patil) appreciated the dishes," Kasture revealed.
Once Kasture served Maharashtrian dish, puran poli, to Barack Obama
The next question which we asked was-- What did our former presidents like eating? On this, Kasture said Patil was a vegetarian. "She had a personal cook but whenever foreign dignitaries arrived, I had to design the menu. I remember once we served Puran Poli to Barack Obama." Pranab Mukherjee, on the other hand, was a fish lover, so Kasture changed the menu accordingly.
Kasture got praises from Mukherjee for cooking caviar
"Once Pranab Da said he wanted to eat caviar (a form of fish). Everyone was worried and thought how can we meet his demands. But somehow I cooked it. A few days later when he saw me, he appreciated the dish," said Kasture.
Kasture was always prepared for an emergency
Unsurprisingly, the kitchen of Rashtrapati Bhavan is gigantic. Kasture revealed he had a team of some 12-15 people and there were different cuisines for visitors. When we asked if his kitchen was ever hit by a crisis, he said it wasn't an uncommon thing. "But we played safe. We always cooked extra food in case of an emergency," he added.
Kasture recalled an incident when everything went haywire
"I remember once I was carrying a tray having kheer and it slipped. Fortunately, I had back up. So I cleaned the area, rushed to the kitchen, filled new glasses, and served it to 40-50 people within 10 minutes," Kasture said.
Never thought my dish would become famous: Kasture
On being asked about the recognition which Dal Raisina got, Kasture said, "I think it is a huge honor for me. I never thought my dish would become so famous but all the calls I am receiving has made me happy". He revealed for a chef the biggest fear is his dish being returned, but it never happened with him.
Kasture cooks elaborate dishes, but prefers vegetarian food
Kasture may have cooked world-famous dishes, but when he returns home after a long day, he prefers eating leafy vegetables and chapatis. "I like food cooked by my wife," he said. He also revealed that he tries new dishes at home. "My daughter loves food. She keeps suggesting me 'Papa add this', 'Papa do this'," he added. When asked for a piece of advice for new-comers, Kasture said, "Just keeping working hard. It never goes in vain. I still work for 12 hours almost daily".