Journalist Aatish Taseer, who called Modi 'Divider-in-chief', loses citizenship status
Journalist Aatish Taseer, who called Modi 'Divider-in-chief', loses citizenship status
Nov 08, 2019, 12:08 pm
3 min read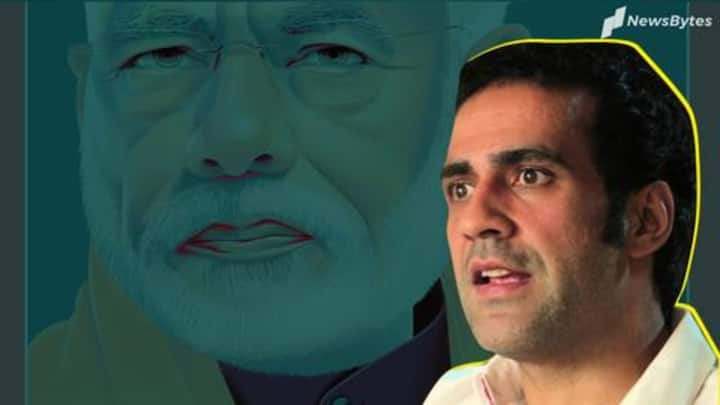 Aatish Taseer has always been a known name in literary circles. But after he wrote a story on Prime Minister Narendra Modi, who was seeking a second term, he was abused, berated, and his history was dug. And this "history", which concerns Aatish's Pakistani father, has led to him losing the Overseas Citizenship of India status. How thin-skinned can this government really get?
Aatish is the son of senior journalist Tavleen Singh and Pakistan politician Salman Taseer, who was assassinated in 2011. Born in Britain, he has published a number of books, including one on Banaras tiled The Twice-Born: Life and Death on the Ganges. However, his TIME piece titled India's Divider-in-Chief, in which he was critical of PM Modi sent the BJP leader's fans amok and he was trolled relentlessly.
Aatish was raised by mother, was never close to father
Aatish got a PIO card in 1999 and was issued an OCI card in 2016, following the merger of the PIO and OCI cards. He also holds a green card in the US. In 1982, Singh in an affidavit declared that she was Aatish's sole guardian. In fact, Aatish didn't even meet his father until he was 21 years old and grew estranged again.
He hid information about Pakistani father, said MHA
Since Aatish's piece was published, he has been at cross-hairs with the current regime, but no one would have imagined that his OCI status would be axed. Meanwhile, the Ministry of Home Affairs (MHA), which handles citizenship matters, said "action was taken" since Aatish hid the fact that his father was Pakistani. He also didn't revert to notices, MHA, headed by Amit Shah, claimed.
Take a look at what MHA said about the decision
"Aatish Taseer was given the opportunity to submit his reply/objections regarding his PIO/OCI cards, but he failed to dispute the notice. Thus, Aatish Ali Taseer becomes ineligible to hold an OCI card as per the Citizenship Act, 1955," MHA spokesperson said on Thursday.
However, Aatish said he wasn't given much time to respond
But Aatish has a different story. Contesting MHA's claims, the 38-year-old writer tweeted, "This is untrue. Here is the Consul General's acknowledgment of my reply. I was given not the full 21 days, but rather 24 hours to reply. I've heard nothing from the ministry since." He also shared an image of the e-mail he sent to concerned authorities.
You can read his tweet here
Subsequently, Aatish asked government why was he sent to exile
Distressed with MHA's action, Aatish wrote a story for TIME earlier today titled I am Indian. Why is the Government Sending Me Into Exile? He reminded that after the piece was published he was called "an agent of shadowy Western interests" out on a mission to undermine Indian elections. He wrote that never had he been asked to prove his nationality earlier.
Naturally, government's accusations have hurt Aatish
"The government had limited means by which they could legally take away my overseas citizenship. For 39 years, I had not so much as needed visa for India and now the government was accusing me of misrepresenting myself, accusing me of defrauding them," he wrote.
Earlier, Modi also used Aatish's Pakistani connection to slam him
While the government spoke about "rules and regulations", it doesn't skip one's attention that PM Modi himself discredited Aatish by mentioning his Pakistani lineage. In May he had said, "Time magazine is foreign, the writer has also said he comes from a Pakistani political family. That is enough for his credibility." The connection between Aatish's article and his OCI status is more than obvious.