#KargilVijayDiwas: Modi shares pictures from 1999, pays tributes to soldiers
#KargilVijayDiwas: Modi shares pictures from 1999, pays tributes to soldiers
Jul 26, 2019, 11:21 am
3 min read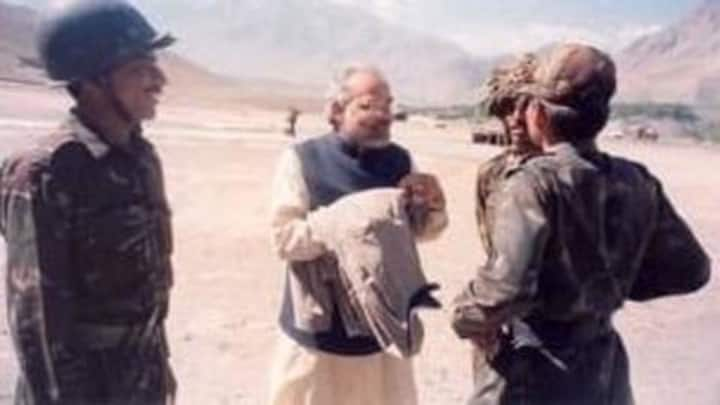 On Friday, Prime Minister Narendra Modi paid tributes to soldiers who defended India during the 1999 Kargil War. He revealed he got a chance to visit Kargil when the battle was underway, he also shared pictures of what he called an "unforgettable" visit. Meanwhile, Defense Minister Rajnath Singh paid tributes to soldiers at National War Memorial in Delhi. Here are more details.
20 years ago, Indian Army defeated Pakistani troops
The battle between India and Pakistan began in May 1999 and ended in July. It started after the Pakistani army, coupled with intruders, captured high outposts in Jammu and Kashmir's Kargil. Named 'Operation Vijay' by India, the conflict ended on this day, 20 years ago. Defeating adversities, Indian Army successfully re-captured several mountain tops. Since then, July 26 is commemorated as Kargil Vijay Diwas.
Modi remembered sacrifices of soldiers
Since morning, social media has been flooded with messages for the brave ones, who overcame insurmountable odds to protect the borders. Hopping on the bandwagon, PM Modi wrote that Kargil Diwas reminds us of the sacrifices of our valiant soldiers. He added that he was working with BJP in J&K and Himachal Pradesh when he got the opportunity to visit Kargil.
Showed solidarity towards soldiers, the experience was unforgettable: PM Modi
During the Kargil War in 1999, I had the opportunity to go to Kargil and show solidarity with our brave soldiers.

This was the time when I was working for my Party in JK as well as Himachal Pradesh.

The visit to Kargil and interactions with soldiers are unforgettable. pic.twitter.com/E5QUgHlTDS

— Narendra Modi (@narendramodi) July 26, 2019
Indian Air Force and President Kovind also remembered the bravehearts
Separately, the Indian Air Force also saluted the brave soldiers. "Let's remember the supreme sacrifice made by brave soldiers of India, to uphold and safeguard the integrity of the nation," IAF said. In a tweet, President Ram Nath Kovind wrote, "We salute the grit and valor of those who defended India, and record our everlasting debt to those who never returned."
Vice President Naidu also saluted the heroes
On Kargil Vijay Diwas, I pay my respects to the brave soldiers of Indian Army who made ultimate sacrifice in the line of duty to protect our nation. I salute all the heroes of the Kargil war and Operation Vijay who secured a valiant victory on July 26, 1999. #KargilVijayDiwas pic.twitter.com/996Vge002j

— VicePresidentOfIndia (@VPSecretariat) July 26, 2019
Separately, Army Chief gave a strong message to Pakistan
Interestingly, Army Chief Bipin Rawat gave a stern message to Pakistan, asking it to not "attempt any mischief". "Pakistan knows that if it'll infiltrate, all they will have to do is come back and take mortal remains," he said. To note, the Pakistani Army didn't claim the bodies of its soldiers after the Kargil war ended, prompting Indian troops to complete their last rites.
Indian Army stands resolute to defend our territory: Rawat
"Pakistan Army time and again resorts to misadventure either through flawed proxy wars and state-sponsored terror or intrusions. Indian Army stands resolute to defend our territory. Let there be no doubt that any misadventure will be repelled with a punitive response," Rawat went on.