Madras HC dismisses petitions against memorials at Marina Beach
Madras HC dismisses petitions against memorials at Marina Beach
Aug 08, 2018, 09:07 am
3 min read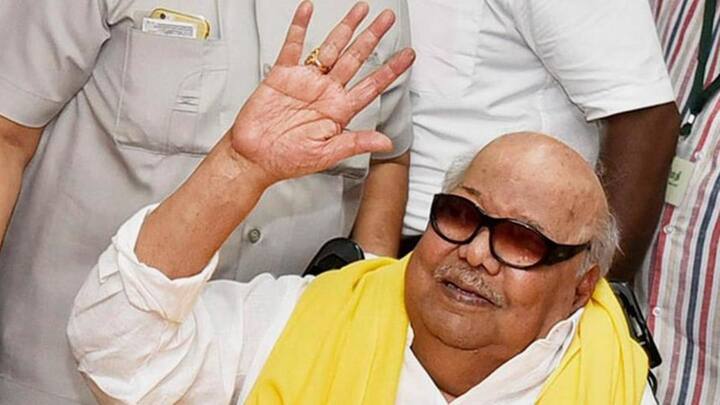 The Madras HC has dismissed several petitions challenging the construction of memorials at Marina Beach, while hearing DMK's petition on its party chief Karunanidhi's burial. "State isn't in any urgency to get orders passed today," lawyer CS Vaidyanathan, appearing for the government, said. Violence had erupted in Chennai over the government's refusal to let Karunanidhi be buried at Marina. The DMK challenged its decision
Petitioner files memorandum declaring he has no objection
Petitions filed by Traffic Ramaswamy, K Balu and Duraisamy now stand cancelled. The court has directed Ramaswamy's lawyer to file a memorandum declaring he has no objection to Karunanidhi's burial at Marina. Accordingly, he has filed it. Incidentally, another petitioner revoked her plea yesterday itself. The HC has declared it withdrawn.
Karunanidhi died yesterday after 10 days at hospital
Karunanidhi succumbed to old-age related ailments after 10 days at the hospital yesterday evening. He was 94. Security has been upped across the city to check violence. Police are on alert. Karunanidhi had a major role to play in shaping the Dravidian movement in TN.
TN government cites pending PILs for not awarding burial spot
The Marina beach has the burial sites of iconic figures like DMK founder Annadurai, AIADMK founder MG Ramachandran, and former CM J Jayalalithaa. DMK followers and Karunanidhi's family had hoped to secure a burial spot for the late DMK chief, but the state government denied it, citing pending PILs at the Madras HC challenging the construction of memorials on the beach.
DMK receives support from other parties
Other party leaders have supported DMK's demand. "He converted Marina into a Tamil cultural symbol," said VCK's Ravikumar. "Kalaignar was an expression of the voice of the Tamil people. That voice deserves space on Marina," said Congress' Rahul Gandhi. Actor-turned-politician Rajinikanth requested the government to "make all efforts." "The TN people won't forgive the government if it denies burial land," said NC's Farooq Abdullah.
Violence erupts in Chennai over government's refusal
The government has offered the DMK two acres of land at the Gandhi Mandapam instead for Karunanidhi's burial. The Mandapam hosts the sarcophagi of C Rajagopalachari and former CM K Kamaraj. Reacting to the government's decision to deny a burial spot at Marina, DMK supporters outside the Kauvery Hospital, where he breathed his last, ransacked police barricades and turned violent.
The government's plans to commemorate Karunanidhi
The government had offered Rajaji Hall for Karunanidhi's final journey, and declared a day of mourning on August 8. He will be given full state honors and a military salute, it had said. He will be wrapped in the tricolor and the flag will fly at half mast. The government itself will recognize a seven-day mourning period. All official functions stand cancelled.