Ayodhya verdict: Meet the five judges who will script history
Ayodhya verdict: Meet the five judges who will script history
Nov 09, 2019, 10:31 am
3 min read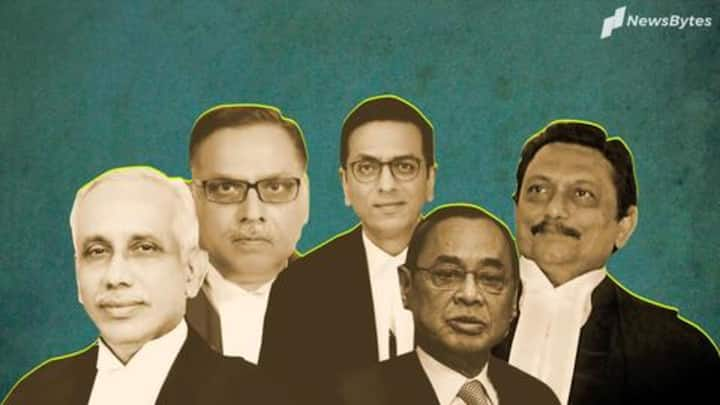 A five-judge constitutional bench of the Supreme Court will pronounce verdict in the Ram Janmabhoomi-Babri Masjid dispute at 10:30 am today. When the apex court announced late night that the judgment would be out on Saturday, everyone was taken by surprise. After the notification, politicians urged people to maintain peace. But who are the judges who will sign the order? Let's tell you.
A small plot in Ayodhya is at center of dispute
Pertaining to merely 2.77 acres of land in Ayodhya, the title suit has grave socio-cultural consequences. As both Hindus and Muslims claim ownership of the plot, where 16th-century Babri Masjid stood before being demolished in 1992, Allahabad High Court in 2010 divided the land equally among deity Ram Lalla, Nirmohi Akhada, and Sunni Waqf Board. The claimants then approached SC.
Before his retirement, CJI Gogoi will give Ayodhya verdict
The bench, which will sign the crucial order, is headed by Chief Justice of India Ranjan Gogoi. The judgment is coming out before November 17, as he retires on the same day. CJI Gogoi, who belongs to Assam, took the topmost judicial post in the country in October 2018. He has served as a judge at Gauhati High Court and Punjab and Haryana HC.
Notably, CJI-designate is also part of the bench
The second senior-most judge on the bench is Justice SA Bobde, who will succeed CJI Gogoi later this month. Before being elevated to SC in 2013, Justice Bobde served as Chief Justice of Madhya Pradesh High Court. He had started his career as an additional judge in Bombay HC. Earlier, Justice Bobde had called Ayodhya dispute "one of the most important in the world".
Another member of bench is son of longest-serving CJI
The son of the longest-serving CJI YV Chandrachud is also part of the bench. Justice DY Chandrachud had served at Bombay and Allahabad HCs, before joining the top court in May 2016. A graduate of Harvard Law, Justice Chandrachud is known for dismissing laws that grew irrelevant with time. He was the one who declared that the right to privacy is a fundamental right.
Former Chief Justice of Kerala HC will also sign order
The fourth judge who will sign the order is Ashok Bhushan, who started his legal career as an advocate in 1979. He was elevated to the post of a judge in Allahabad High Court in 2001. In July 2014, he went to Kerala High Court and was appointed as its chief justice in March 2015. In 2016, Justice Bhushan became a judge at SC.
Bench also includes judge having years of experience as lawyer
The fifth judge is Justice SA Nazeer. Having started his career as an advocate in 1983, he practised in Karnataka High Court for over 20 years. He became a permanent judge in the court in 2004. Justice Nazeer was promoted to SC in 2017, and the same year, he made headlines by saying courts can't interfere in personal laws when talking about triple talaq.