Rajasthan: MiG-27 crashes near Pokhran; pilot ejects safely
Rajasthan: MiG-27 crashes near Pokhran; pilot ejects safely
Written by
Shiladitya Ray
Feb 12, 2019, 09:28 pm
2 min read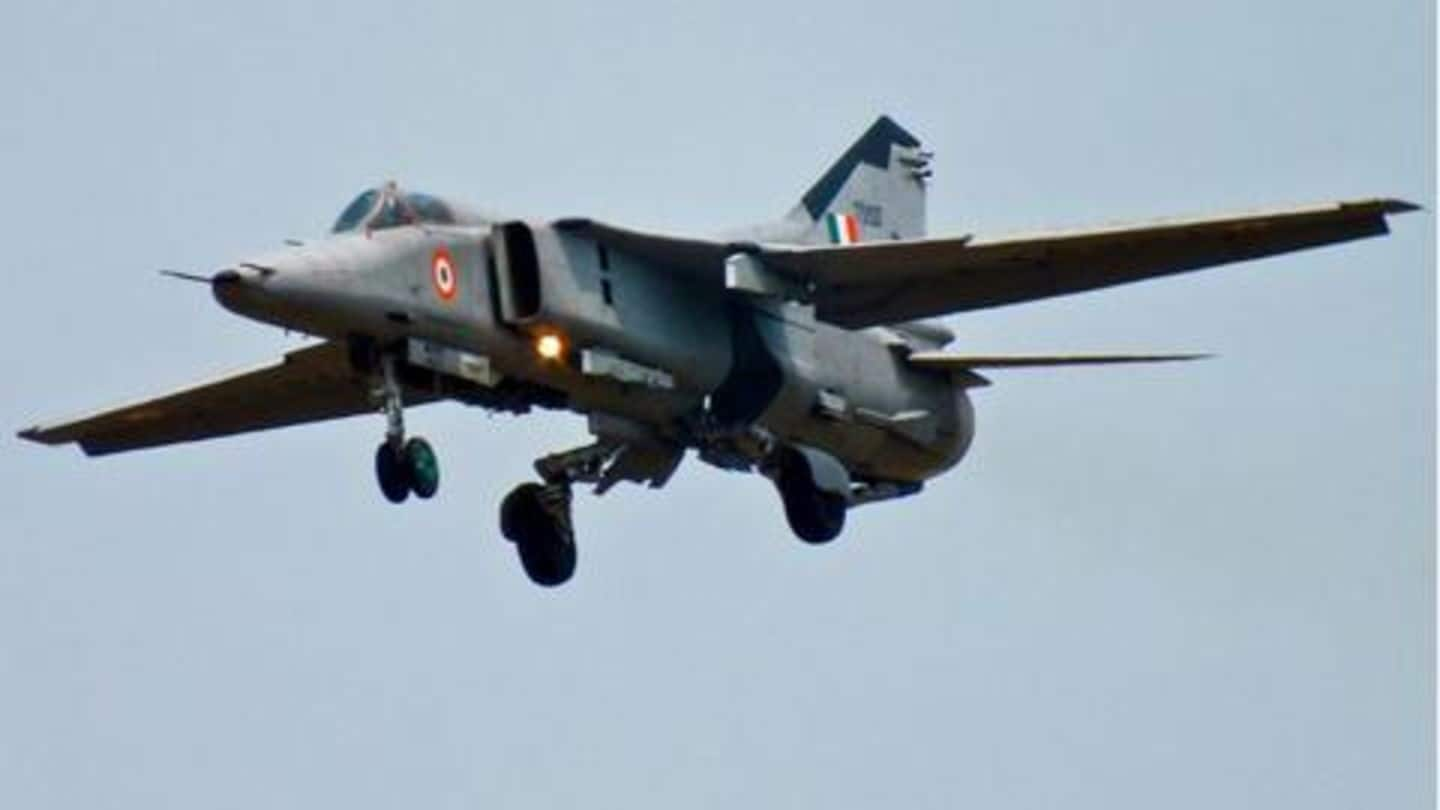 On Tuesday, a MiG-27 fighter jet of the Indian Air Force (IAF) crashed near the Pokhran firing range after taking off for a routine training mission from Rajasthan's Jaisalmer. However, the pilot managed to escape safely. As of now, it's unclear what caused the crash and a court of inquiry will be constituted to investigate it. Here are the details.
The crash took place at 6.10pm
Reportedly, the MiG-27, a Soviet-era ground attack aircraft that India bought during the 1980s, crashed at around 6.10pm. Tragically, the crash took place on a day when IAF Vice Chief Air Marshal Anil Khosla expressed his sympathy for the families of two IAF pilots who lost their lives in a Mirage 2000 crash in Bengaluru a little over a week earlier.
About a week ago, a Mirage 2000 had crashed
On February 1, a Mirage 2000 plane crashed at the Hindustan Aeronautics Limited (HAL) Airport in Bengaluru while on an acceptance test flight after being upgraded by HAL. The trainer aircraft was being flown by two pilots - Squadron Leader Siddharth Negi and Squadron leader Samir Abrol - and both of them lost their lives in the crash.
Days before, a Jaguar had crashed
The Mirage crash came a mere four days after the IAF lost a Jaguar fighter jet to a crash on January 28. The crash took place in Kushinagar in Uttar Pradesh, and thankfully, the pilot managed to eject and escape death. Notably, the crash marked the second Jaguar crash in less than a year. The last crash, in June 2018, had killed the pilot.
The IAF has seen multiple crashes over last year
These crashes apart, the IAF has also been plagued with other crashes of late. In March last year, an Advanced Hawk Jet trainer aircraft crashed on the Jharkhand-Odisha border, and a couple of months later a Cheetah helicopter crashed in Jammu & Kashmir. In June, a Sukhoi Su-30 MKI fighter crashed in Nashik in Maharashtra, and in September, a MiG-27 crashed near Jodhpur.