Meerut-cop tells protesters to 'Go to Pakistan'; Naqvi demands action
Meerut-cop tells protesters to 'Go to Pakistan'; Naqvi demands action
Dec 29, 2019, 12:09 pm
3 min read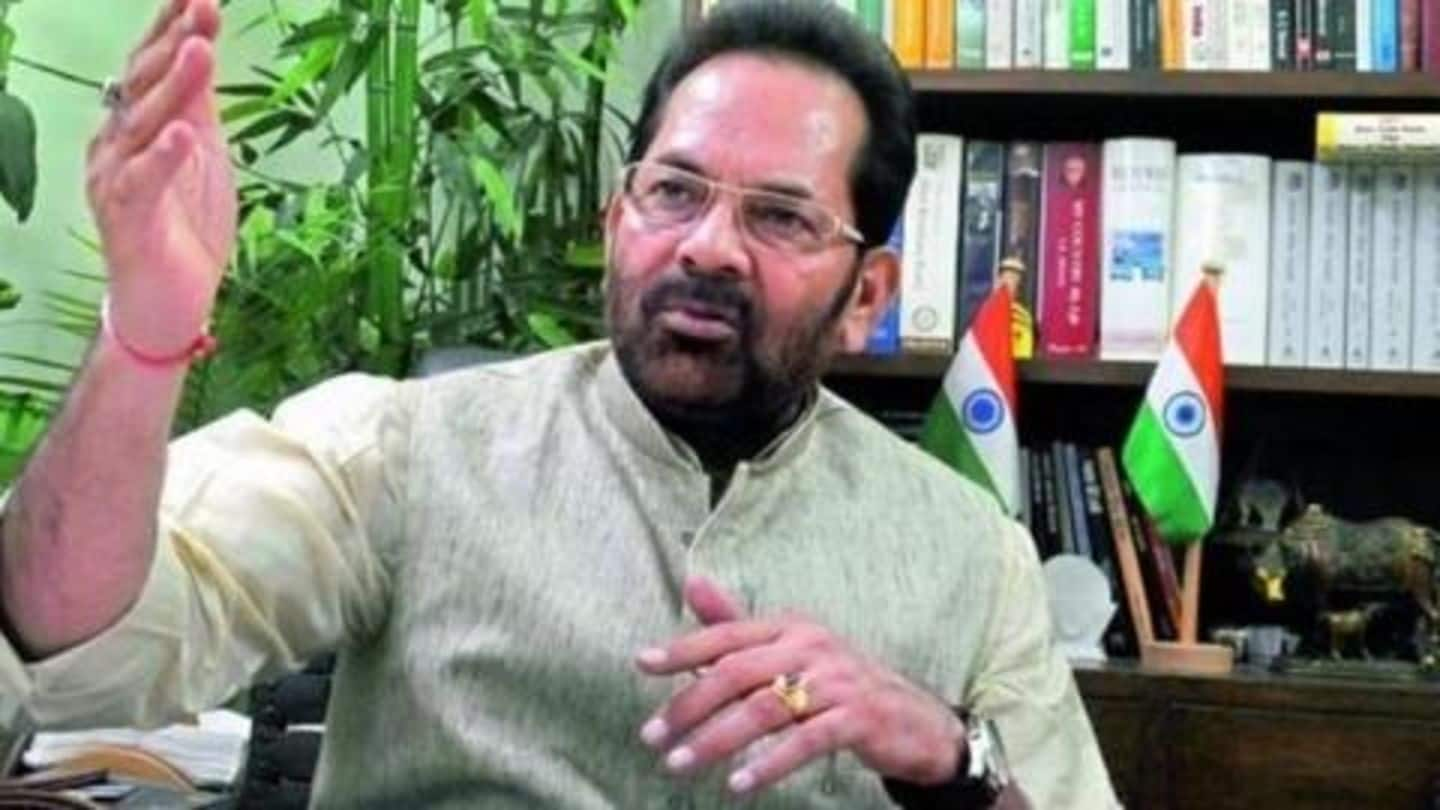 A massive row has erupted in Uttar Pradesh after a top cop was caught on camera, making communal statements in Meerut's Muslim locality. Last Friday, SP Akhilesh Narayan Singh allegedly asked protesters to "go to Pakistan"; a video of his misconduct went viral yesterday, sparking condemnation. Reacting on the same, Minorities Affairs Minister Mukhtar Abbas Naqvi called for immediate action. Here's what went down.
Background: In most populous state, protests turned extremely violent
In UP, the protests against the new Citizenship Amendment Act turned violent, with the maximum number of deaths (19) being reported from there. Till Thursday, state police arrested 1,113 people in 327 cases while 5,558 were put under preventive detention. In the last couple of days, the administration also suspended internet services in several districts. On Friday, services were snapped in 21 districts.
At a time when cops have launched a massive crackdown on "rioters", Singh's video sheds light on the communal nature of Meerut police. In the viral clip, Singh, who is the second-in-command in the district, can be heard speaking to some men, who wore skull caps. The senior officer was dressed in riot gear, and so were policemen accompanying him.
Go to Pakistan: Singh said in video
In the clip, Singh can be heard flaunting that he will "set the lane straight instantly". When the men informed him they were offering namaz, Singh said, "That's fine. But these black and blue badges you people are wearing, tell them to go to Pakistan." He went on, "You come here but you sing praises about somewhere else?" All this while, the men nodded.
Further, he also claimed to put every man in jail
If it's true, action should be taken: Naqvi
As the clip drew attention, Naqvi also gave his opinion. "If it's true that he made that statement in the video, then it is condemnable. Immediate action must be taken against him," he told ANI. But the Union Minister added, "Violence at any level, be it by police or by the mob, is unacceptable. It can't be a part of a democratic country."
Criticized after video emerged, Singh revealed his side
Interestingly, Singh has also defended his behavior, saying that protesters were raising pro-Pakistan slogans. "This (sloganeering) made it clear they were up to some mischief. They ran inside the lane. We found some other people and we scolded them. But we spoke to them about the boys. They had come from the same lane. When they shouted pro-Pakistan slogans, we retaliated," he said.
In fact, senior also supported Singh, said cops "exercised restraint"
Notably, the cop also found support in his senior, Additional Director General of Police (Meerut Zone), Prashant Kumar. Though Kumar underscored that the choice of words could have been better, he said the situation wasn't normal. "We were pelted with stones and anti-nationals slogans were being shouted despite our appeals," he said, adding that officers showed a lot of patience and restraint.
Naturally, police excesses surprised opposition, but CM Adityanath seems happy
The video, obviously, took political undertones with Congress' Priyanka Gandhi Vadra saying that under BJP, even officers have forgotten constitutional values. Earlier, politicians like Akhilesh Yadav (Samajwadi Party) and Asaduddin Owaisi (AIMIM) claimed cops ransacked houses of Muslims. But while UP Police is being questioned, Chief Minister Yogi Adityanath seems happy that rioters "have been silenced and taught a lesson".
हर दंगाई हतप्रभ है।

हर उपद्रवी हैरान है।

देख कर योगी सरकार की सख्ती मंसूबे सभी के शांत हैं।

कुछ भी कर लो अब, क्षतिपूर्ति तो क्षति करने वाले से ही होगी, ये योगी जी का ऐलान है।

हर हिंसक गतिविधि अब रोयेगी क्योंकि यूपी में योगी सरकार है। #TheGreat_CmYogi

— Yogi Adityanath Office (@myogioffice) December 27, 2019