Mumbai rains Day-3: Schools closed, traffic hit, Vasai cut off
Mumbai rains Day-3: Schools closed, traffic hit, Vasai cut off
Jul 09, 2018, 02:51 pm
2 min read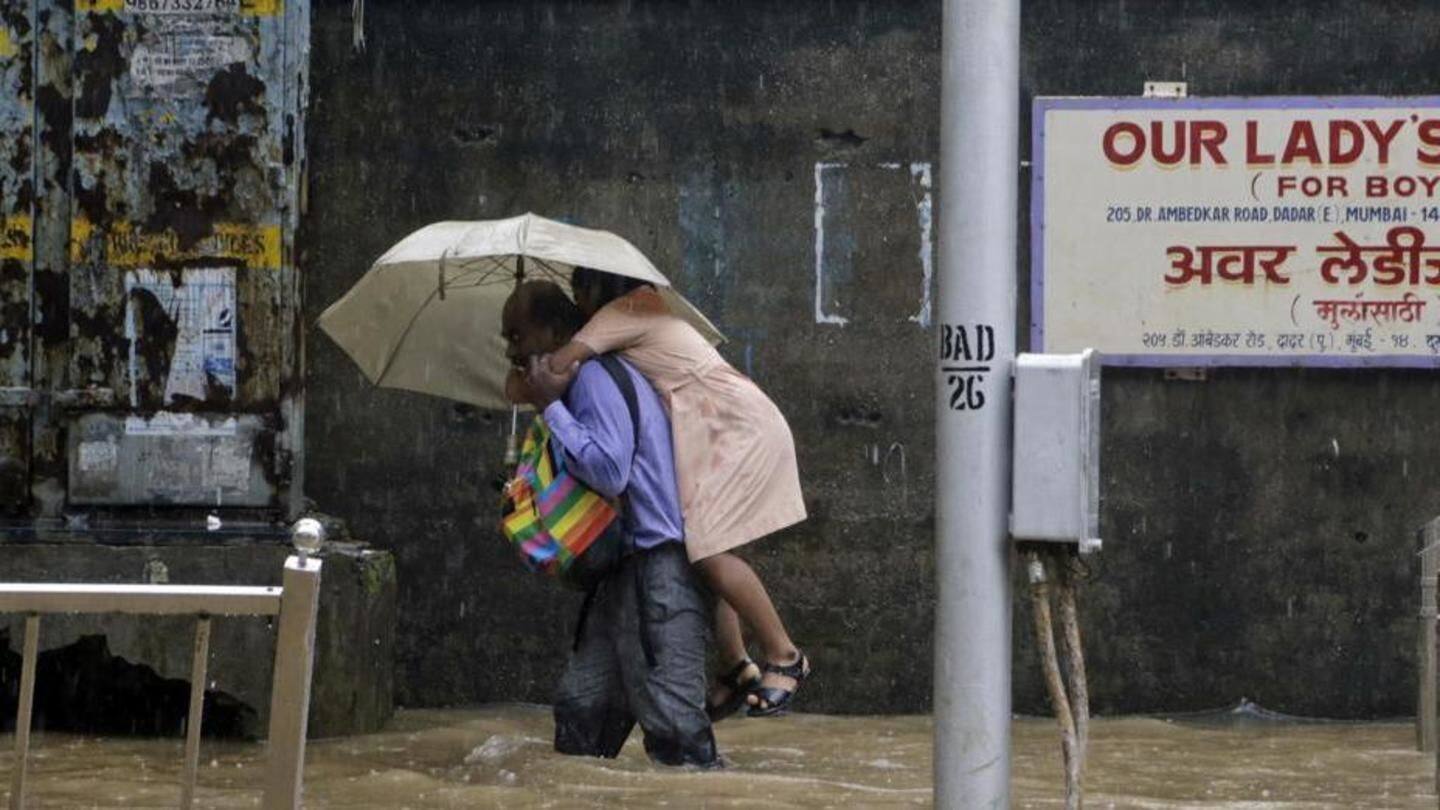 Heavy rains continued to lash Mumbai and its nearby regions, forcing schools to shut down and hitting rail and road traffic. People were seen wading through knee-deep water in several areas, including Andheri, Hindamata, Mulund Station, Sion, King Circle and Matunga. Several locations in Vasai got cut off due to flooding. Disaster Management teams were sent in with food and water supplies.
Dahanu recorded the country's highest rainfall in last 24 hours
This morning, South Mumbai received 51.4mm of rain during 8.30am-11.30am, while the suburbs received 39.6mm. Dahanu in Palghar recorded 354mm - the highest in the country in the last 24 hours. A wall collapsed on the Central Railway at Sandhurst Road. This was the third consecutive day of heavy rains in Mumbai. IMD says such weather conditions will continue till Wednesday.
Government declares precautionary holiday for schools and colleges
Precautionary holiday declared for schools, colleges in Mumbai Metropolitan Region for the safety of the students due to the heavy rainfall experienced in the city and the suburban areas. Heavy rains forecasted, every one is advised to stay safe.

— Vinod Tawde (@TawdeVinod) July 9, 2018
Road, rail and air traffic affected
By the time the government declared holiday for schools and colleges, they were already in session. Afterwards, many shut down earlier than usual. Several trains on the suburban network were stopped while others were running late. Waterlogging forced closure of traffic on the north-bound Maheshwari Udyan to Sion Hospital route and the Andheri Subway. Operation of private/chartered aircraft and helicopters at Juhu aerodrome has been suspended.
Mumbai Police issues traffic advisory
Mumbai Police have urged citizens to move out of homes only if necessary. It also kept tweeting out traffic updates, saying northbound traffic on SV Road is diverted towards Turner Road and Linking Road. Southbound traffic from Khar Rraffic Chowky has also been diverted towards Linking Road.
Amid heavy rains, Gokhale Road overbridge collapsed last week
Yesterday and day before too, heavy rains lashed parts of Mumbai and neighboring Navi Mumbai and Kalyan. At least three people died: two unidentified bodies were fished out of a river in Kalyan in the afternoon Saturday, while a woman died of electrocution in Ghatkopar. Last week, a part of the Gokhale Road overbridge connecting Andheri East and West stations collapsed amid heavy showers.
Situation likely to continue till Wednesday
"The intensity of rainfall is expected to increase over Mumbai and surrounding areas as the low-pressure system on the east coast is likely to intensify the offshore trough extending from Gujarat to Kerala, leading to heavy to very heavy rainfall till Wednesday," IMD said.