Schools forced to shut as Padmaavat releases
Schools forced to shut as Padmaavat releases
Jan 25, 2018, 02:23 pm
2 min read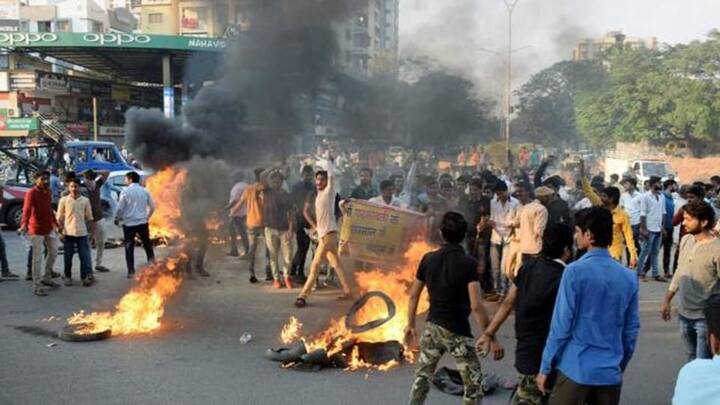 Protests over Padmaavat reached a violent high as the movie released today. School-buses have been attacked, self-immolation attempts made and rioters clashed with police. The SC has agreed to hear contempt cases against MP, Rajasthan, Gujarat and Haryana for failing to ensure law and order. Since yesterday, over 100 Karni Sena members have been arrested. Meanwhile, Pakistan has cleared the movie for public screening.
In Gurgaon, school bus full of children attacked
Yesterday, protesters vandalized a school bus and set fire to a Haryana Roadways bus on Sohna Road, Gurgaon. The students of GD Goenka in the bus escaped unhurt, but some passengers on the bus were injured. Incidentally, there were prohibitory orders in place. Following the incident, several schools in Gurgaon including Pathways, GD Goenka, Shiv Nadar and DPS have been closed till Sunday.
Teachers try to protect students as bus attacked
RT ShivAroor: Video of school bus attacked today in Gurugram by anti-Padmavati cowards. This is the aukat of groups like the Karni Sena: attackers of little kids. May the men responsible for this never be able to walk again. pic.twitter.com/TPiowzbQzS

— Purvi (@pretty_purvi) January 25, 2018
Rioters clash with police, damage property, try to immolate themselves
In Varanasi, several people tried to immolate themselves but were detained. In Lucknow, Karni Sena handed out roses to people coming to watch Padmaavat at Novelty Cinema, urging them to return. In Rishikesh, protesters clashed with police outside a cinema hall. The Kota-Bundi highway, Udaipur-Chittorgarh road and Dungarpur-Ahmedabad road were blocked. There were reports of vandalism in Delhi, Rajasthan, MP, UP and Haryana.
Multiplex Association refuses to screen movie in four states
Despite being cleared by the censor board as well as the country's top court, the Multiplex Association of India has refused to screen Padmaavat in Gujarat, MP, Goa and Rajasthan, saying "the law and order situation is not conducive." Many cinema halls in Bihar have refused to screen it too. In Rajkot, protesters even formed a special group, Padmaavat Sangharsh Samiti, for protesting Padmaavat.
SC to hear contempt case against four states, Karni Sena
Congress' Tehseen Poonawalla filed a petition in the SC against MP, Rajasthan, Gujarat and Haryana for disobeying court orders. Another petition has demanded contempt action against the Karni Sena. Both will be heard on Monday. Meanwhile, the Pakistani censor board has cleared the movie for screening "without any excision." However, some quarters reportedly were unhappy with Alauddin Khilji's portrayal.