Kerala woman reveals how PUBG saved her marriage
Kerala woman reveals how PUBG saved her marriage
Feb 14, 2019, 07:43 pm
3 min read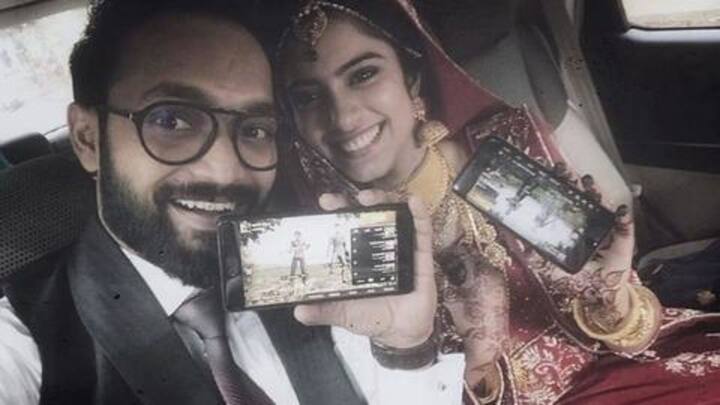 While PUBG might have adversely impacted the lives of many youngsters in the country, it also has a positive inspiring story to tell. Last August a picture had gone viral showing a newly-married couple happily playing PUBG. Now, the bride, Salwa Ahamed told News 18 how the addictive online multiplayer game saved her marriage, which was about to be called off. Here's what happened.
Salwa explained that the couple didn't meet over PUBG
In August 2018, Salwa and Mohammed Rasheen got married and shared their picture on Facebook showing the two playing PUBG on their phones. The caption read, "Finally married my PUBG squad mate." Their picture went viral since then, with many assuming that they met over PUBG. Salwa, however, clarified that they didn't meet over PUBG but it saved their marriage.
In his wedding post, Rasheen talked about Kerala floods
Rasheen was a gaming addict, Salwa was not
Salwa said she had known Rasheen for four years and the duo had been dating for the most part of it. Unlike Salwa, Rasheen was a gaming addict. Before starting PUBG, Rasheen used to play FIFA and Age of Empires till late nights. Later, when Salwa was in the final year of college, Rasheen went to UAE for a job, and things got difficult.
'Time zones played the villain in our lives'
Talking about the long-distance relationship, Salwa said, "Long distance turned out to be a problem for both of us. Time zones played the villain in our lives. Fights got to a point where we were about to call off the wedding."
PUBG became duo's only way to chat at one point
That is when PUBG came as a savior. When the UAE blocked all the Voice over IP (VoIP) calls including Skype and WhatsApp, PUBG became the duo's only platform to chat. "All our ego, and who calls first after a fight just melted away. Instead, our conversations were overrun by who's going to win the game, or 'Should we team up?'" Salwa said.
Salwa usually plays as a cover when they team up
The game also helped the duo forget the old fights. Rasheen and Salwa usually play Duo, with Salwa as a cover because Rasheen is more well-versed with the game. However, Salwa did win many medals for reviving Rasheen during her early games. Rasheen explained how he liked the game's "physics, and balanced challenges and various strategies involved in winning a chicken dinner."
'It's the process of playing together that we love'
Now, Salwa and Rasheen have moved abroad and don't play PUBG much. However, they recently bought a PlayStation and the duo has intense gaming fights playing FIFA, Mortal Kombat, or Injustice. "It's the process of playing together, that we love, winning chicken dinner is just the added bonus," she said. Salwa is an IT professional and Rasheen works as an architect in the UAE.