Puducherry's 'Singham' on Beach Road is now helping tourists!
Puducherry's 'Singham' on Beach Road is now helping tourists!
Written by
Pallabi C Samal
Jun 13, 2018, 06:50 pm
2 min read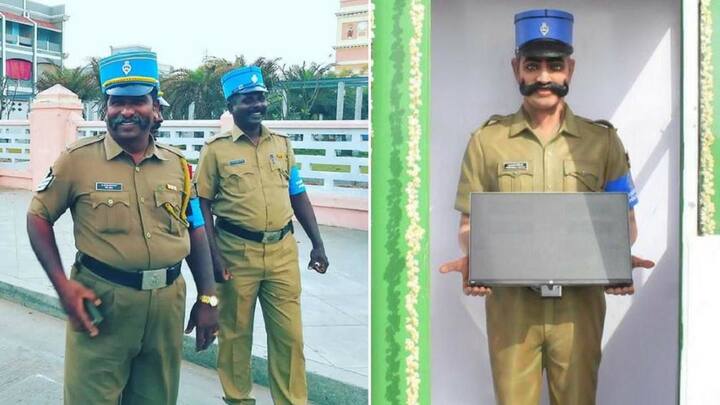 On Sunday, Puducherry LG Kiran Bedi inaugurated a tourist kiosk on Beach road. Sounds like any regular news? But what if the kiosk was a constable, and that too, not a flesh-and-blood cop, but one with an internal circuit? That's right! The kiosk is a robocop, 'constable' Singham (meaning Lion), who'd reply to tourist queries, that too in Tamil, English, French and Hindi.
He would guide you to nearest hospital, police station
Singham would be able to guide one to the nearest police station, hospitals, tourist spots, available transport services and other facilities. A CCTV camera has been installed inside the robocop, which also has an interactive booth attached with a microphone, to help the public communicate with the cops posted at the Tourist Police Station. For now, 'he' would interact only in English, said officials.
IPS Association congratulates Puducherry Police
We compliment #Puducherry Police for innovative project Robocop - Constable Singham - which acts as kiosk to help tourists with info about Police, their history, nearest Police Stations, hospitals. The interactive booth is fitted with CCTV, microphone addresses queries. pic.twitter.com/yovvnO5Qg2

— IPS Association (@IPS_Association) June 11, 2018
Bedi, while inaugurating, applauded the shift to artificial intelligence
Designed by Puducherry-based sculptor V. K Munissamy, Singham's touch-screen monitor and computer were funded by private companies. The software that would run the robocop was built by MCA students of Pondicherry University. Bedi, a retired Indian Police Service officer, applauded the shift from human intelligence to artificial intelligence, at the inaugural function. "Police should keep themselves abreast of the latest technological developments," she emphasized.
Singham dons headgear of 'Tourist Police' wing, not usual red
Puducherry government had launched a special police force called 'Tourist Police' wing in January this year. They wear distinctive blue-colored headgears and don blue badges bearing police emblem. Singham also wears the same gear. They would specifically cater to tourists, DGP SK Gautam had said. Normally, Puducherry Police wear red caps, a tradition that has been maintained since French rule.
Here's a quick guide if you're planning to visit Puducherry
Puducherry, an extremely popular tourist destination, is known for its colonial influence and pristine beaches. The Union-Territory was awarded the Best Destination for Relaxation in India by Australia-based Lonely Planet, the largest travel guidebook publisher in the world. The best time to visit the UT during October-February, when the temperature remains a pleasant 30-32 degrees. It has its own railway station too.