Rahul Gandhi turns fisherman, casts net. What did he catch?
Rahul Gandhi turns fisherman, casts net. What did he catch?
Written by
Srijita Sen
(Sourced from PTI)
Feb 24, 2021, 05:24 pm
3 min read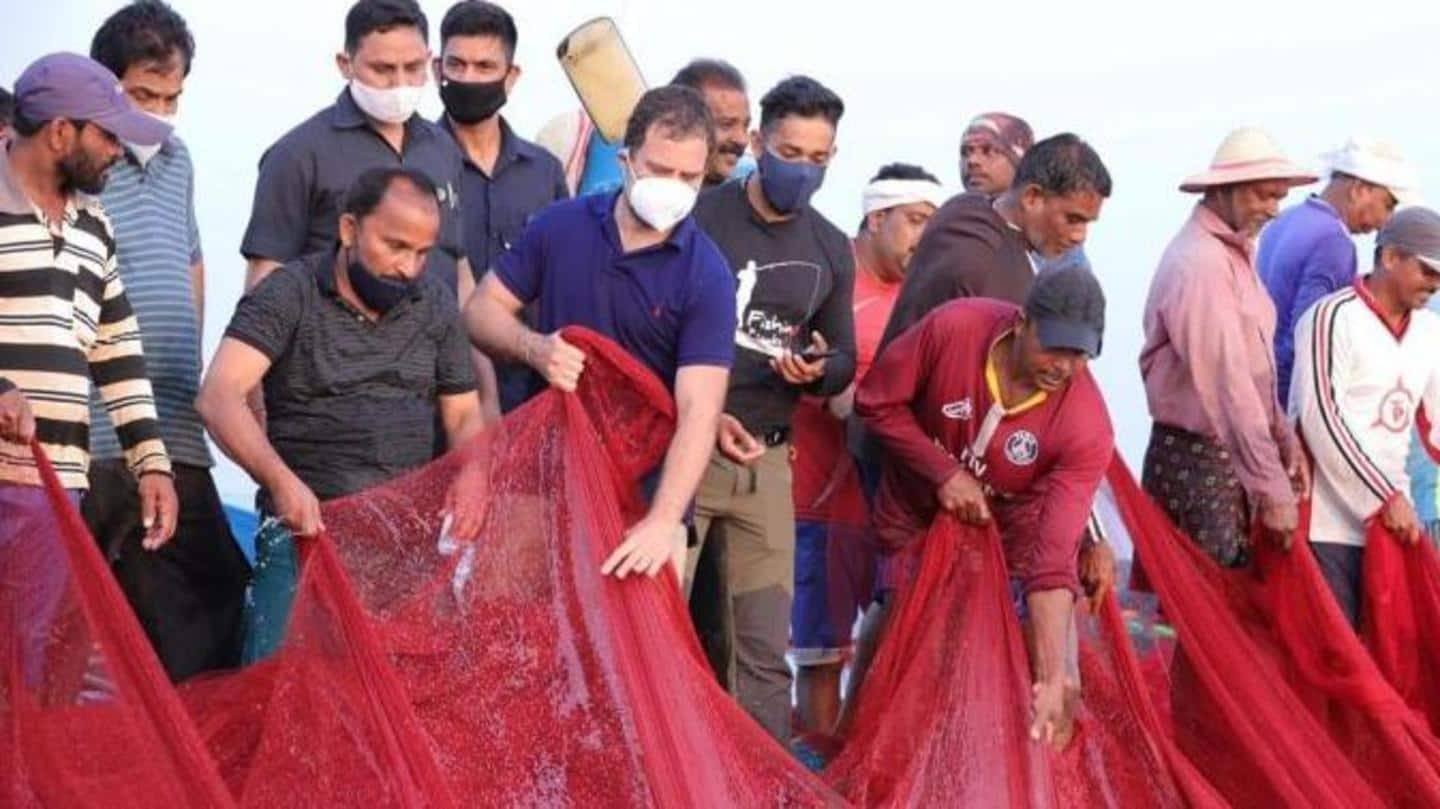 Congress leader Rahul Gandhi on Wednesday turned seafarer and pulled the net with a local fisherman in the high sea in Kollam to get a taste of their life and understand their issues. In an emotional talk with thousands of fisherfolk, including women gathered at the Thangassery beach in this southern coastal district, the Nehru scion said he admired and respected what they do.
Gandhi spent nearly an hour with the fishermen
"I understand and respect what you do. I admire what you are doing. Many times, we eat the fish but we will not understand the hard work behind it and how it reached our plate," Gandhi said. Earlier, he ventured into the sea with some fishermen from Vadi beach by 4.30 am and spent nearly an hour with them before reaching the interaction venue.
Gandhi also cast the net, caught only one squid
The Wayanad MP also cast the net with them but could only catch one squid. Clad in a blue t-shirt and khaki trousers, the Congress leader could be seen waving hands to the onlookers from the boat while reaching back to the shores.
Gandhi learned about their hardships
To understand what his fisherman "brothers" go through every day, Gandhi went to the sea early morning with them. Sharing that experience, he said from the moment the boat left the shore till the moment it reached back, every force was trying to fight the fishermen. Gandhi noted that they put their entire labor, they buy the net but somebody else gets the profit.
Gandhi also found a way to attack rising fuel prices
Pointing toward them catching only one squid, he said the investment put into the journey gave no profitable result. Highlighting their hardships, he said fuel prices go up every single day and the fishing community cannot buy an engine beyond a certain size. According to what the fishermen told Gandhi, they lose out on good price if they are late even for an hour.
I can never fully comprehend what they go through: Gandhi
They also told him that they did not have any insurance. "And now, when a fisherman comes to me to tell that they are struggling, I understand a little bit what they are going through," Gandhi said. However, Gandhi added that he can never fully comprehend what they go through, as he pulled the net for one day.
Gandhi assured them that he would work to help them
Noting that he wanted to work with them to make their life easier, he also said he might not be able to resolve all their problems but he can certainly work with them and resolve as many as he can. He added the fishermen's children didn't want to do the same work as it is too difficult and risky.