Amid chants of shame, former CJI Ranjan Gogoi takes oath
Amid chants of shame, former CJI Ranjan Gogoi takes oath
Mar 19, 2020, 01:34 pm
3 min read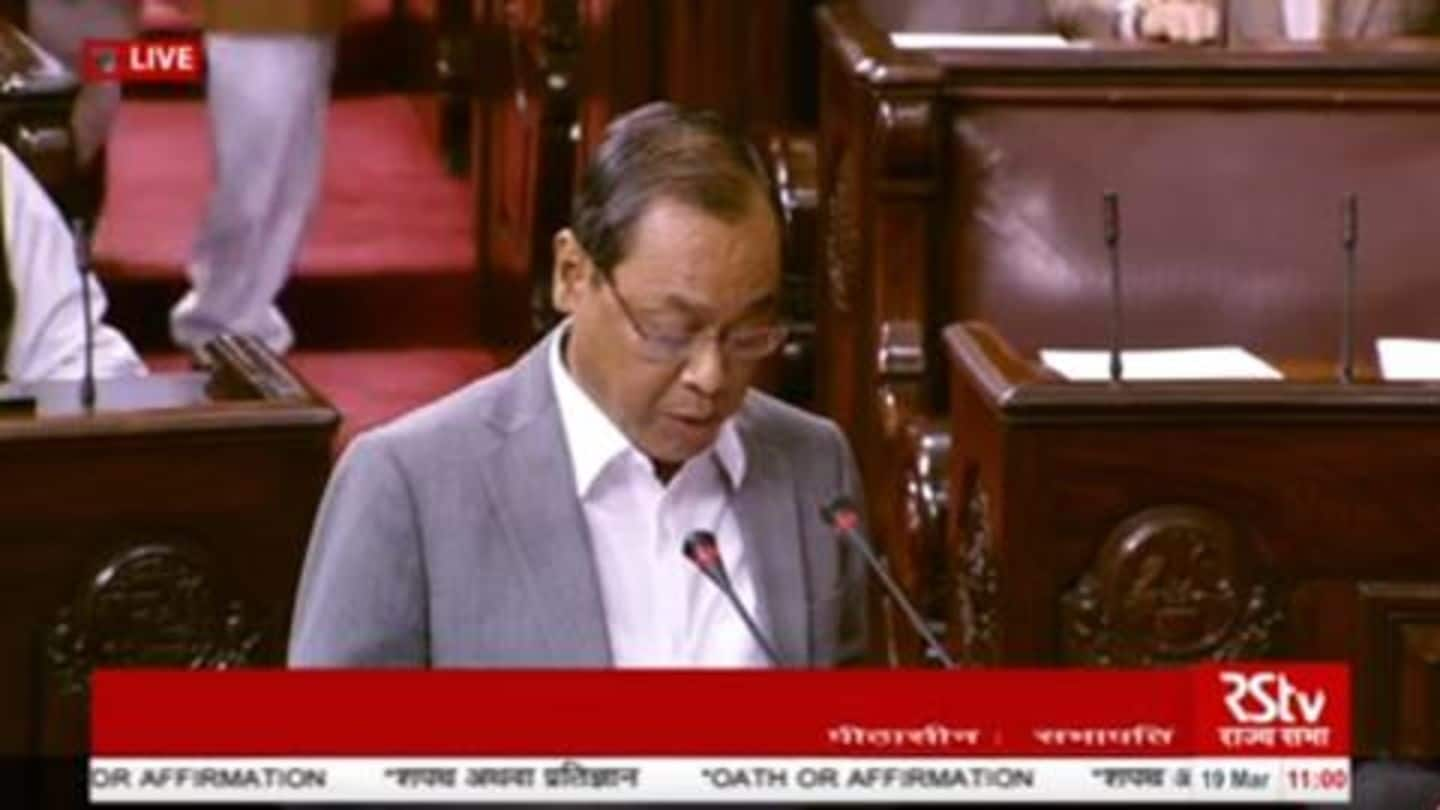 Former Chief Justice of India Ranjan Gogoi took oath as a Rajya Sabha parliamentarian on Thursday, days after his nomination to the Upper House by President Ram Nath Kovind sparked a controversy. Gogoi said he accepted the offer to bridge the gap between legislative and the judiciary. But many saw his acceptance as quid pro quo and an attack on the judicial system.
In a little over a year, Gogoi signed important verdicts
Gogoi took oath as India's 46th CJI in October 2018 and retired in November last year. In his tenure, spanning thirteen months, he saw through important cases that defined India's social and political fabric. A constitutional bench, headed by Gogoi, ordered the construction of Ram Mandir at the disputed site in Ayodhya. The Rafale judgment and Assam NRC order were also signed by him.
Chants of "Shame" filled the Parliament today
The opposition, senior judges, and even some of BJP supporters, didn't approve of Gogoi's fresh political innings. Today, when he was sworn-in, chants of "Shame, Shame" filled the Parliament and some of the opposition leaders staged a walkout. Condemning this move, Law Minister Ravi Shankar Prasad said, "RS has a great tradition of many eminent persons coming from diverse fields, including former CJIs."
Politicians' conduct was unfair: Prasad
Union Min Ravi Shankar Prasad: RS has a great tradition of many eminent persons coming from diverse fields, including former CJIs. Gogoi who has taken oath today will surely contribute his best. It was grossly unfair to do like that (oppn walk out during his oath-taking ceremony) https://t.co/u3o2plxbod pic.twitter.com/ZLkzPfsEfL

— ANI (@ANI) March 19, 2020
Modi supporter went to SC against Gogoi's nomination
As mentioned earlier, BJP's move miffed some of its followers too. Activist Madhu Kishwar, a supporter of Prime Minister Narendra Modi, filed a PIL in the Supreme Court saying Gogoi's nomination was an assault on an independent judiciary. The nomination "casts a shadow of doubt on the credibility of the judgments delivered under his headship of the Supreme Court."
Appointment bolstered anti-India forces, felt Kishwar
"It has given a handle to the external enemies of India as well as Break Up India Forces within the country to defame and cast aspersions on the highest judiciary of India. This is amply evident from the adverse coverage of this appointment," she added.
Has last bastion fallen, wondered retired judge of top court
Gogoi's ex-colleagues too disliked his career shift, merely four months after he exited the most important office of India. Justice (retd.) Madan Lokur, who accompanied Gogoi in the historic press meet at SC in 2018, asked if the last bastion has fallen. "There has been speculation for some time now about what honorific would Justice Gogoi get," he said earlier.
Another brother judge of Gogoi felt the same
Similarly, Justice (retd.) Kurian Joseph, who also attended the press meet, said he was surprised that Gogoi who once fought for the independence of the judiciary "had compromised the noble principles on and impartiality of the judiciary." He reminded that when four senior-most judges of SC sat for the press meet, Gogoi had said he was "discharging his debt towards the nation."
Meanwhile, Gogoi said he was working towards nation-building
Undeterred, Gogoi said, "I have a strong conviction that the legislative and the judiciary must at some point of time work together for nation-building. My presence in parliament will be an opportunity to project the views of the judiciary before the legislature and vice versa."