Indian student killed in Ukraine's Kharkiv amid Russian invasion
Indian student killed in Ukraine's Kharkiv amid Russian invasion
Written by
Siddhant Pandey
Mar 01, 2022, 03:19 pm
3 min read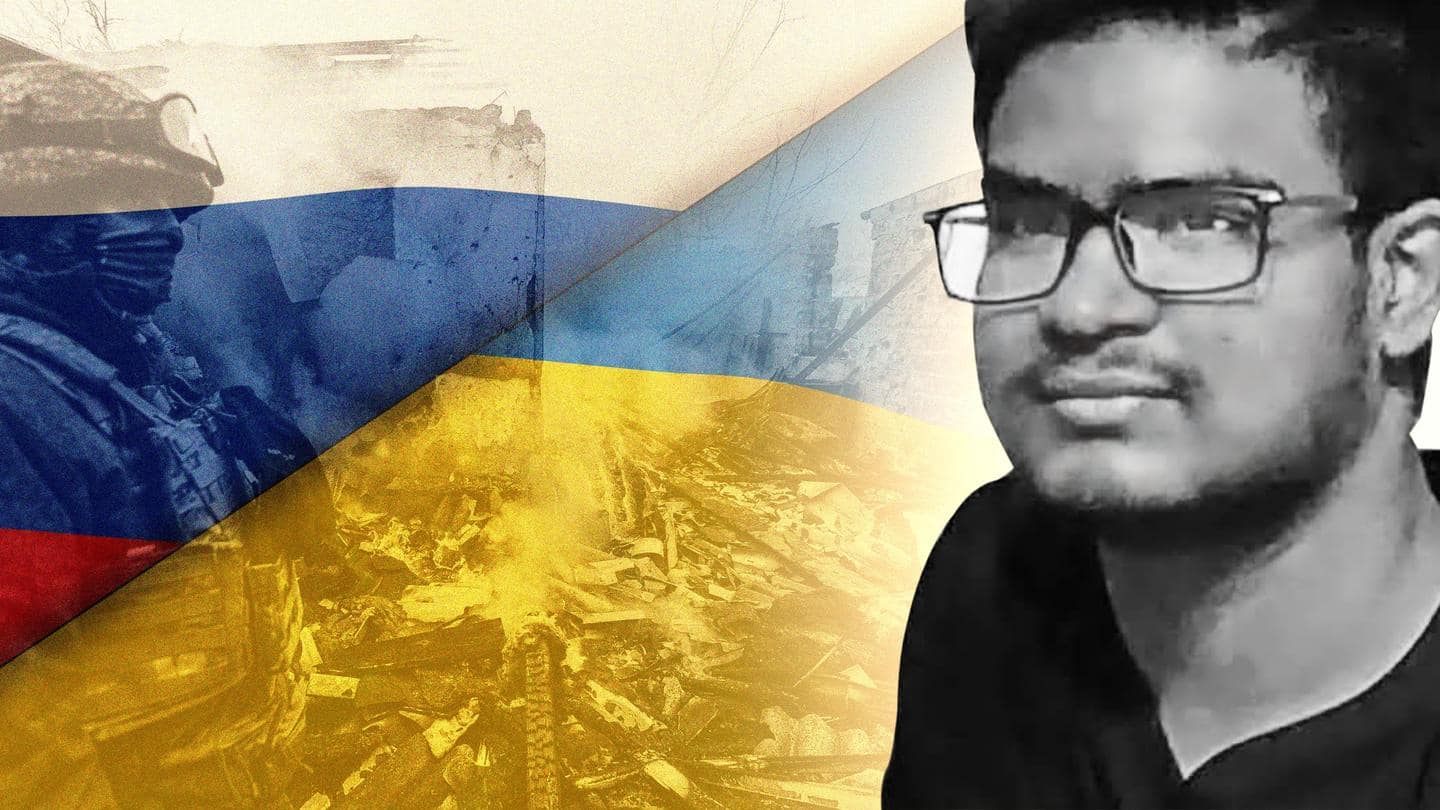 An Indian student was killed in Kharkiv, Ukraine, as the country faces an invasion by Russian forces. India's Ministry of External Affairs has confirmed the killing. Reports identified the deceased as Naveen Shekharappa Gyanagoudar (20) from Chalageri, Karnataka. He was a fourth-year medical student at the Kharkiv National Medical University. The development comes amid India's efforts to safely evacuate Indian nationals from Ukraine.
Deceased, his friends were trying to leave Ukraine
Gyanagoudar's friends told TOI that they were on their way to a train station to reach Lviv, from where they could leave for Ukraine's western border. Civilians stuck in Ukraine are fleeing the country through the western border as Russia attacks from the east. Gyanagoudar was killed in an air strike that blew up the Governor's House, a student coordinator in Kharkiv—Pooja Praharaj—told NDTV.
Gyanagoudar killed while waiting in queue for food
"He (Gyanagoudar) lived near the Governor's House and had been standing in the queue for food. Suddenly there was an air strike that blew up the Governor's House and he was killed," Praharaj told NDTV. However, Sridharan Gopalakrishnan, Gyanagoudar's hostel mate, told The Indian Express that he was killed when the Russian army fired at people.
Government in touch with family of deceased
India's Ministry of External Affairs tweeted, "With profound sorrow, we confirm that an Indian student lost his life in shelling in Kharkiv this morning." The ministry said it remains in touch with the student's family and extended its condolences. India's Foreign Secretary Harsh Vardhan Shringla has urged ambassadors of Russia and Ukraine in India to allow safe passage to stranded Indian nationals.
You can view the MEA's statement here
Foreign Secretary is calling in Ambassadors of Russia and Ukraine to reiterate our demand for urgent safe passage for Indian nationals who are still in Kharkiv and cities in other conflict zones.

Similar action is also being undertaken by our Ambassadors in Russia and Ukraine.

— Arindam Bagchi (@MEAIndia) March 1, 2022
What are the challenges in evacuating Indians from Ukraine?
Evacuation from Ukraine has proven challenging as the Ukrainian airspace is closed. Stranded civilians are hence being evacuated from the country's western border so they can be flown out through neighboring countries. Indians—and other persons of color—stuck in Ukraine have complained of racist treatment by Ukrainian authorities, as they are allegedly not being allowed to leave on priority considering the rush of refugees.
9th evacuation flight left from Romania today
India has launched "Operation Ganga" to evacuate its nationals from Ukraine. Earlier on Tuesday, the ninth flight carrying 218 Indians left from Romania's Bucharest. Union Ministers Hardeep Singh Puri, Jyotiraditya Scindia, Kiren Rijiju, and General (Retd) VK Singh are traveling to Ukraine's neighboring countries to aid the effort. Prime Minister Narendra Modi has also asked the Indian Air Force (IAF) to step in.
Contacts of 24x7 control centers helping in evacuations
Indians in Kyiv asked to leave 'urgently'
Earlier on Tuesday, the Indian embassy in Ukraine urged all Indians to urgently leave Kyiv "preferably by available trains or through any other means available." Last week, India said some 20,000 Indians remain stranded in Ukraine.
What's the ground situation in Ukraine?
The Russian military shelled Kharkiv on Tuesday, causing dozens of civilian deaths, Ukraine said. The action came even as Russia and Ukraine held peace talks on Monday. The talks did not make any headway, but the two countries will continue to hold discussions. Russia had launched an invasion of Ukraine on Thursday. Over half a million people have fled Ukraine while hundreds have died.